Bengal in the 1940s. Having overcome the famine and the revolt of the sharecroppers, Bengal's peasants are uniting. Work is scarce and wages are low. There is barely any food to be had. The proposal for the formation of Pakistan, the elections of 1946, and communal riots are rewriting the contours of history furiously. Amidst all this, in an unnamed village, a familiar corporeal spirit plunges into knee-deep mud. This is Tamiz's father, the man in possession of Khwabnama.
Written by Akhtaruzzaman Elias and translated into English by Arunava Sinha, Khwabnama documents the Tebhaga movement wherein peasants demanded two-thirds of the harvest they produced on the land owned by zamindars.
The following is an excerpt from the book.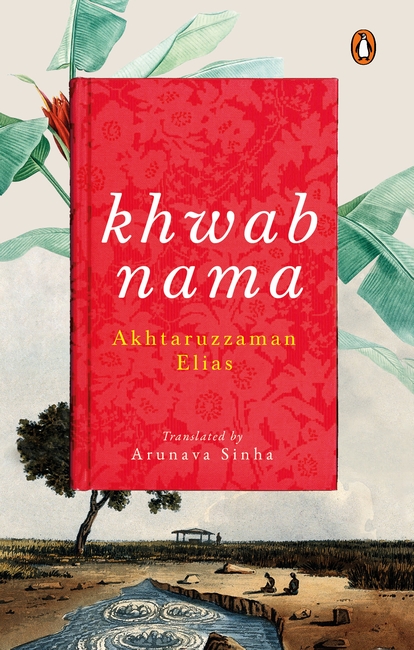 It occurred to Sharafat on the way back home with his son that the manager might have been a little more circumspect had he worn the Jinnah cap. In any case the manager had become mellower with age, and he was much more civil nowadays. But why had he been so aggressive today after all this time? Even before Sharafat could take a seat on the bench, he said, 'Well Mondol, we don't see you much these days. But then you're on good terms with important people, we can't match up to them. Is our time up, then?'
Sharafat was silent. The manager had said far worse in the past. But he was deflated because it was obviously not a good time to bring up the subject of taking a lease on the land on the eastern side of the ox pool.
'Your son is organizing meetings about Pakistan these days. Which is very good, after all, we'd be delighted if someone from the estate did well for himself. But we're also hearing he wants to abolish the system of jomidars. Look my boy, whether it's the jomidar's estate or his wealth, it's all temporary. Kortababu tells me, none of this will remain ours, Purno, the country will eventually belong to the lower classes. My only request is, don't take our caste away from us, what does a man have if his caste is gone?'
'How can you say such a thing, babu?' It wasn't clear even to Sharafat which of the manager's regrets he was responding to.
'You people are the kings now. The ministers, the judges, the bailiffs, all of them are your people. They've stopped giving jobs to the upper classes. Let some more time go by, soon you won't have anyone left to grow crops. The peasants will go to offices in hats and coats. But let them. God provides for us, if he has given us tongues, he will ensure we have food too. But if you're plotting to take away our caste, my boy . . .'
How was Sharafat Mondol to answer this incomplete threat? He was rescued by the manager himself, however. First he declared that Sharafat had not been wise to begin digging a canal leading out from the ox pool. Then he suddenly asked, 'You're an old man now, Mondol, you know everything hereabouts. Don't you know who made the lake and why?'
Was there anyone in the neighbourhood who didn't know? A katra had floated up on the water of the Katlahar Lake, close to the fig tree at its northern head, at about one-thirty in the morning on a new moon night in Asharh. The manager frowned as Mondol began his tale. 'Katra?' Mondol paused to explain. 'A katra is the wooden frame used to slaughter animals. Meaning . . .'
The manager raised his hand to stop him. 'The sacrificial stake, you mean?' When Mondol didn't answer because he didn't know what that meant, the manager said, 'But these are concocted stories.' But then it was that very same concocted story that had circulated for many decades. When the katra floated to the surface, a pair of goats were sacrificed, after which all diseases vanished on both sides of the lake. But then no one sacrificed goats nowadays, which was probably why the katra had become so angry that it didn't float to the surface of the water any more. How could goats be sacrificed these days? You weren't allowed to buy goats for this purpose, they had to be your own. That night not all the Munshi's pet murrels had been transformed into sheep, because he had made a pair of them swim along in the form of goats. A hermit had apparently turned up hereabouts hundreds of years ago. Fighting with British soldiers on the banks of the Manosh river, he had beheaded most of them before dying at their hands eventually. After his death he had made a habit of visiting the spot once a year, retrieving the wooden frame from the lake, sacrificing the goats provided by Munshi, and taking shelter beneath the banyan tree in the field at Poradaho, where hermits usually rested. Before leaving he had washed his blade in the water of the ox pool. There was no one nearby, for people were forbidden from going there at night. The next morning, the surface of the ox pool had turned pink.
The manager laughed at the story, as he did every time he heard it. Sharafat Mondol laughed too, for he did not believe these tall tales floated by Hindus. But it was different when it came to fishermen and oil grinders—in fact, Sharafat had his doubts about whether they were genuine Muslims at all. Not that there was any lack of people among his relatives who were ready to parrot these scandalous tales. But then the katra didn't float up on the surface of the lake these days, or, even if it did, it was doubtful whether anyone had seen it.
The manager was saddened by the ignorance and superstitions of the villagers. 'Mahadev created the lake, but these uneducated Namashudras claim some hermit did it. The lake came up on Durga's request, you think Mahadev will tolerate it if lower-caste people have anything to do with it? It'll be on the heads of not just the people of Girirdanga and Nijgirirdanga, but also on the head of the jomidar himself in Calcutta.'
But Sharafat Mondol couldn't reveal any of this to Kader. He was so hot-headed that he might do something reckless. If the jomidar was angry with Sharafat his dreams of leasing the land on both sides of Katlahar Lake would never be fulfilled. He couldn't afford to annoy the manager, who had mellowed now, but used to have a temper that Kader had never witnessed. None of the jomidar's managers had ever addressed Sharafat's father and uncle with anything but contempt. A long time ago, the previous manager used to refer to Sharafat's uncle Piarullah Mondol as Shiarullah, which turned into Shialu, an unsubtle reference to the word for fox. Since then he had never managed to shed that name, and all his descendants still entered their father or grandfather's name in forms and registers as Shialu Mondol. Despite being his nephew, Sharafat was addressed by his actual name by the manager, who also spoke civilly to him. By Allah's grace Sharafat had succeeded in leasing three large tracts of land, and replaced his father's hut in Girirdanga with a house of tin walls and large rooms. One of this two sons had passed the matriculation examination and had a government job, while the other one had studied in college for three years. All of this was thanks to the land he had leased, which would not have come his way if he hadn't been in the manager's good books.
This is an excerpt from Khwabnama written by Akhtaruzzaman Elias, translated by Arunava Sinha and published by Penguin India. Republished here with permission from the publisher.