Originally published in Marathi in 1989, Meenakshi Moon and Urmila Pawar's We Also Made History, translated into English by Wandana Sonalkar, details the history of women's participation in the dalit movement led by BR Ambedkar. Focusing on the involvement of women in various dalit struggles since the early twentieth century, the book goes on to consider the social conditions of dalit women's lives, daily religious practices and marital rules, the practice of ritual prostitution, and women's issues.
Drawing on diverse sources including periodicals, records of meetings, and personal correspondence, the latter half of the book is composed of interviews with dalit women activists from the 1930s. These first-hand accounts from more than forty dalit women make the book an invaluable resource for students of caste, gender, and politics in India.
The following is an interview with wrestler Shantabai Sarode who, due to her militant role in the movement, went to jail 18 times.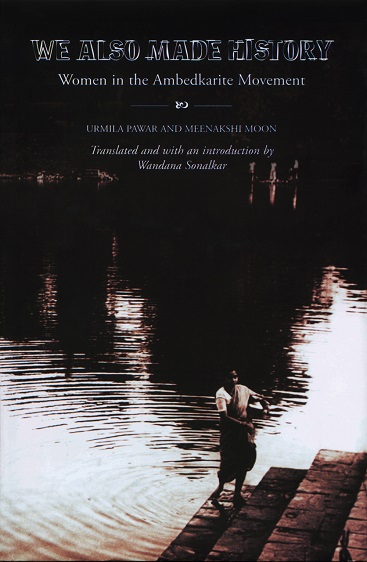 When we went to Nagpur we heard a lot about Shantabai Sarode from Sudha Ramteke, Chandrika Ramteke and others, and we were eager to meet her. The lady was a wrestler. It was said that she had been to prison many times on murder charges. When Sarodebai stood in front of us and took our hands in her massive hand, we were aware of her strength.
Tall, broad-framed, dark-complexioned, her hair tucked behind the pallav of her nine yard sari, and tied in a big bun behind, she had the habit of saying, "Tell me, then" at the end of each sentence.
****
Oh, Mai, what kind of education did I have! My father entered my name in the school. But in those days Mahaars and Maangs were thought to be big polluters. The telis and kunbis sat inside the class, while we daughters of Mahaars had to sit outside in the dirt and the mud. We had to take in whatever we managed to hear. But we would get bored. Then we would go out into the fields and wander about. One day an old man from the village told my father, "These girls roam around in the forest, there is danger from thorns and scorpions. Don't send them to school." That was enough to put an end to our going to school.
My father had an akhada. In the afternoon we put the little ones to bed, ate our bhakri with a bit of onion, and went there to do sit-ups. We were about nine or ten years old. In the morning my father would be exercising in the akhada. We would hide outside and watch him through the window. Then we copied his actions. We got down into the red sand and had wrestling bouts. One day my brother saw me and told father.
Father said appreciatively, "If they have a taste for it, let them learn. They'll become strong and tough." From my childhood I was bold, headstrong, free-spirited and hardy. It pleased my mind to wield the sword, spear, and shield in the akhada. I set my mind to learning it all. My body became strong. I began to wrestle against men. I had a mischievous temperament.
When I reached the age of fifteen, I was married off. My husband was fifteen years older than me. After we were married we both went to my husband's sister's place in Dhamangaon. During the ritual presentation of a coconut to me, the new bride, at the malguzar's place, I accidentally knocked against a big mud raanjan holding water to drink. Seeing that I had touchéd the pot, the paatil's wife said,
"Where did you bring her from? Doesn't she understand caste? How will she behave, living with your brother"?
I felt very angry and I threw down the grains of wheat (given with the coconut) which were still in the folds of my sari and they fell all over the courtyard. When I went home my sister-in-law tore me apart.
Of course I had experienced caste distinctions at my father's place in Dorli earlier. There were different stones down at the river for kunbi women to wash clothes, and different ones for the Mahaars. I purposely washed my clothes on the kunbis' stone. Four of them came running in a trice and said, "O Maharani, have your eyes burst or what? Can't you see it's the kunbis' stone?"
"Who are you calling a Maharani? So what if I washed my clothes there? Pour water on it and make it pure." "What a useless woman it is" they said. When they said this I ran and clutched the hair of one of the women. I hated to be called a Maharani, it made me angry. There was a fight. There were four of them but I, alone, was a match for them. Then my father-in-law intervened and ended the fight.
It was my nature to retaliate whenever some injustice or atrocity took place. Grown-ups told me, there is a great scholar and leader Dr. Babasaheb Ambedkar, has been born in our community, we must go with him.
Having suffered sorrow after sorrow in the Hindu religion, tired of being insulted and oppressed, on the 14th month in the year 1956 Babasaheb changed his faith and gave Buddhism to all. Hundreds of thousands of people took initiation. We did too.
But the upper-caste people in the villages boycotted them (the converts). They stopped their means of livelihood. They harassed them so that they would not get water. An incident occured in the village of Khaatkhed. Dalits weren't supposed to touch the well. The kunbis weren't drawing water for them. The Mahaars had to wait. They wouldn't give them water for hours at a time. Kumbhare and I went along with others.
I touched the well (khiradi) . "Who are you?" They asked "I'm a Maangin" I said. "What've you come here for?" They asked "To deliver the patil's daughter's child !" I replied.
When they heard that the well had been polluted, a number of persons turned up with weapons. I warned them, "Just try and touch me and I won't rest till I've killed three or four."
So we had two opposed groups, untouchable and caste Hindu. Then Kumbhare and Avale arrived. They instantly called a meeting. The police came. There was some reading and scribbling and they gave the well to us. High up on the cattle shed they wrote the name of Shantabai Sarode.
Later, whenever there was an instance of injustice or violence against untouchables — in Chhapewada,            Borgaon, Deni, Salbardi, in Darhwa tehsil in Yawatmal — people would come to call me. They would pay the cost of the horse and cart. Then I would go. In Deni village inYawatmal district when the untouchables converted to Buddhism the caste Hindus boycotted them. Our people used to cut grass and sell it. The caste Hindus stopped giving licenses to sell the grass. People began to starve.
Then I, Khobragade, Tarabai Meshram, Gavai, Bhaisarebai and others went to Yawatmal naaka to the Forest Officer.
We asked him, "Our children are starving. So we became Buddhist, is it a crime?" Eighty or ninety women had sharp sickles in their hands. I was in front, and they were behind me. Just as I squatted to cut the grass, two motor-cars arrived. I spoke to them civilly. Then they issued a government order that from today the Buddhist women will come here to cut grass, nobody is to stop them! So that was the end of our misfortunes. In Rawalgaon too we were troubled by the practice of untouchability so I went there. Near Indora in Nagpur in the Teka area, a Muslim man pointed to Dr. Babasaheb's portrait and uttered insulting words, and there was a riot. The police record says that on that occasion I committed five murders, look it up if you don't believe me! That time I went to prison for 13 months.
In prison lots of people used to come to look at me. They would shout, 'murderer of five, murderer' of five. In those days I was always seeing red. If anyone molested my sisters, if anyone said anything about my Babasaheb, my blood would boil.
In prison the woman watching over me said, "Eh Mhaarni, did you touch the water?" 'So I ran at her and gave her a beating'.
I have been to prison eighteen times. When they came to knock down the huts of the poor they caught me and took me away three times and put me in jail three times. In Nagpur at the time of the renaming march the police did a lathi charge. There was firing by the police. Near Alochhaya in Indora one man died. One man died near the Bardi hill. The police beat the women badly, they were injured, they fell ill. I wanted to go to Marathwada for the Long March. But whenever anything happened the police shut me up so how could I go? My heart breaks for Babasaheb.
Since we left the Hindu religion and took the Buddhist faith following Babasaheb, a revolution has come about in us. Now whenever there is injustice, we men and women get ready to fight together. We fight back with self-respect. If they beat ten of us we give it back to them no less. Baba taught us to retaliate as much as we could. In Buddhism there is no caste, no discrimination, no 33 crores of gods. We have only one object of faith, Bhagwan Gautam Buddha. He treats everyone equally.
And Dr. Babasaheb Ambedkar gave us inspiration. I will never in all my life forget our debt to him. Every Buddhist must take pride in our religion. We must hold to the principles of the Panchasheela, we must become bearers of pradnya, sheel and karuna. Those who give up Buddhism are impotent. Some educated women are ashamed to speak Babasaheb's name, they change their names. I say we ignorant women are better than you. We have strength, devotion, spirit, we have anger against injustice, we have the daring to go anywhere, speak anywhere. You are educated, you just guide us, like the rudder guides a boat, that's enough. About twenty of us women often go to the villages to preach Buddhism. 14th April, Ambedkar's birthday, the day of conversion, these are our big festivals. Buddhism gave us new life. To preach the faith vigorously is our duty.
On 2nd August 1987 in Avhane village in Jalgaon district the Shiv Sena collected 250 to 300 persons and attacked the dalits. They cut off the arms and legs of one man with an axe and threw him into the fire. They burnt down the houses of over SO dalits. Did Shivaji Maharaj ever say that they should do this? These pimps are shameless. In the paper from Pune (17th September 1987) it is printed that because five dalits stole grass and fodder the Hindus forced them to eat excrement. They collected 300-400 persons and committed this inhuman act in front of them. I don't understand. Are we in independent India or still under English rule? It is 40 years now but the atrocities against dalits don't stop. It makes my blood boil.
We took out a demonstration in Nagpur on this issue. Hardas Tembhurne and 7 to 8 others took a deputation. We said, conduct a proper inquiry and give the dalits justice. I will fight for the community until I die.
This is an excerpt from We Also Made History Women in the Ambedkarite Movement by Meenakshi Moon and Urmila Pawar, translated into English by Wandana Sonalkar and published by Zubaan Books. Republished here with permission from the publisher.