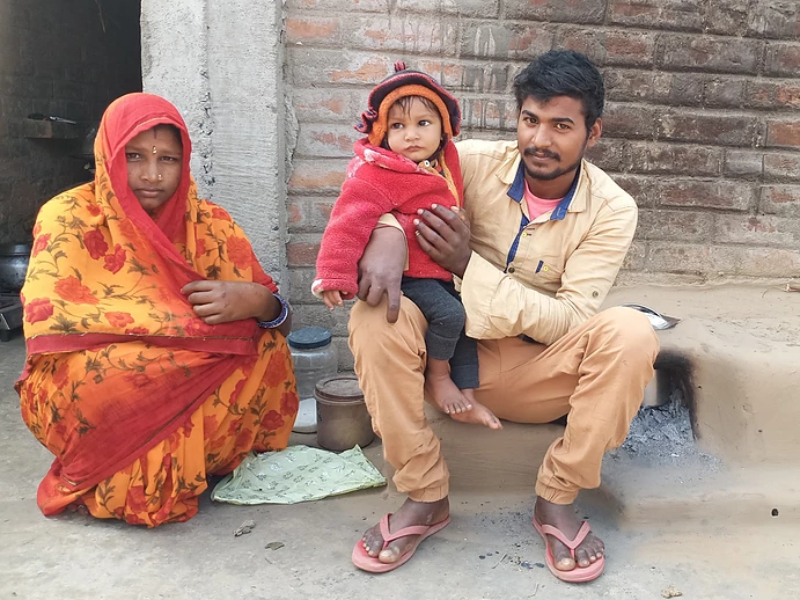 Patna/New Delhi: A 30-km ride from west of Patna leads a town called Maner or Maner Sharif, known for its 'world famous' motichoor laddoos and two popular Sufi shrines. Just four km ahead of Maner, where a road bends left, a village welcomes visitors with a line of banyan trees and a row of empty tractors.
There are no signs, except for one on a small library building that identifies the village as Hulasi tola, part of Rampur Diara village. On a cold February weekday noon, there was a group of young men chatting at a snack shop.
This seemingly mundane sight is rare. Locals said usually only the elderly were spotted there at that time of the day. The young men, they said, should either be away or at work.
"Do you see those tractors? Most of them have been unused for months and are now playpens for children," said Santosh Kumar Mahato, 24, who till March 2020 worked as a labourer at an iron and steel factory at Rajkot in Gujarat.
"Who would have thought that in a diara (the land created by a river's sand deposits), tractors would be of no use? This is happening because there are no jobs. Our village is full of young men like us: migrants, unemployed and nowhere left to go," he added.
Mahato was among more than
10 million
migrant workers, including 1.5 million from Bihar, the epicentre of our reportage for this story, who returned to their home states in 2020, with thousands walking to native towns and villages.
25 March 2021 marks a year since a nationwide lockdown announced by Prime Minister Narendra Modi at a four-hour notice began to control the spread of Covid-19. The lockdown eventually lasted for 68 days. More than 1.5 million workers returned to their homes in Bihar alone.
A recent Pew Research Centre analysis released reported that the middle class in India shrunk by about 32 million in 2020, and the poor (those with daily incomes of $2 or less, or less than Rs 150) were "estimated to have increased by 75 million because of the Covid-19 recession."
In the first of a two-part series, Article 14 profiles migrant workers from Bihar who left workplaces outside their state but have not been able to return. In the second part, we talk to those in Delhi who did manage to return to jobs.
Distress In Bihar
Almost every family in Hulasi Tola sends a male member outside Bihar for work, locals said. For those who stay back, the options are limited to either working in the fields or daily wage work related to sand mining, the demand for which has gone down in the view of stricter licensing imposed by the state government.
Like Mahato, many migrant workers have been unable to return to their original place of employment, either because the jobs are gone, they have no money to travel or debts.
The day the lockdown began, Mahato's factory halted operations. His employers had then paid him and his co-workers a one-time sum of Rs 15,000. However, the savings dried out faster than he thought they might, and by April end, he and four friends decided to return home.
The 1,800-km long journey took them seven days. It started with a 1,300-km bus ride from Rajkot in Gujarat to Kanpur in Uttar Pradesh. From there, they hitchhiked in cars and autos till Buxar in western Bihar and then walked 120 km over nearly three days to reach home.
It's been 10 months since Mahato returned, and he is still without a job. It's been a time that has devastated what's left of his family: his wife and a 10-month-old son. In October 2020, Mahato's elder son, aged two, died after a bout of high fever. Mahato could not find transport to take his child to a doctor. Now, most of his time is spent taking care of his younger son.
"I will go again. I am certain of that. But going back is difficult," said Mahato. "The poor don't have money to eat, who is going to give me money to go back. I am not the only one here, everyone has the same story."
Looming Uncertainty
Several young men in Hulasi Tola, mostly between the ages of 25 to 35, described experiences similar to Mahato's.
Manoj Kumar, a father of four, returned from Khopoli in Maharashtra and faces a debt of Rs 250,000. Gorakh Kumar Mahato spent Rs 5,000 on his return journey from Gurgaon, Haryana, nearly six times his average Rs. 800 expenditure. Chand Dev who returned from Surat, Gujarat, owes a debt of Rs. 200,000. Roshan Kumar returned from Chennai, Tamil Nadu, but cannot return since he has lost his job, Prithvi Raj, wool worker in Ludhiana, Punjab, and is concerned about how he will go back.
All of them returned during or after the lockdown, and all are out of work. This is the story of just one village in Bihar.
These stories are real-life manifestations of a warning issued by a December 2020 report from the International Labour Organisation (ILO), which observed that the pandemic was "likely to push many more millions of rural households deeper into poverty and debt traps" in India, increasing distress migration from rural to urban areas.
"I think increased inequality is the most worrying outcome. It has increased and is likely to increase–how much of course, we cannot say. That will depend on policy actions and remedies," said Reetika Khera, an economist who teaches the subject at the Indian Institute of Technology (IIT) Delhi, said. "The shock was pretty substantial and very widespread."
Khera has a grim forecast: "Given that the economy is no longer booming, it is unlikely that they (workers) will spring back immediately. Recovery may happen for the economy as a whole but it will not be even across different sections. Labour was already in a vulnerable situation with low pay."
Deep Impact
The twin blow of the 2020 lockdown and ongoing pandemic has left a deep impact not just on the future of migrant workers but also on their dependents.
Most migrant workers at Mahato's village said they would like to return to their workplaces despite uncertainty about the job of what they might be paid. Families of such workers, including those who have not returned home, said they were worried about dipping remittances.
For instance, 65-year-old Ganga Devi's son, Shankar Kumar, lives in Rajkot with his wife and two children. Every two months or so, Shankar would send money to her mother to help Devi's extended family in the village.
"My son has not come home since last year. We are already under debt but like others, my son, too, lost his job for several months," said Ganga Devi. "He is not able to take care of his own family; how do I expect him to support us financially."
Pushpendra (he uses one name), professor and chairperson at the
Tata Institute of Social Sciences (TISS), Patna Centre
, said that the migrant workers and their families are facing "high indebtedness" during this period. He said loans were taken for varied reasons including for food, repair of houses, medical needs, social events etc.
"Migrant workers have even borrowed money to migrate out again," said Pushpendra.
The Economic Survey of 2016-17, estimated India's remittance economy exceeds Rs 1.5 lakh crores, or a little over India's budget allocation for Urban Swacchh Bharat Mission 2.0 last month. Domestic remittances serve 10% rural households and finance over 30% of consumption in remittance-receiving households, said the Survey.
"Around 1.57 million workers came to Bihar from different states once the Covid-19 induced lockdown was put in place," said Mihir Kumar Singh, principal secretary of the labour department of Bihar. "Whoever came then was put in different camps. So, we have complete data with names. Skill mapping was also done, including details of block, district and village wise data."
Singh said the state government was running skill-mapping programmes for workers who stayed back.
"Among those who returned, the state government provided cash assistance to those whose contact numbers and account details were available," said Singh. "Aspirations could be more which is very natural. Within the resources that were available, maximum help was provided and it was quite appreciated."
Impact On Migratory Patterns
Till last year, Sudheer Das (33) worked at Tiruppur in Tamil Nadu, nearly 2,500 km away from his home in Khaprail Chak village in Phulwari near Patna.
In July 2020, he returned after traveling for four days in a bus. This is the longest he has been at home with or without work since he started migrating for work 15 years ago. A lot has changed for his family in the last one year, particularly with the employment patterns of Das and his wife, Mamata Devi.
Till January 2020, Das worked at a poultry farm, taking care of the feed distribution, cleaning of enclosures, manual packaging etc., and earned Rs 10,000 a month. He left that job and joined a thread company.
"Kaam bahut ganda tha (it was unhygienic work)," he said of the poultry job. At the thread company, his pay increased to Rs 14,000. Soon after he joined, the lockdown was announced and the factory halted operations.
The lockdown was for three weeks, was extended three more times and eventually continued for 68 days.
"I stayed in the company accommodation for four months but starved through it," said Das. "I thought I would never be able to return till my wife sent me Rs 5,000. With the money she sent, the choice was between eating food or returning home. I chose the second." Das said. In July 2020, a four-day bus journey took him home.
The experience scarred Das. Two major changes are now visible: first, his wife could send him money because from July 2020 onwards she started earning for the first time as a domestic help; second, Das now wants to go back to Tiruppur but is adamant that he will return to work at the poultry farm and not continue at the thread factory.
"I know that poultry work is not the best for my health and does not pay well either," said Das. "But when the lockdown happened, I realized that even if people stop buying new clothes, they will never stop eating. If a lockdown or a similar crisis happens again, the thread factory may shut one more time but not a poultry farm, at least not for very long."
Experts said that while there may not be any conclusive evidence of whether the events of last year could have long term impact on migratory patterns, examples like Das' could herald job and geography shifts.
"Workers are still not able to go to those kinds of industries that are still not back on their feet," said Pushpendra, explaining that some migrants are hesitant to return to states with a high Covid-10 prevalance, such as Maharashtra and Kerala, others are heading to states that invite them of offer sop, such as Telangana.
"People, in general, prefer wage employment over self-employment," Pushpendra. "However, after the pandemic, avenues of wage employment have shrunk and so more people are likely to opt for self-employment. But the challenge there is you require an initial capital. We will have to see how this trend pans out."
While last year's lockdown and the pandemic are likely to have long-term impacts on migratory patterns and livelihoods of informal sector workers, back in Hulasi tola, those caught in the middle said they would do what it took for their families.
Mahato said: "Koi apna gaon chhod kar nahi jaana chahta, lekin kya kare gareebi aur majboori aasaani se peecha nahi chodte. No one likes to leave their village, but what to do, poverty and desperation are hard to shake off."
First published in
Article 14
.
(First of a two part series)