In June this year, the J & K administration announced their latest measure to curtail press freedom and free flow of information in the region — the new Media Policy 2020. Apparently to curb "fake news and misinformation", the policy gives governments supreme control over any news published in the region and to take criminal action against any media person or outlet that publishes something which the state defines as "untrue" or "fake". The policy also states that the J & K Department of Information and Public Relations can withdraw and suspend advertisements to the media houses that do not meet "state standards".
A rare & seasoned group that has worked under continued state repression for years now, J & K's journalists don't consider this as something new, but simply an extension of the constraints that had already existed there. Online editor of the newspaper Rising Kashmir, Irfan Amin Malik was the first journalist to face state abuse in J & K following the abrogation of Article 370. In August last year, Malik, who was working for Greater Kashmir at the time, was picked up by army personnel from his home shortly before midnight one day — without any explanation and despite desperate pleas from his family. The incident shook the entire country, but as he explains in this interview, solidarity is hard to come by even from the media fraternity when its a Kashmiri journalist who faces state abuse.
Added to all this are other kinds of exploitation that journalists in Kashmir are put through on a routine basis — including poor infrastructural facilities, extremely meagre income, and more. Despite all this, Irfan Amin Malik (@irfanaminmalik) goes on fearlessly, for he believes he needs to keep speaking for the people of his land. Read him discuss all this and more in this interview with Mukulika R.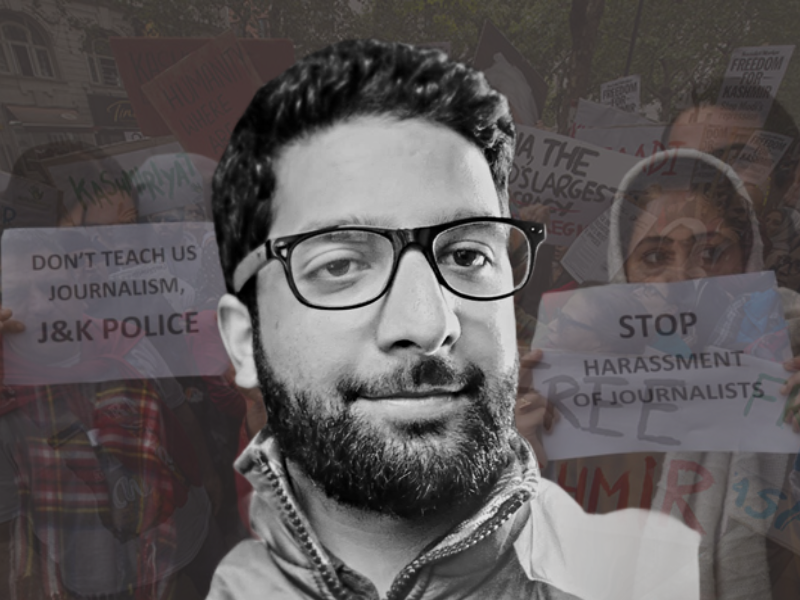 Mukulika R (MR): Journalists in Kashmir have lived under state repression and militancy for years now. What is different about the new media policy that's making many of you protest it?
Irfan Malik (IM): Even before the scrapping of Article 370, there definitely were pressures and compulsions on the media from various quarters, as J & K is a conflict zone. When the scrapping happened, this pressure simply increased. As you would know, I was the journalist to be targeted by the state following the abrogation.
This year, again, they've come up with the new Media Policy and it is against whatever I was taught about media freedom and ethics as a Mass Communication student at the university. What's disturbing and contradictory is that on the one side, the government goes on framing laws for us, but on the other, they seem to not be following those themselves.
---
Watch | Geeta Seshu on the new Media Policy in J & K
---
With the new policy, the government will have the power to give us direct orders on how to work and what to work on. It can come to me and say that what I have written is wrong, provide no evidence to the same, and make me take the story down. The government could also order the people to not talk to the media, we can be jailed, editors' licenses can be cancelled and more — all of which are going to be extremely detrimental for the condition of the media in J & K. You see, if this law comes into practice, we'd have both editors and the government as gatekeepers, which is very unfortunate.
Media has to be free and such laws would only make common people lose their hope in the institution. The media is considered by many as their last straw of hope to voice their concerns through and if such a policy is put in place, it is only going to be disastrous.
MR: Could you describe what a Kashmiri journalist's daily life is like in the Valley these days, in the light of the abrogation, the aftermath of the communication blockade, and related repressions?
IM: The life of a journalist in Kashmir is one of the most difficult and certainly not a bed of roses. The private sector is almost nonexistent here and government advertisements are the only source of revenue for us. Due to this, some believe that we exist to please governments. That's not true.
What many of them don't see is that there are massive layoffs in the media industry here and the salary is simply peanuts. Its sheer exploitation. On the other hand, there are law enforcement agencies and the state putting extreme pressure on each word we produce. Sure, journalists everywhere need to be careful about what they write — but in Kashmir, it's too much.
---
Also Read | Press freedom in the line of fire: In conversation with Fahad Shah
---
Therefore, there's immense pressure on journalists here from all sides — both from the government in terms of media freedom, and then the other kinds of exploitation with regards to low income, poor infrastructural facilities, and such. I personally have seen many journalists quit to become artists, singers and the like, because of the hopelessness of the situation. BBC had once done a story on the journalists in south Kashmir, wherein they talk to photojournalist Muneeb ul Islam, who quit as a photojournalist to become a labourer. Overall, the life of a journalist is pathetic in Kashmir.
MR: J & K is considered by many as a laboratory for state repression, surveillance and abuse of power — acts likely to be repeated elsewhere in the country. Yet, solidarity from the mainstream Indian media has not been upto expectations. What do you account this for?
IM: Of course, there's no media unity and what we see is a huge gap in terms of the media in Kashmir and the media in mainland India. The concerns of the journalists in Kashmir are mostly ignored by those outside of it. For example, if something happens to someone from the journalist community here, the Press Club of Kashmir usually declares solidarity, issues a press release and brings it to the notice of the rest of the public. Often, we see no such action being taken by, say, the Press Council of India or the Press Club of Delhi. It feels like we only have ourselves to speak for us and that the others are least concerned. I don't understand this — a journalist is a journalist and shouldn't be discriminated against on the basis of their region and such. I don't think the government would be able to act with such impunity as it is acting now, if the journalists were united.
In fact, this is not restricted to Kashmiri journalists. Recently, Siddique Kappan, a journalist from Kerala was arrested and slapped with the draconian UAPA in Uttar Pradesh, when he had gone to report on the gang rape there. Except for some stray voices, I don't see anybody else speaking about it. I dont think this would have happened if the media was united — we're highly fragmented and there's no one voice to speak for us. The fact that most of us are sold out and work to please the powers that be, only contributes to the problem.
MR: Yours was the first detention of a media person in J & K following the abrogation. Could you describe that night for us? Has there been further attempts of intimidation from the state after that?
IM: It was nine days after Article 370 was abrogated. I was at home, in our room with my wife and daughter at around 11:45pm, just some minutes away from midnight. Suddenly, my sister who was on the second floor screamed and told us that someone was knocking on the door. My parents who were downstairs went out to see that military personnel had climbed onto our walls and reached our compound. Initially, we thought this was the routine cordon and search operation, a regular affair in J & K. Our home is right next to the CRPF camp and I thought the personnel would have come from there. However, deep inside, I had a small feeling that they may have come for me. I wore some clothes, took my phone and wallet and went down. Now, there was total communication blockade in J & K then and our phones were practically useless. However, I thought that even if they wanted to see my phone, they could — because I hadn't done anything wrong.
---
Also Read | Press freedom in the line of fire: In conversation with Anuradha Bhasin
---
I went out and the personnel said he was from the army. "Are you Irfan Malik?", he asked. I said yes, to which he replied, "You have to come". I told him that I was just a journalist but he simply said "ok". My parents pleaded and asked them not to take me away that night as my family would be worried and that I would report at the station the next morning. But, as expected, they paid no heed. The station is a few yards away from my home and we walked there the same night. My mother approached our neighbours — naturally CRPF personnel — for help, but they were the least concerned. I was taken to a room in the station, questioned for hours and made to stay there till the next day. If my mother had not pleaded and there was no media intervention, I wouldn't have been released that evening. It's always a vulnerable situation.
MR: Despite continued state repression and abuse in different forms, what pushes journalists like you to gather courage and go out into the streets and work?
IM: My parents and family often ask me to be cautious. The famous quote, "no story is worth dying for" is especially true in the case of Kashmir. But I would never want to compromise with media ethics or duties. I'd like to continue working and see for how long I can go.
As a journalist, I want to produce facts and stand by the values of my profession. In Kashmir especially, journalists and the media are the hope of the people, the poor and the voiceless. If we abandon them and stop writing about them, who else will? I'm someone who writes and reports extensively on rural health and education. I get frequent calls from remote areas, the poor, students, and patients, asking me to write about them. I remember I had done a story on how the shift to online education was affecting the students in Kashmir. Soon after that, I got a call from a poor orphan in a remote area in the region, telling me about his life — that he had absolutely no facilities to attend these classes. You see, if I don't speak for them as a journalist, who else will?
Media plays an indispensable role in modern societies and helps maintain a stable democracy. The media's duty is to observe what the government in power, whoever they may be, is doing and to point out where they are wrong. The media's task is to expose the powers that be. I believe it's a significant thing to do and that's why I'm here. Despite all the problems that I explained before, I'm still very passionate about my job. And that's why I would go on doing it.
This interview wouldn't have been possible without the help of Varda Dixit and Umer Beigh.