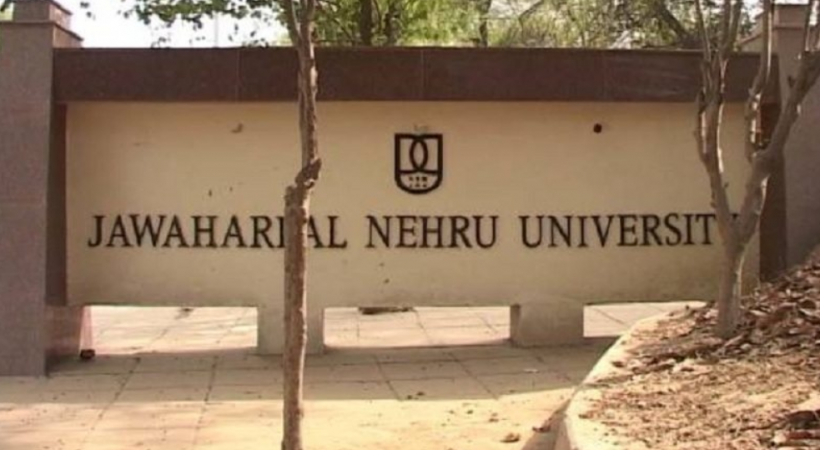 The Jawaharlal Nehru University, India's premier leading education institution, will hold its fourth convocation on November 18 this year virtually, keeping the COVID-19 pandemic in mind. However, many outgoing PhD students have decided to boycott it owing to a delay in conducting vivas for more than a year and in awarding degrees.
The students maintain that they have been asked to pay Rs 800 for attending a virtual convocation. They alleged that the administrative delay has cost them teaching and research jobs, even forcing some to take up low-paying jobs to sustain during the pandemic.
A student from the School of International Studies told NewsClick that she could not apply for teaching jobs in centrally-funded universities like Jamia Millia Islamia and other state universities for no fault of her own. "I had submitted my PhD in July 2019 and with the norms in practice presently, the viva should have been conducted six months after submission. We were told that there were certain administrative holidays and then the pandemic hit. All we know is that our theses were sent for external evaluation after six months. The more problematic bit is that there was no dialogue and no guidelines in place for the interviews. We are losing out on opportunities," the student said.
The student maintained that it their chances of working with policy institutions. "The institutions have different parameters. One is asked about the last degree awarded. So, in this case, I should mark MPhil or MA since some do not regard MPhil as a proper degree. After years of research, we are being handed apathy and indifference for no fault of ours. They say we spend years doing research and get old in the campus itself. It is the administration which forces us to do so because it's incompetent!" the student added.
Another student who requested anonymity fearing reprisal said it was "sheer humiliation" that a convocation was being organised when half of the current batch was not "eligible" to attend it.
"One of the excuses that the administration has been advancing is that it does not have enough staff to handle the pressure. How could they move so fast to organise the event? JNU is a premier university but they have degraded it to such an extent that professional standards do not matter now. Many students are married and some have children too. They need a job desperately…we decided to boycott the convocation because we thought this was the only way we could express our anguish," the student said.
In a statement, Aishe Ghosh, President of Jawaharlal Nehru University Students Union, said that JNU students earn their doctorates after years of hard work. "Despite not even conducting vivas for the majority of passing out scholars, the farce of this convocation is being organised to satisfy the egotistic departing Vice Chancellor," she added.
"This outright extortion of former students is a further humiliation for current JNU scholars who are bravely fighting for their right to NET JRF scholarships, re-opening of their hostel and mess facilities. While this online sham is organized, students in the decisive stage of their submissions are being turned back by the Mamidala administration from the university gates. Even in his departure, the VC has no sense of repentance or grace left," she said.
JNU teachers argued that the delay in conducting the viva interviews and awarding teachers is rooted in the lack of staff caused by retirements and an indifferent administration.
D.K. Lobiyal, a Professor at the School of Computer and System Sciences, told NewsClick: "The university is consistently losing out on permanent staff due to retirements. The contractual staff is not experienced and efficient enough to do the job. Thus, work gets delayed. Now they do not allow students inside the administration block and say that evaluation and awarding of degrees is confidential in nature. The guidelines for submiting the thesis online came very late because they could decide how to go about it. Secondly, the Vice Chancellor and Rector do not meet anybody from faculty or other staff. Thus, there is no accountability about their duties," he said
First published in
Newsclick
on November 9, 2020.