A fact finding report was released yesterday (20 October 2020) in a virtual press conference by the team that visited Bulgarhi village (Hathras, Uttar Pradesh) and met the family and relatives of the victim on 9th October, 2020. The team consisted of nine members and included activists Medha Patkar, Sandeep Pandey, Faisal Khan, Joe Athialy, Amit Kumar, Hansraj, Anand Athialy, advocate Ehtesham Hashmi and writer Mani Mala.
The following is an excerpt from the report.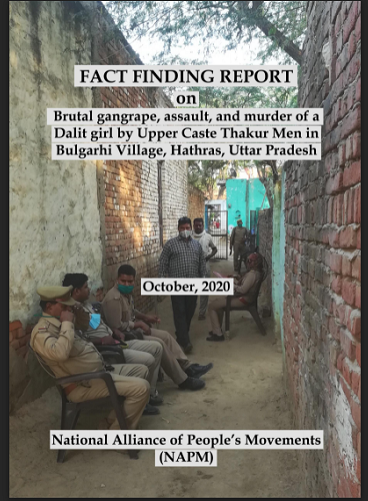 After 14 years, on the same date, i.e., September 29th, Since the Khairlanji murder took place in the Chandrapur district of Maharashtra, we have witnessed the Hathras incident, rape and murder of another Dalit victim. These atrocities that have been taking place across India are a result of cumulative effect of caste & gender, inequality & injustice.
The episode in Hathras, with a native Dalit girl, 19 years old, let's call her Dasya, in village Bulgarhi is however entangled in a controversy but also in the casteist politics, denying the facts narrated by the family of the victim and openly accusing them of lying and honour killing. This was so shocking yet unexpected and unimaginable even to all those, individuals and organisations, who are already aware and disturbed by the repression and violence witnessed in Uttar Pradesh over last few years. It is in this context that we, as representatives of National Alliance of People's Movements (NAPM), a team of senior activists and our supporters decided to visit the area, listen to the victim's family members and others, and conclude on the real facts and analysis of the brutal atrocity case not merely in the legal but socio-economic-political framework. Our intention has also been to raise voice against the inhumanity and extend our support to Dasya's family to fight the battle amidst feudal-casteist environs and politics.
We, a team of nine members, reached village Bulgarhi around 1 pm on 9th October. Before we could pass through the police cordon and barricades, we were stopped that no more than five members can go together to meet the victim's family. After writing applications addressed to the Sub-Divisional Magistrate in two teams of 5 and 4, we were allowed to go and meet the victim's family. The first team was provided a police vehicle to reach the Dasya's house, one and half kilometres away, while the second team had to walk. While the second team was waiting for the return of the first team, saffron turban cladded Akhil Bhartiya Kshatriya Mahasabha activists also arrived with posters stuck on their vehicles with message written that they were there only to meet the 'victim' Thakur family. They were about ten to twelve people. They argued with police to go together and after much debate, they were allowed to go together inside the village. One of the vehicles with them carried the flag of Pragatisheel Samajwadi Party, the breakaway faction from Samajwadi Party formed by Shivpal Yadav (See pictures attached).
Some of us sat inside, met and heard the vivid details of the incidence, the past and the post facto events as well. Bulgarhi, a village with more than 600 families, has a small group of about 15 Dalit families as a minority living since generation but experiencing a number of repressive acts and atmosphere over decades. The upper caste families of Thakurs, who have support of, have used services of Dalit families as agricultural labourers and in other ways. Some awakening has taken place among Dalits over decades.
Dasya's family through her father, was allotted 5 bighas of land by Mayawati's government in 1990s. However, till today, they are in physical possession of only three and half bighas while the rest is apparently encroached upon by some Brahmin family. They have small supplementary income from cattle rearing, through sale of milk.
Relations between the neighbours have long been strained. Nearly 20 years ago, the Thakur family had attacked Dasya's grandfather. "They came into our field to graze their buffalos and my grandfather requested them to take the animals elsewhere as our crops would get damaged. Angered that a Dalit could tell them this, they attacked him with a knife-like object. When my grandfather tried to protect his neck, the knife cut away his fingers," Dasya's brother said.
Vir, the police chief, said Ravi had been involved in the attack on Dasya's grandfather, while Sandeep had a history of "high alcohol consumption". Ravi's father confirmed that he had been jailed in connection with the attack on Dasya's grandfather.
However, there was neither a conflict nor any incidence of fight that had occurred between the families of the accused and Dasya during last two decades. The brutal assault of September 14th was therefore totally unexpected and unwarranted for the whole family.