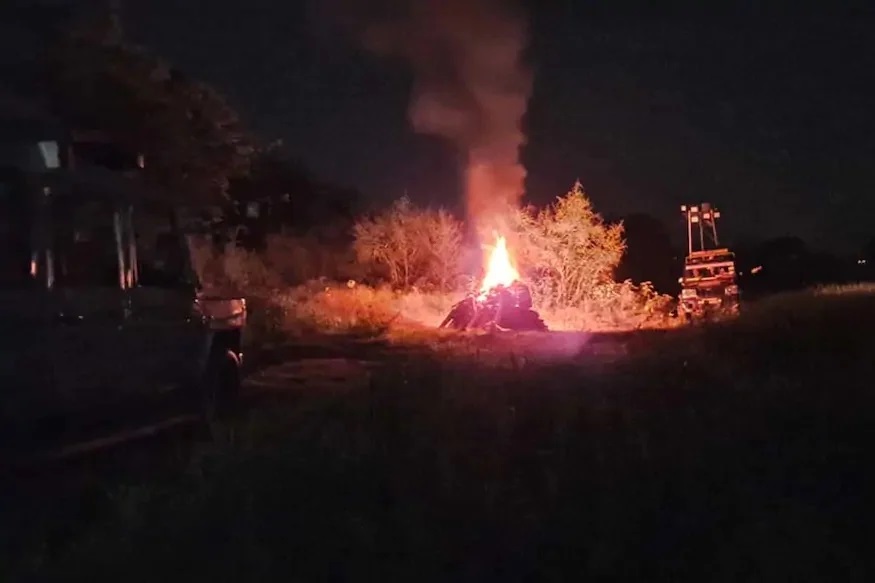 The horrific rape and murder of the Dalit teenager at Hathras has rightly shocked the nation. She, in her dying declaration, had had named the accused; her mother had shared the signs of rape and assaut she saw on her daughter's injured bare body. However, it is the collective 'upper caste' power groups that have now banded together to defend the rapists, that is as shocking as the crime itself.
Most recently, the four men accused of rape and murder of the Dalit teenager were openly defended at meeting held at Bharatiya Janata Party (BJP) politican, ex-MLA's Rajvir Singh Pehalvan's residence. News reports showed heavy police deployed around Singh's house, which is less than 10 kilometres away from the victim's village, reported The Indian Express.
This meeting was held on Sunday outside Singh's house in Hathras. Those gathered, mostly upper caste men openly defended the four accused in the alleged gangrape of a Dalit woman who later died. In turn they even demanded that an FIR be registered against her family members, who are now said to be living in fear of the upper caste retaliation.
This latest meeting, it seems is one of the steps towards the plans possibly being made by the thakurs and other 'upper caste' men, who have been taken by surprise that the Dalit family has dared to speak up. According to the news, Pehalvan's son Manveer Singh who had organised the meeting said the meeting was attended by "different sections of society". He reportedly told the news agency PTI that they "welcome the CBI inquiry" ordered after the rape and murder generated a nationwide furore demannng accountability from Uttar Pradesh chief minister Adityanath. "We have faith in the investigation," Singh told PTI and claimed that the victim's family members were "changing their stand".
The 'upper caste' members in influencial positions, are not reported to be working towards the narrative that not only denies rape, but blames the deceased victim and her traumtised family of 'changing' statement. The family, however, backed by the Dalit community, continues to stand firm on its demand for justice for their daughter.
That has not fazed those blaming the victim, and defending the state govt, "The entire scenario has been created to blame the government. The accused persons are in favour of any type of inquiry. But the victims are changing their stand every now and then. They do not want a narco test or a CBI probe. Now they want other kinds of inquiries," claimed Singh, adding, "Our demand is that a case should be filed against those people who had filed the case in the first instance."
This is the second such 'upper caste' meeting in Hathras, Panchayat had been organised in, reportedly in favour of the rape and murder accused last week. That was organised by  an association called the Savarn Samaj or 'upper caste  community/ society' . They too were demanding "justice for the men accused of brutalising the 19-year-old Dalit girl". That panchayat too was deliberately held just a few kilometers from the girls village and was to show that the 'upper caste' community was "in favour of the four accused" who are now under arrest and in police custody. Of course no official or legal restrictions were imposed on these gatherings, even as Covid-19 protocol, and section 144, was in place to keep media, and secular parties away from the village by the state's Bharatiya Janata Party (BJP) government administration. Among those who are rallying in support of the Thakurs accused in the Hathras gangrape-assault case are members of right-wing groups like Bajrang Dal, RSS and Karni Sena and a local BJP leader. The members of these right-wing outfits are also part of 'upper caste organisations' like Rashtriya Savarna Sangathan, Kshatriya Mahasabha etc, reported The Quint.
The year is 2020 and yet , groups affiliated with the RW Ideology continue to speak up for those accused of the most heinous crimes. Here are some more cases when the Right Wing community, Including the BJP 'stood' up for the accused:
2018: Kathua, RW supported men accused of rape and murder of a nomad child
One of the most horrific cases of 2018, the rape and murder of eight-year-old nomad girl of Jammu and Kashmir's Kathua district had sent shivers down the country's spine.  The Gujjar community held protests demanding  justice for the victim and her family. However, the right-wing Hindu Ekta Manch carried out protests asking why "selected persons" had been arrested. People had carried theTricolour at a right-wing rally and demanded the release of police officer Deepak Khajuria accused and arrested in the Kathua rape-and-murder case.
2018: BJP's MP from Hazaribagh Jayant Sinha, honoured men who lynched Muslim meat seller
The victim Alimuddin Ansari had been beaten to death by a mob that suspected he was carrying beef. Jayant Sinha, the union minister from Jharkhand had felicitated the eight convicts at his residence, welcoming them with garlands. According to an NDTV report, 11 men, including a local BJP leader, were sentenced to a life term for beating Alimuddin to death on June 30 2017 last year.
2017: Amit Shah defended Maya Kodnani in Gujarat riots case
It was widely reported whan Home Minister Amit Shah appeared before a Special Investigation Team court, as a witness to defend prime accused , former Gujarat minister Maya Kodnani in the 2002 Gujarat riots case. Shah stood up to defend Kodnani and said she was with him inside the state Assembly when the riots blazed in Ahmedabad's Naroda Gam.
2017: BJP defends Haryana CM Manohar Lal Khattar Khattar, in the wake of Panchkula violence
Even as demands were made for the Haryana chief minister's removal, over his reported failure to control the violence by Dera Sacha Sauda chief Gurmeet Ram Rahim Singh's followers.  At least 31 people were killed in police firing in Haryana but the BJP maintained that the state government handled the situation "meticulously" and the CM would stay. Dera Sacha Sauda chief Gurmeet Ram Rahim Singh had been seen with various BJP leaders at functions before he was.
2014: Arun Jaitley defended PM Modi, saying he need not apologise for the 2002 Gujarat riots
Arun Jaitley put in "monumental efforts to propel Narendra Modi" to consecutive electoral victories in Gujarat, and also "staunchly defended Modi whenever he became a subject of criticism," Times Now and others had once reported. By 2014 Narendra Modi had been absolved of complicity in the 2002 Godhra riots by a court, however many were demanding an apology from him for the riots that took place in his regime. In the run-up to the 2014 Lok Sabha elections, Modi said he felt 'anguish' on witnessing the 'inhumanity' of the 2002 riots which claimed the lives of thousands, mostly Muslims. Jaitley said that the legal process held Modi not guilty because  "there was not a shred of evidence against him then there is no need for Modi to apologise".
2013: Narendra Modi defends himself on 2002 Gujarat riots: Highlights
Narendra Modi defended his actions during the 2002 Gujarat riots, asserting that "we used our full strength to set out to do the right thing", in an interview to news agency Reuters, reported NDTV.  "I would feel guilty if I did something wrong. Frustration comes when you think 'I got caught. I was stealing and I got caught.' That's not (what happened in) my case," he was quoted and added that "If we are driving a car or someone else is driving a car and we're sitting behind, even then if a puppy comes under the wheel, will it be painful or not? Of course it is. If I'm a chief minister or not, I'm a human being. If something bad happens anywhere, it is natural to be sad."
The right wing track record of defending the accused, and often changing narratives of crimes and investigations, and blaming the victims, is being added to Uttar Pradesh at the moment.