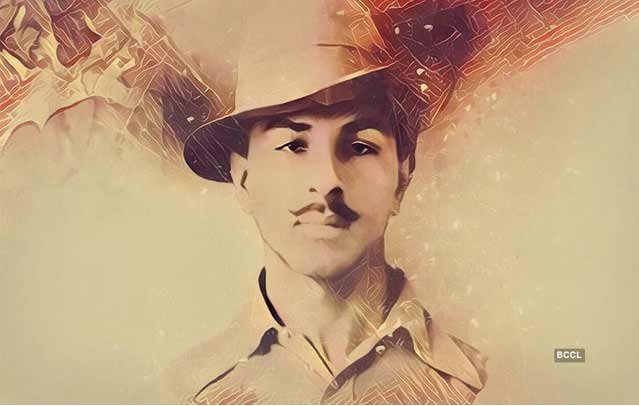 In March 2018, Punjab Archives in Lahore, for the first time, displayed some documents from more than a hundred files relating to Bhagat Singh trial in an exhibition — "Bhagat Singh's Life and Death (1907-31)". Apart from many other documents, it contained a few more letters of Bhagat Singh's which were not in the public domain earlier. Lahore journalist Ammara Ahmad, who is working on a book Footsteps of Bhagat Singh in Lahore, has shared her photographs of this exhibition.
1. Note in Urdu by Jail official with date-31/5/1929
The Superintendent (Special duty),
C.I.D. (Political Branch)
Lahore
Dear Sir,
I will feel much obliged if you will kindly allow me to have an interview with my father as I have got very important instructions to give him for my defence counsel in connection with the Delhi case.
I hope you will not disallow it on the ground that I already have had an interview as the matter is very urgent.
Hoping to be favoured,
Yours etc.
Sd./ Bhagat Singh
2. Special Tribunal of three High Court judges was notified by Chief Justice of Punjab High Court Chief Justice Shadi Lal, on 1st May 1930 for the trial of Lahore Conspiracy case. This tribunal consisted of Justice Coldstream as President of the tribunal and Justice Agha Haider and justice Hilton as members. While on 5th May five comrades of Bhagat Singh wrote to the tribunal their decision to boycott the tribunal, 10 other comrades including Bhagat Singh wrote on 8th May 1930, their response to avail legal help for the case.
In the court of the Special Tribunal
Lahore Conspiracy case, Lahore
Crown vs. Sukhdev & Others
Charged under secs 302, 120-B+121-A, IPC
This humble petition of the accused persons
Bhagat Singh & others most respectfully:
That the petitioners are charged with most serious offences including sec. 302 with 120B and 109 IPC
That the majority of the petitioners have been lodged for the last eight or nine months in jail.
That with one exception, all the petitioners as stated below belong to distant provinces and as such have no relative here to look after their defence.

Ajay kumar ghosh–Allahabad, U.P
Bejoy Kumar Sinha—-Cawnpore,U.P
Prem Dutt —Srinagar, Kashmir
Kamal Nath Tewary—Betiah, Bihar
Shiv Verma —-Hardopi, U.P
Jai Dev Kapoor—HardoiU.P
S.N. Pande—–Cawnpore, U.P.
Kishori Lal—Quetta, Baluchistan
Des Raj—Sialkot, guardian outside India

That five of the petitioners are unrepresented accused defending their case themselves.
That for the reasons stated above in paras 3+4, the petitioners can make arrangement for their defence only through their friends, attorneys and members of defence committee.
That it is therefore prayed that in the interest of justice, the learned court be pleased to grant the petitioners following facilities-
I. Interviews with friends, attorneys, legal advisors and members of defence committee members and relatives in court during lunch hours or after the rising of the court during the one hour stay after accused for their mutual consultation
II. Instructions should be sent to the Supdts. of Borstal and Central jails for allowing interviews with the same.
III. Subject to accommodation the legal advisors of the unrepresented accused be given seats in the body of the court room.
IV. Recognition of the defence committee and permission to two members of committee to sit in the body of the court subject to accommodation.
That it is prayed that in view of the large number of prosecution exhibits of this case, one of the day of the week preferably Saturday be set for the examination of the exhibits by the accused and their counsels.
Hand written and signed by-
Bhagat Singh
 Bejoy Kumar Sinha
Ajay Kumar Ghosh
SuPande
Jai Deva Kapor
Kishori Lal Ratan
Prem Datt Varma
Shiv Varma
Kamalnath Tewari
Des Raj
8th May 1930
(Official Stamp Lahore)
These letters have been published in The Bhagat Singh Reader edited by Chaman Lal, published by HarperCollins India in 2019 (Page 22-23, 586-87).