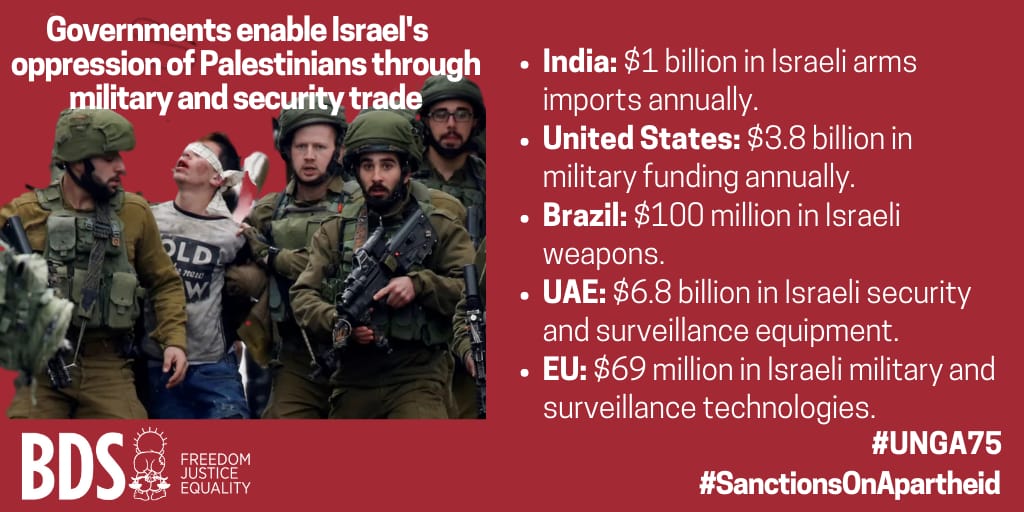 The 75th United Nations General Assembly is taking place amidst a global pandemic- one which has brought into sharp relief the systemic inequalities that make some people more vulnerable than others. In the midst of this pandemic, backed by Trump's White House, Israel announced its plans to formally annex parts of the occupied West Bank. This move has simply exposed the apartheid and de facto annexation that Israel has imposed on Palestinians for decades.  Simultaneously, the reckless impunity of announcing annexation alarmed political leaders and human rights experts around the world, as it openly contravenes the established international conventions against forced conquest. While this has been the lived reality of generations of Palestinians, this particular moment has unmasked Israel's apartheid like never before.
And like never before, the demands by Palestinian civil society for the UN to investigate Israel's apartheid and impose lawful, targeted sanctions on it have received support and endorsement globally. Over 450 unions, movements and political parties around the world, including from India, have called upon the UN to pay heed to these demands. Ex- presidents, MPs, diplomats, civil society and political leaders from the Arab world and Global South have supported these demands.
Through this week, Palestinian civil society organizations are organizing online efforts to mainstream these demands. Yesterday was a day to #EducateAgainstApartheid where resources on understanding why Israel is an apartheid state were shared. Today, 4-6 PM Palestine time (6.30-8.30 PM IST) is a Twitterstorm showing how states and corporations are complicit in Israeli apartheid. A special mention needs to be made of Indian government here, the biggest buyer of Israeli arms as well as an ideological partner of Israel. Through the week, Palestinian civil society groups will share videos and materials to raise awareness and build support for the twin demands of UN investigation into Israeli apartheid and sanctions.
Apartheid in South Africa ended when following decades of popular mobilizations, including boycott of the apartheid state, UN opened an investigation into and found South Africa guilty of apartheid. This was followed by sanctions.
Apartheid was wrong in South Africa, it is wrong in Palestine.
Join us in supporting these efforts during the UNGA week of action.
Thursday, September 24th, 4-6 PM Palestine time: Join a twitterstorm highlighting corporate and government complicity in Israeli apartheid.

Friday, September 25th: Launch of video: "Lives under apartheid".

Monday, September 28th: Launch of video "Global Response to Israeli apartheid: Together we prevail." Look for an email from us that day.