As outlined in the US backed "Deal of the Century", Israel plans to formally annex parts of the occupied West Bank. This move has attracted condemnation and calls for action from across the world as it gravely violates international law. This de jure annexation, however, is only a culmination of decades of de facto annexation of the occupied Palestinian territories in the form of home demolitions, illegal settlements, the apartheid wall and more. Altogether, this is a pivotal aspect of Israel's apartheid and settler-colonial regime, aiming to permanently alter the demographics of the occupied territories, turning them into Bantustans and denying the possibility of a future contiguous, independent state of Palestine.
The plans of formal annexation have, however, faced strong resistance from the Palestinian civil society which has called for effective countermeasures by states including targeted sanctions and ending trade and military ties.
Civil society as well as political leaders, diplomats and international bodies from across the world have condemned Israel's plan for annexation. Over a 1000 European MPs called on Israel to halt its "'destabilising' annexation plans". The United Nations Human Rights Chief, Michele Bachelet, said in a statement, "Annexation is illegal. Period, any annexation. Whether it is 30 percent of the West Bank, or 5 percent."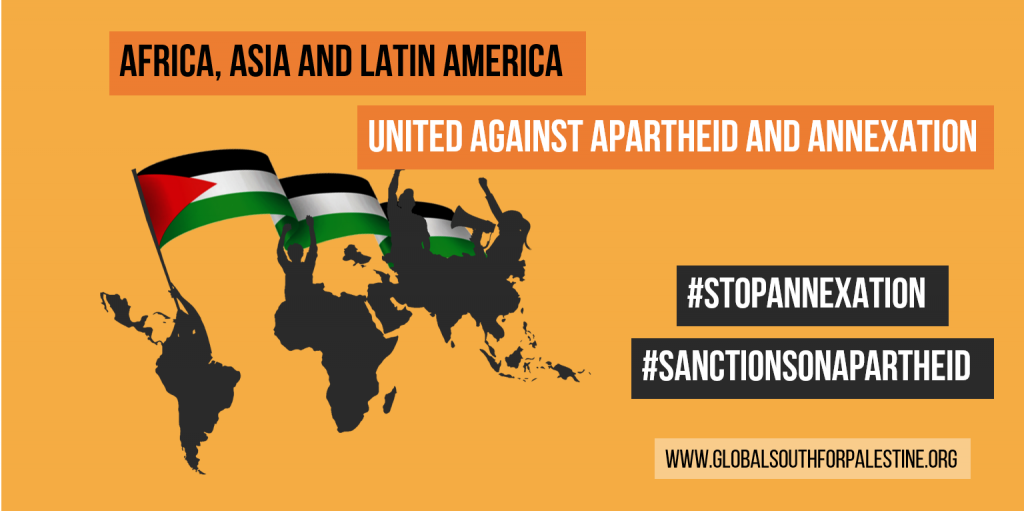 The response from the global south, opposing Israel's plan has been united and powerful. Hundreds of MPs, diplomats, political and civil society leaders have endorsed a joint statement demanding targeted sanctions, re-opening of UN's apartheid committee against Israel, ending trade ties and support for the International Criminal Court's probe into charges of war crime against Israel. They pledge to work at their national and international levels to push for these demands. Signatories include seven ex-Presidents from Latin America, including Lula da Silva, Dilma Rousseff, Jose Mujica; two ex-Presidents from South Africa and many other prominent public figures. The mobilisation, initiated by South Africa BDS Coalition, also organised a webinar around this effort, where some of the prominent signatories including Mandla Mandela, Brazil's ex-foreign minister Celso Amorim and Rajmohan Gandhi, ex-MP from India, among others, made interventions.
This effort has now been collated on Global South for Palestine. The website collates the ongoing efforts of solidarity from Asia, Africa and Latin America against Israel's plans of formal annexation of parts of the occupied Palestinian territories.
This is an ongoing effort, focused on raising concrete and actionable demands in solidarity with Palestine, wherein the anti-colonial struggles of the global south organically link it to the Palestinian struggle for liberation. Visit this website to learn more and join this effort.