We, the undersigned unions, organisations and individuals from India condemn the arrest of BDS National Committee's General Coordinator, Mahmoud Nawajaa and call for his immediate release. In the typical manner of Israeli occupation forces, Nawajaa was arrested at 3.30 am on 30th July: he was handcuffed, blindfolded and taken away by tens of armed soldiers in front of his wife and three young children.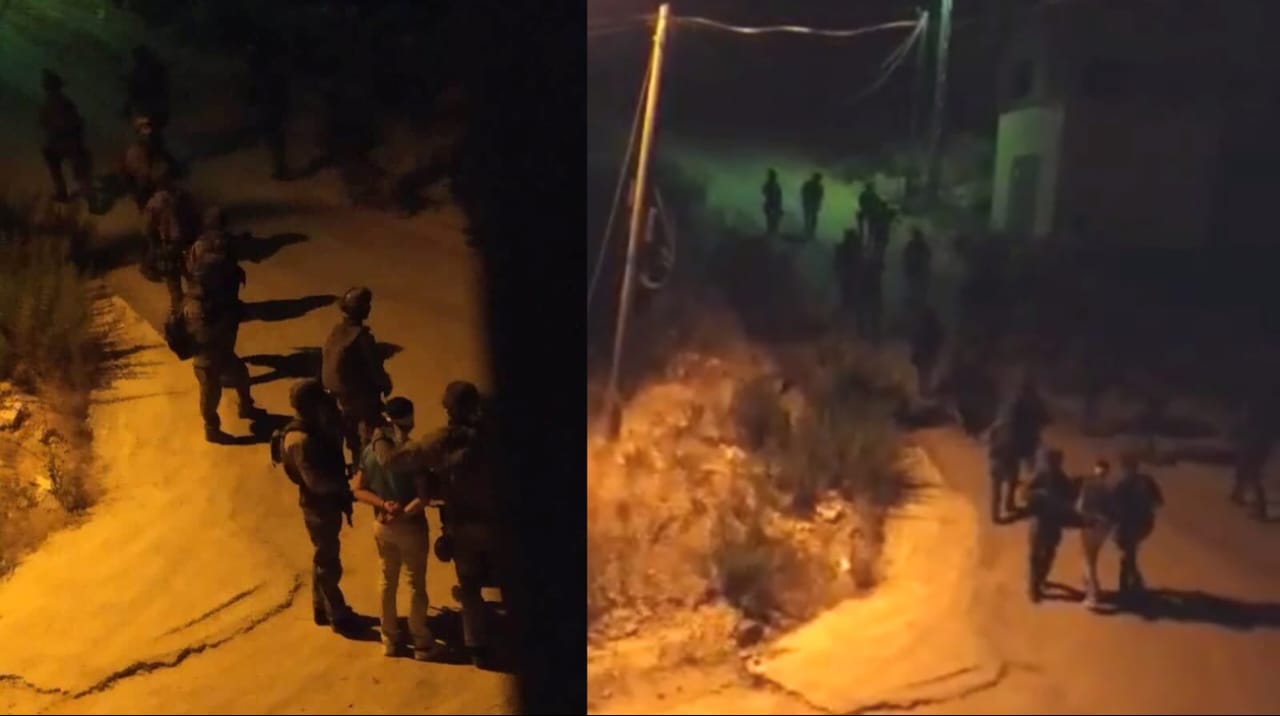 Nawajaa has been in detention for over 15 days without any charges, and was only allowed to meet his lawyer on the 13th day since his arrest. He is being punished for exercising his freedom of expression and association, and is a prisoner of conscience as Amnesty International and other human rights groups have stated. The growing impact and popularity of the Palestinian Boycott, Divestment and Sanctions movement is making Israel extremely nervous, and Nawajaa's vengeful arrest is testimony to that. Nawajaa visited India as part of Israeli Apartheid Week in 2018 and met with students, farmers unions, political and civil society groups to share the message of solidarity and joint struggles.
Since then, such a need has only become stronger as we see a carceral state entrenching itself in India, where poets, trade unionists, professors and students are being imprisoned under draconian laws for lending their voices to struggles for social justice. It is no surprise then, that India is the biggest arms importer of Israel. The ongoing demographic changes in Kashmir as well as the Citizenship Amendment Act, both closely reflect Israel's apartheid policies and mark the extent of ideological collusion between the two states.
Today Israel is going forward with its plans to formally annex parts of the occupied West Bank, as part of its apartheid regime against Palestinians, even as the normalization of ties with Arab states such as UAE is underway. Gaza continues to be besieged, and millions of Palestinian refugess cannot return to their homes. The purchase of arms and a host of other ties essentially finance this apartheid and colonization using our public money. These weapons and surveillance systems are then used to repress people's movements. We stand opposed to this collusion, and in solidarity with the Palestinian people and with the BDS movement. Building BDS campaigns that link with our local struggles, and calling out Israel's apartheid and annexation is how we intend to respond to this aggression.
We demand the immediate release of Mahmoud Nawajaa as well as all political prisoners in Israeli jails, as we demand the release of political prisoners in India, all of whom are rendered more vulnerable due to the Covid 19 crisis.
Our oppressors are connected, but the unity of our struggles is stronger.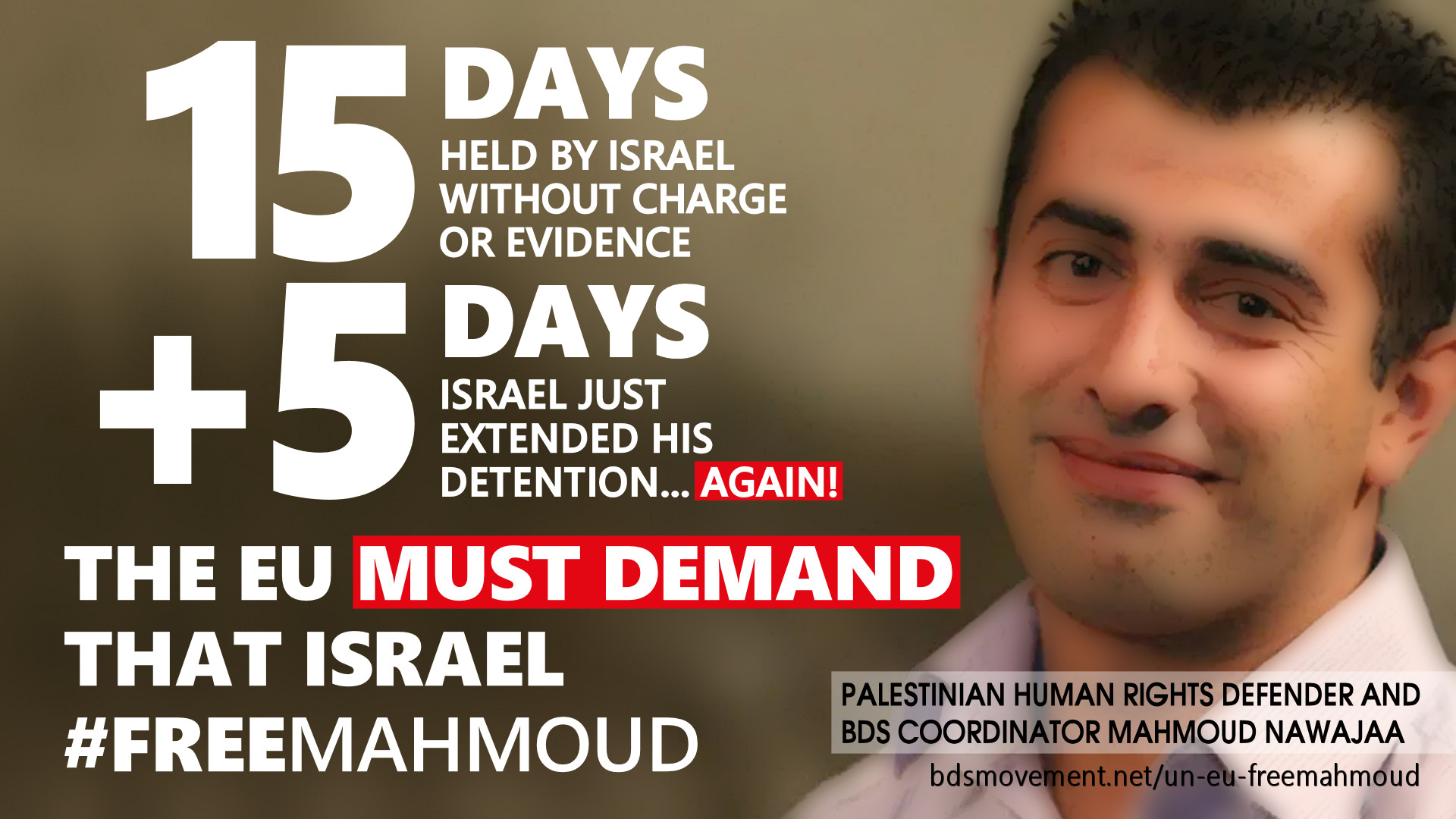 Endorsements:
Achin Vanaik, (Retd) Professor of International Relations and Global Politics, Delhi University

Githa Hariharan, Writer

Souradeep Roy, Researcher

Jyothi A, Activist and Writer, Bengaluru

Dr Saumya Chakrabarti, Professor of Economics, Visva-Bharati (University), Santiniketan

Neelima Sharma, Secretary of Nishant Natya Manch

Shamsul Islam, retired Professor of Politcal Science, Delhi University

Vivan Sundaram, Artist

S. Raghunandana, Kannada poet, playwright, and stage director

Arundhati Dhuru, National Alliance of People's Movements, India

Sandeep Pandey, Socialist Party (India)

Damodar Mauzo, Writer

Nandini Sundar, Sociologist

Usman Jawed, Independent Researcher, New Delhi

Rajni Palriwala, Professor of Sociology, Delhi University

Farida Abdulla Khan, Independent Researcher, formerly at the Jamia Millia Islamia, Department of Educational Studies, New Delhi

Ramneek Singh, Playwright, Theatre Director, Teacher

Apoorvanand, Academic, Writer , Delhi

Nicholas Barla, Indigenous Peoples Forum, Odisha

Pushpamala N, Artist, Bangalore

Shoma Chatterji; Journalist and Author

Indira Chandrasekhar; Tulika Books, New Delhi

Geeta Kapur, Art Historian, Delhi
Organizations:
Right2Dissent

Delhi Queerfest