I got my award for my work, not for sitting at home: Masrat Zahra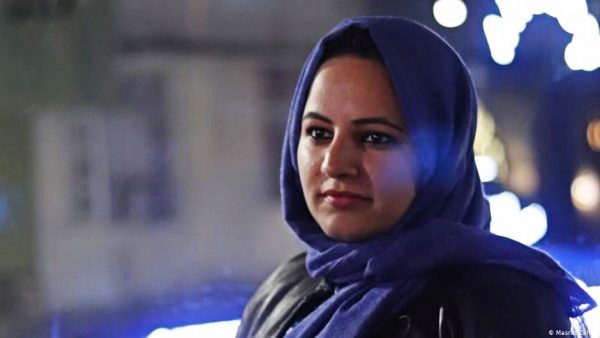 "What?? Can you repeat?… Stop the music… " Masrat Zahra, can now recall with a laugh, straining to hear the call on Thursday night informing her she had won the prestigious Anja Niedringhaus Courage in Photojournalism Award given by the International Women's Media Foundation (IWMF).
"I will talk to you later," she told the caller, unable to speak anymore as her voice choked and she broke into tears. She had just become the first woman photojournalist from Kashmir to have won such a prestigious international award.
"I was at my cousin's wedding when the call came and I had to ask the family to stop the music because I could not hear anything. Then I just started crying," said Masrat Zahra, speaking to SabrangIndia over the phone.
As happy tears flowed, the celebrations at the family wedding she was at doubled and no one minded that they had to mute the music for a bit. The award honours the life and work of Pulitzer Prize-winning AP photographer and IWMF's Courage in Journalism Award winner Anja Niedringhaus (1965-2014). It is given to women photojournalists whose visual documentation reflects the circumstances they work under and honours their courage and dedication.
Masrat Zahra knows a thing or two about both courage and dedication. She was in the news recently when she was booked under the stringent Unlawful Activities Prevention Act (UAPA) for her work. The case against the 24-year-old photographer barely in her fourth year as a freelance photojournalist has still not been dropped. The future, as is the case for all those currently booked under UAPA across the country, is still uncertain. "Right now, the case is still on it is like a sword hanging on my head," said Zahra, adding that her family has been very supportive, but continue to worry for her well being.
For now, all she has is a verbal assurance from the investigating agencies. They have not contacted her again after they had called her for 'questioning'. Nor have they dropped the case. In fact, Masarat does not even have a copy of the first information report that was perhaps filed that day, and so does not know any details about the case.
Zahra had been booked for allegedly "uploading anti-national posts with criminal intention to induce the youth and to promote offences against public tranquillity." The Cyber Police, Srinagar, has charged Zahra under the draconian Unlawful Activities Prevention Act (UAPA) and Section 505 of the Indian Penal Code (IPC).
According to the press release, issued at that time, by the Cyber Police Station Kashmir Zone, Srinagar, the FIR was filed against a 'Facebook user' on April 18, under Section 13 of the UAPA and Section 505 of the IPC. Investigations are on, the press release stated and alleged: 'The Facebook user, identified by the name Masrat Zahra, is uploading photographs that can provoke the public to disturb law and order and glorify anti-national activities.'
In the days that followed her questioning, Zahra was showered with support from journalists, rights, and feminists' groups from across the country, and abroad. She remembers the Kashmir Press Club standing by her all through. The UAPA case, she says, is a "message to the whole journalist fraternity [of the region]. 'Do not talk, do not tell the truth… do not speak," she adds it is an attempt to silence voices of journalists. She wonders why else would they pick her, a young freelance woman photo journalist, to be booked under the UAPA.
Being a journalist in Kashmir is challenging to say the least, being a photojournalist is even riskier, and being a woman photojournalist would just top the 'risk-assessment-list' if there was one. Perhaps there should be one, and it should have a roll of honour for those who dare. Kashmiri-Muslim-woman-photo journalist, may read as an over-hypehnated mouthful, but it reflects the challenges of both the profession and the socio-political situation Zahra lives and works under.
The middle child of a homemaker mother and a government employee father, members of a conservative extended family, Zahra perhaps also has to swim against social norms, as she continues her work. This award has also come as a token of reassurance to Zahra's parents, that their daughter is doing well on her chosen path. Especially after all the stress induced by the UAPA charges.
"My family is happy now," she says. The award also empowers her to shut down naysayers and venture out for her stories more, "I got my award for my work not for sitting at home. It is my journalistic work," says the freelancer who regularly updates her social media handles with the photos she takes, "i use my social media as my portfolio. I get commissions, including some international work."
She wants to continue working in Kashmir and explore stories that are not yet known to non locals, "there are many untold stories. I want to tell them. I will not stop." She wants to make long form documentaries and credits her achievements to guidance from her mentor, Shaukhat Nanda, a Kashmir based documentary filmmaker. "After I told my parents I rushed to tell my teacher Shaukat Nanda," said Zahra adding that he was the one who helped her with everything, including submitting the application to be considered for this award.
"He was shocked, left the tea he was drinking and was crying too," she remembers her phone call to him, adding the award is for the entire community of journalists in Kashmir, "It is a big thing for all of us."
With this award, her work will be showcased to a larger audience and she will also get a cash prize of $20,000. She already knows where that money will be spent, "I will update my [photography] gear, I will buy professional gear and editing software." She will then continue her freelance work, as well as her long-term documentary project on forgotten and untold stories of Kashmir. "Studying further is also an option," says Zahra who holds a Masters degree in Journalism from the Central University of Kashmir.
Zahra's evocative work has been published by several magazines, online and other media outlets including The Caravan, The Washington Post, TRT World, Al Jazeera, The New Humanitarian, and Religion Unplugged. She has also exhibited her portfolio titled: "Journalists Under Fire", at the annual Photoville festival in New York.