Music and Modernity
Music, Modernity, and Publicness in India is an interdisciplinary collection of essays, edited by translator and cultural theorist Tejaswini Niranjana, on how the advent of modernity in the twentieth century altered the style of music-making in the country. The essays examine how modernity affected ideas of publicness, migration, and technology in India, and how these, in turn, contributed to the making of music, across regions and languages. It also explores the origins of labels like "classical" and "folk", the role of music in shaping up the nation's identity, and more.
The following is an excerpt from the Introduction of the book.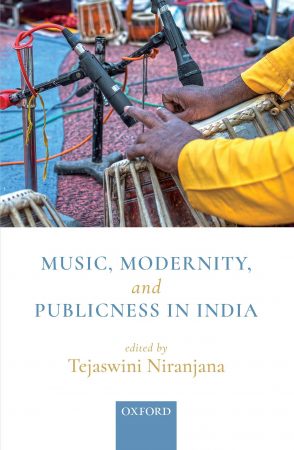 In the 1974 Hindi film Roti (dir. Manmohan Desai), there is a song picturized on the protagonist, Mangal (played by superstar Rajesh Khanna), where he is creating an audience of villagers around him as he exposes, sequentially, a black marketeer/hoarder and a political leader. As he dances smilingly through the village, Mangal sings, addressing in turn his followers and those who he is exposing, and more importantly, the off-screen audience:
Yeh public hai
Yeh sab jaanti hai, yeh jo public hai
Aji Andhar kya hai
Aji Baahar kya hai
Yeh sab kuch pehchaanti hain
This is the public
It knows everything, this public
What's inside
What's outside
It's familiar with every single thing.
(Lyrics: Anand Bakshi)
Mangal represents this public that will not be hoodwinked because it knows 'everything', but the film's structure of address also takes in the people following him—the public—who need to be interpellated as such precisely so that they may recognize that they know. Note that the English word 'public' is used, a sign that it has its own frame of reference in India, something which cannot be captured by the usual translations like sarvajanik or janata or lok. Not surprisingly, one of the Hindi translations for 'public' provided by the widely used digital service Google Translate is public itself.
It is fairly common to hear people in contemporary India refer to themselves as 'the public' ( apun public hai ). The widespread use of the English term 'public' in popular discourse in India, however, does not necessarily mean that it is deployed in the same way as is in Euro-America. The connotations of rational discussion, equal access and participation, consensus building—all seen as associated with the Habermasian idea of the public sphere—are not what 'public' brings to mind in India, or in South Asia, more broadly. I want to suggest that this public is a contentious, affective, and volatile public, even while it might include some of the forums for polite discussion and criticism belonging to elite circles. This is not to say, however, that it is the 'other' of a normative Western public sphere, but merely to mark the differences in how it comes to be constituted. As several contributors to this volume point out, the modern publics around musical genres in India are multiple, with cross-cutting class, caste, gender, and religious differences. Again, this is not to say that the musical public 'transcends' these differences, but to emphasize that it is a striated public, even as it comes together in its devotion to music.
In a landmark 2005 anthology, Rajeev Bhargava and Helmut Reifeld brought together the writings of leading political thinkers on the question of 'public sphere' in the Indian context. None of the writers agreed that a normative understanding of public sphere obtained in India; neither did they agree that there was a shared vocabulary through which participation in such a sphere could either be engaged in or understood. Building on these insights, the present volume also declines to present a unifi ed understanding of what constitutes a public sphere in modern India, or to comment on whether such an understanding is necessary for making sense of cultural practice, and specifi cally music, in all its complex dimensions. All the writers here are, however, interested in elaborating on ideas of 'publicness' in relation to the changing nature of musical practice in the last 150 years. Such ideas of publicness do include the sense of being part of the same social group by choice and not ascription. While being aware that even the musical public is riven with social inequalities of all kinds, the authors' main focus has been on the various factors feeding into the development of a common language of appreciation and endorsement.
This is an excerpt from Music, Modernity, and Publicness in India, a collection of essays edited by Tejaswini Niranjana and published by Oxford University Press in 2020. Republished here with permission from the publisher.