Portrait of a scholar princess
Rumer Godden's Gulbadan: Portrait of a Princess at the Mughal Court is the story of the 'Rosebody' princess and her life in the Mughal court, told from her own perspective. Gulbadan Begum, an accomplished scholar and Babur's daughter, was Humayun's biographer and the author of the Humayun-Nama. The book covers a rather long spread of history and includes bits of Gulbadan's story that are rarely documented anywhere else, including her migration from Kabul to Agra, with her father, Babur, who then established his capital there, life in the Mughal harem, and much more.
The following is a significant excerpt from the chapter "Babur-Part One" of the book.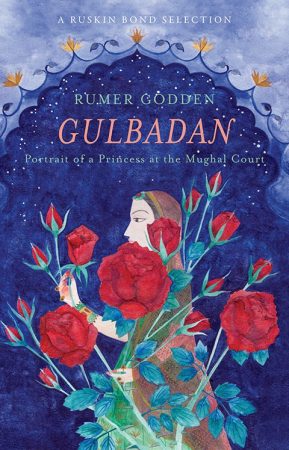 Gul means 'rose' and there were many 'rose' princesses because the rose is the flower most loved and prized in the East from Persia to Hindustan and as far away as China. The Afghan rose is white while the Persian is the small pink rose called the Damascus or damask rose, sweetly scented, but it is plainly of the red rose that Babur was thinking when he named Gulbadan and her two sisters. The eldest was Gulrang (Rose-Coloured), the second Gulchihra (Rosy-Cheeked). Another of Babur's wives was Gulrukh (Rose-Faced) — and one of his slave girls, a Circassian, who was to be Gulbadan's friend all her life was 'Red Red Rose', but Gulbadan—Rosebody — was 'rose' through and through as her name implies. Indeed, it might have been of her that the poet Hafiz was thinking when he wrote that 'rose is the colour of sincerity'.
She lived almost through three reigns: her father Babur's, her brother Humayun's, and her nephew Akbar's, till two years before his death. Akbar was the most famous of the three, yet it is plain he was the one she loved least. All the same, if it had not been for Akbar she would have stayed hidden, a begam, or princess, amongst a thousand other begams and no one would have thought of trying to unravel the thread of her existence, a seemingly slender thread, tangled deeply with her family's; in the writings of her contemporaries her name seems always to follow in the shadow of another, which is perhaps what she would have wished, but some time in the years between 1587 and 1590, the Emperor Akbar 'issued an Order': 'Write down what you know of the doings of…'—he does not call his grandfather and father Babur and Humayun, but by the names given to them by Muslim custom after death, different names, so that, mercifully, their mistakes and misdeeds would not be attributed to them when they had left the world. The purpose of the 'Order' was probably to help gather matter for the biography of Akbar himself, the Akbar-nama which his friend Abu'l Fazl was writing, and was given to three people: to Jauhar, who had been Humayun's ewer-bearer, which means valet, companion and intimate confidant and friend, to Bayazid, once Humayun's steward and a courtier of rank and, finally, to Gulbadan Begam, the only woman.
Probably not many ladies of that sixteenth-century Court could read or write, but Gulbadan, in her modest way, was a scholar: she collected books, had written poetry, but history was another matter.
By this time, too, she was in her mid-sixties and she wrote, 'When his Majesty (my father) left this perishable world I was only eight years old, and it may well be that I do not remember much,' but the Order was the Emperor's and, 'In obedience to the royal command I set down whatever there is that I have heard and remember.'
Obviously Akbar was disappointed; he was accustomed to the flowery ornate descriptions of such flatterers as the court poet Faizi and the poet's brother, the same Abu'l Fazl; they seem to have held the Emperor under something like a spell.
In writing his Akbar-nama Abu'l Fazl's preface begins: 'I, Abu'l Fazl, return thanksgiving to God by singing the praises of royalty and stringing its kingly pearls upon the thread of description,' and such description! That of Akbar alone, and only in the introduction, runs to five pages of phrases: 'unique of the eternal temple', 'confidant of the dais of unity', 'jewel of the imperial mine', 'bezel of God's signet ring', 'lamp of the tribe of Timur', 'shining forehead of the morning of guidance', and so on and on and on. Gulbadan's book, which she veiled under her brother's name as the Humayun-nama, opens with the, then, usual, 'In the name of Allah, the Merciful, the Compassionate'—from childhood, it is clear she was on confident, intimate terms with Him—then tells of Akbar's Order, her dutiful obedience to it, and goes on with grave simplicity: 'First, by way of invoking a blessing [on my work] a chapter must be written on my royal father's deeds.'
It was too plain and matter-of-fact for Akbar; Gulbadan seldom falls into the fashionable jargon or 'embroidery' and then only in a single phrase and almost always when writing of Humayun: 'his lily-dropping tongue', 'that altar of truth'; for the most part her writing is so direct and unadorned that it is almost bald, nor did she have Babur's gift, shown in his Memoirs, for evoking in simple words landscapes, flowers, fruit and birds; her interest was in people. Her dates, too, are often confused and sometimes facts do not tally: for instance, she says Babur had eighteen children and lists only sixteen. For these reasons, or perhaps others, her book was only copied three times — there was no printing then — while Bayazid's had nine copyists and, of her three copies, only one seems to have survived, and that was lost for nearly three hundred years. Not one of the earlier historians mentions it, though Abu'l Fazl obviously 'lifted' parts for his Akbar-nama—without acknowledgement. Then, in the 1860s, a catalogue was made of more than a thousand rare books and manuscripts collected by a Colonel Hamilton in Delhi and Lucknow. Among them was this unknown little Humayun-nama which the British Museum bought from the Colonel's widow; but it was not until 1900 that Annette Beveridge, wife of Hugh Beveridge, the expert in Oriental literature, and herself a Persian scholar, had the idea of translating this Humayun-nama. It was a difficult and delicate task.
'There was just this one manuscript to work from,' she says in the preface. 'Some of the words were Turki which was the Princess's native language—Persian was an accomplishment.' The manuscript had, at some time, been rebound in plain red leather and one of the folios was in the wrong order: 'it has no frontispiece, margin or rubric … the end is lost…' but, as Annette Beveridge worked, beautifully enhancing Gulbadan's words by footnotes and a long preface, more and more did she come to recognise the value of what she was discovering. Akbar had been wrong.
This is an excerpt from Gulbadan: Portrait of a Princess at the Mughal Court, written by Rumer Godden and published by Speaking Tiger Books in 2016. Republished here with permission from the publisher.