Hours after PM's appeal, UP CM attends religious ceremony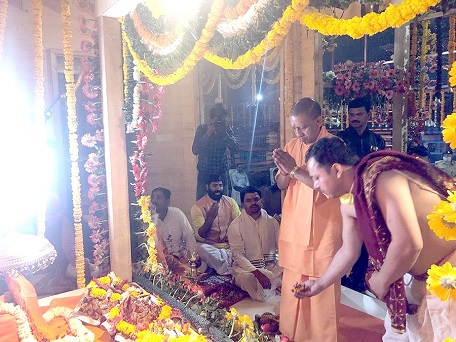 The idol of Lord Rama in Ayodhya was shifted to a temporary temple from the makeshift tin shed arrangement early this morning by the monk chief minister, Yogi Adityanath, himself.
As per the sources, the ceremony was attended by more than 20 people including the chief minister and district magistrate. This has drawn flak on social media as it comes hours after the beginning of the 21-day countrywide lockdown announced by Prime Minister Narendra Modi in a bid to stop the spread of novel coronavirus.
In Uttar Pradesh, so far, 38 people have been tested positive for COVID-19 and a few among them have fully recovered and have been discharged, as per Dr Sudhir Kumar, the spokesperson at King George Medical University in Lucknow.
According to an estimate by the Johns Hopkins University, the pandemic has infected 4,21,792 people globally, and killed 18,883 across 169 countries or territories. In India, the Health Ministry has confirmed 562 cases of the virus. Of these, 512 cases are active. Ten people have died due to the virus.
The district magistrate of Ayodhya, like always, did not reply to the phone calls and text messages asking information about the number of people who attended the ceremony and if any protocols were followed. However, Uttar Pradesh government's print media advisor Shalabh Mani Tripathi, reacting to a political post on Twitter, said that the ceremony was attended by only 20 people and all the protocols were followed.
Veteran journalist Ram Dutt Tripathi said that Uttar Pradesh Chief Minister Yogi Adityanath, by attending a public ceremony, has set a bad example. "All the top doctors in the world have advised home stay and in isolation. Prime minister and UP CM have enforced curfews accordingly," he said.
A purported video of the ceremony accessed by NewsClick shows over 15 people along with the UP Chief Minister Yogi Adityanath standing very close to each other and not practising social distancing.
Activist seeks action against CM

Social activist Dr Nutan Thakur has sought action against UP CM Yogi Adityanath for intentionally violating the legal lockdown announcement made by PM Narendra Modi and going to Ayodhya to participate in the Ram Mandir ceremony, keeping dozens of people with him during this process and announcing this through social media.
In her tweet addressed to the prime minister and Union home minister, along with other authorities, Nutan said that if they truly want to get their directions followed by the people, they must act against those who intentionally violated the law in force, otherwise it will send out an extremely bad message.
Sharad Sharma, the Vishwa Hindu Parishad (VHP) coordinator in Ayodhya, said he did not attend the ceremony but there were about 70-80 people present while the idol of Ram Lalla was being shifted from the makeshift temple.
Dr S Kumar, a private medical practitioner posted in one of the remotest districts of the state, said that the action of the state's chief minister clearly indicates what his priorities are.
"The ceremony could have been done with a closed door with a few people; there was no need to go there with so many people. The prime minister last night itself requested us all with folded hands to practise social distancing. This is high time that we believe in science, listen to the advice of the doctors, avoid panic and not do things which can spread virus," he said, asking, "What if someone else would have done it? What action would have been taken against them?"