Sisterhood and resistance: Shaheen Bagh women mark Women's Day
On Women's Day, a sale was held at Shaheen Bagh, the site of the longest-running and women-led protest against the new citizenship matrix, to raise funds for the Delhi riot victims and a moment of silence was observed for everyone killed in the carnage. Shaheen Bagh was teeming with an assortment of activities dedicated towards the relief fund, the primary discussion was centred on the stir against the controversial Citizenship Amendment Act (CAA) and the proposed nationwide National Register of Citizens (NRC).
One protester, Kausar told the gathering that Shaheen Bagh had observed a moment of silence on Sunday for those killed in the riots. "We mourn for head constable Ratan Lal and Intelligence Bureau employee Ankit Sharma. Mothers understand what it is to lose a child. That's why on Women's Day we decided to contribute to the relief effort," she said.
"Log tut jate he ek ghar banane mein,
tum taras nahin khate bastiyan jalane mein"
[People break their backs building a home, You don't pity burning down villages]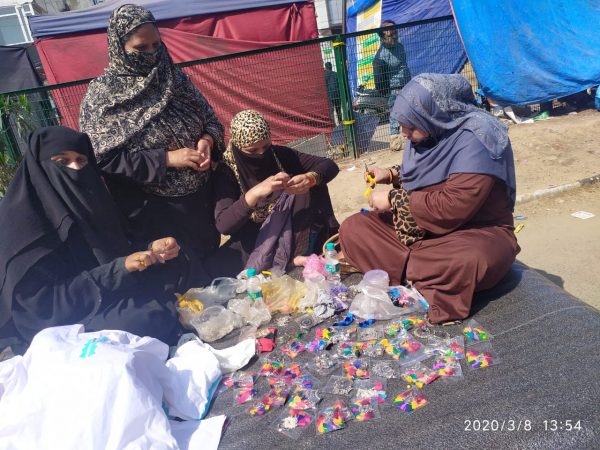 This moving couplet of noted poet Bashir Badr was emblazoned on the posters hung around the street stalls near the Shaheen Bagh protest site on Sunday. It was this powerful yet poignant verse found resonance amongst the women of Shaheen Bagh who banded together on the occasion of International Women's Day to lend a helping hand to the victims of the Delhi violence, which rendered many homeless and over 50 dead.
"People have put their lifelong savings to build homes. All have been plundered in this violence; shops looted, many have lost their loved ones," Aslima laments before she explains the purpose behind this initiative in detail.
"On this Women's Day, we want to do our bit in whatever way possible. We have set up shops here selling our handmade craft items and doing mehendi art. We will donate the money to the riot victims in Mustafabad, Jafrabad, Chand Bagh among others," she sums up.
Next to Afreen's stall was Shahdah's set-up where she lined up handmade colourful potteries. The bespectacled woman remained resolute when asked about the government's unwavering stance on the CAA.
"Jab tak upar wale ki marzi hogi, tab tak datte rahenge. Inshallah (Till the Almighty is with us, we will remain steadfast)," she says. There is also a special message for prime minister, Narendra Modi. A group of three women had this poster, "We would urge him to stop doing politics of religion."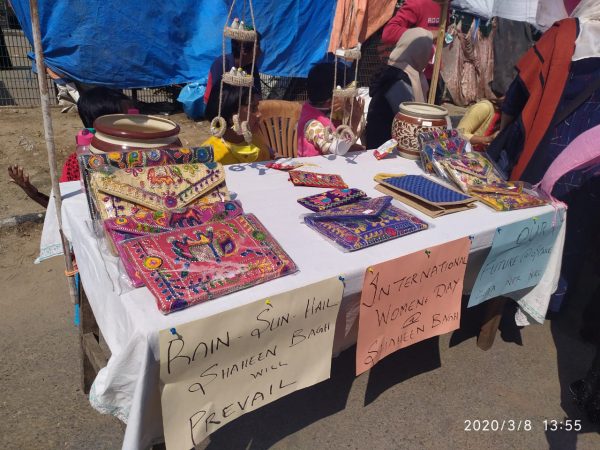 Bail for the Assailant
In sharp contrast to the mood at Shaheen Bagh, in another part of Delhi, the gunman who had opened fire at the protest site had been given a hero's welcome after he was freed on bail, and a perceived fresh attempt was under way to defame the protesters. East Delhi dairy farmer Kapil Baisla, who had fired at the site on February 1, was granted bail on Friday (March 6) and was released on Saturday (March 7). Baisla received a hero's welcome when he arrived home at the urban village of Dallupura, suggests a viral TikTok video that showed men embracing him and dancing to folk songs. The gunman's lawyer, Narveer Dabas, had demanded bail citing a six-hour delay in filing the FIR while arguing the investigation was over and the police did not need him, and that Baisla was in no position to influence witnesses, who were police officers anyway.
The court was further told that Baisla has a wife and child to take care of. The prosecution opposed bail on the grounds that the allegations were "very serious in nature and the case was only at its initial stage". Additional sessions judge Gulshan Kumar granted bail against a bond of Rs 25,000 and a surety of the same amount. Such relief is usually not granted to those considered prone to violence and a risk to peace. A person who opened fire at a crowded — and peaceful — protest site normally checks both boxes.
Targeted violence had broken out after an incendiary speech by BJP leader Kapil Mishra in the presence of the police on February 23. The Centre told the apex court last week that conditions were "not conducive" to filing FIRs against BJP leaders for hate speeches.
Earlier, the police had declared as a minor another gunman who had shot and injured Jamia student Shadab Farooq on January 30 during an anti-CAA march.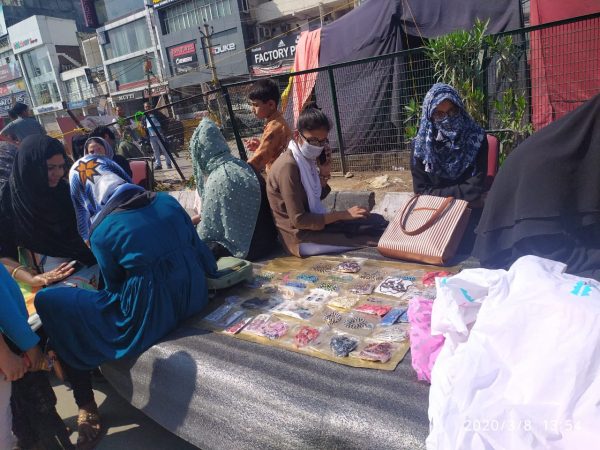 This shooter, who described himself as "Rambhakt", is in judicial custody at an observation home for boys and has been allowed to take his Class XII board exams in his home state of Uttar Pradesh. "Rambhakt" and Baisla opened fire after Union minister Anurag Thakur led a rally in chanting "shoot the traitors".
Farooq, a mass communication student whom "Rambhakt" allegedly shot in his left forearm, told this newspaper: "At some point of time we realised that we had to leave safety behind and protest en masse. Nothing else will work… The media is in the hands of the regime. The whole country knows that the CAA is a bad law, and these attacks are just attempts to divert the attention of people."
Arrests around Jamia
On Sunday, the police claimed to have picked up two suspected Islamic State terrorists from Jamia Nagar, located near Shaheen Bagh and home to the Jamia Millia Islamia, for allegedly "instigating anti-CAA protests", news agency ANI reported.
It is against such a backdrop that word spread about the police's claim on the arrests.ANI quoted deputy commissioner (special cell) Pramod Kushwah as saying: "A couple, Jahanjeb Sami and Hina Bashir Beigh, linked to (the) Khorasan module of ISIS were apprehended from Jamia Nagar, Okhla. The couple (were) instigating anti-CAA protests."