Citizenship criteria for people born outside India
The citizenship laws in India originally provided birth in India as the criteria for citizenship. This still remains the criteria for persons born before 1st July 1987. The amendments introduced to the Citizenship Act restrict have introduced the additional criteria of the based on the citizenship status of one parent for the people born between 1st July 1987 and 3rd December 2004, and by the citizenship status of both the parents for people born after 3rd December 2004.
The citizenship act also provides for different ways for acquisition of citizenship for a person born outside India, which are
Descent: A person can get citizenship by descent, if either of their parents were citizens of India at the time of birth and other requirements as specified in the act are met.
Registration: A person of Indian origin or person married to an Indian citizen or a person whose parents are registered as Indian citizens can apply for citizenship through registration.
Naturalisation: A person can apply for certificate of naturalisation, if they have resided in India for not less than 11 years or have been in service of the government of India for not less than 11 years, provided they qualify other requirements mentioned in the third schedule of the Act.
A person identified as an illegal migrant is barred from becoming a citizen through naturalisation or registration.
Who is an illegal migrant?
The category of illegal migrant was added by an amendment in 2003 by the NDA government. The act defines an illegal migrant as a foreigner who
Entered India without valid documents
Has stayed in India even after the expiry of the valid documents
The definition of an illegal migrant had no reference to religion in 2003. Any person, irrespective of religion, who entered India without valid documents was classified as an illegal migrant and was barred from becoming a citizen. However, through CAA the element of religion has been added to identify illegal migrants.
Citizenship under CAA
The graphic below explains the changes introduced by CAA to the citizenship laws.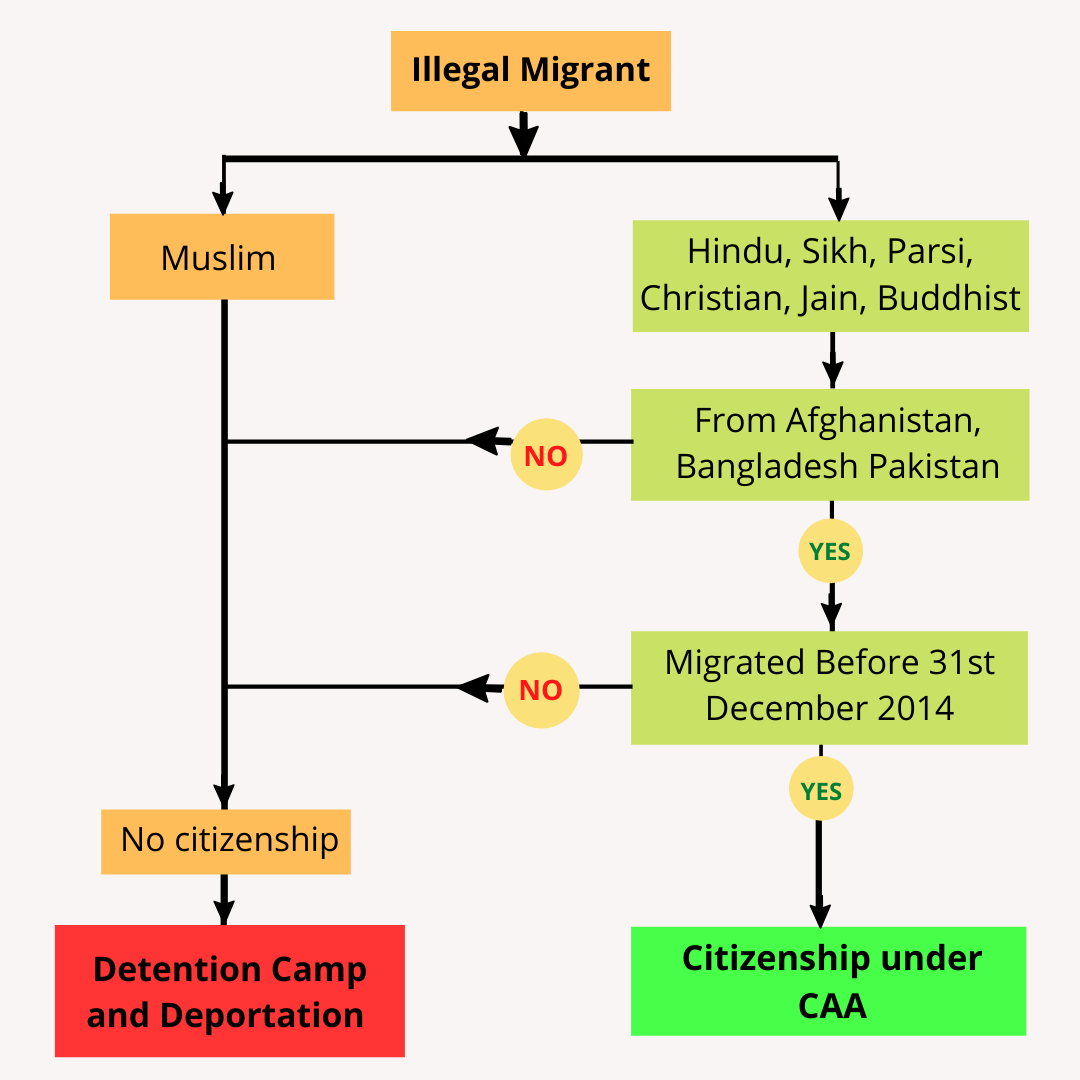 Before CAA any person classified as an illegal migrant was barred from acquiring citizenship through the process of naturalisation or registration. CAA grants citizenship to certain categories of illegal migrants.
As we can see in the graphic, illegal migrants get divided into two categories- Muslims and other religions. People from non-muslim religions get citizenship if they are from three neighbouring countries and if they have migrated before the cut-off date.
The CAA exempts any person from a non-muslim religion, who has migrated to India from Pakistan, Bangladesh and Afghanistan before 31st December 2014 from being classified as an illegal migrant even if they may not have entered with valid documents.
Anyone who belongs to any of these religions and has migrated from one of these countries but has entered India after 31st December 2014 is not eligible for the exemption under CAA.
While the NPR-NRC are being justified under the garb of identifying the "infiltrators," CAA gives a message that only Muslims will be treated as infiltrators. The connection between CAA and NRC is simply that when NRIC is implemented non-muslim migrants from Pakistan, Bangladesh and Afghanistan will be protected. Whereas, Muslim migrants will be excluded.