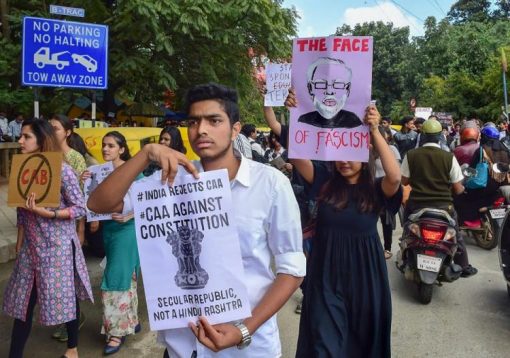 A poet and a journalist have been arrested on Tuesday in Gangavathi, Karnataka, in connection with a poem against the Citizenship Amendment Act (CAA) and the proposed National Register of Citizens (NRC), reported PTI.
Koppal-based poet Siraj Bisaralli and Rajabaxi H.V., editor of news portal kannadanet.com, had been booked in January. While Bisaralli recited the anti-CAA-NRC poem at the government-sponsored Anegundi Utsav on January 9, Rajabaxi was booked for sharing a clip of his performance on social media.
The arrests were made after Bharatiya Janata Party's (BJP) Gangavathi city general secretary, Shivakumar Ambalayya Arakeri, who had attended the recital, filed a police complaint. The police had registered a case against the duo under Section 505 of the Indian Penal Code (IPC). The duo reportedly surrendered before a district court on Tuesday which rejected their bail plea and sent them to judicial custody for an investigation.
"Siraj had recited the poem and Rajabaxi had shared it on the social media. Based on a complaint by a BJP leader the case was registered under section 505 of the IPC. They went absconding after that and surrendered before the court on Tuesday," a police officer told PTI.
Bisaralli and Rajabaxi had reportedly sought interim bail, something the public prosecutor objected to and sought police custody in order to subject them to an inquiry. The duo will be in police custody till Wednesday afternoon with the police telling the news agency that they may not seek further extension unless some "fresh evidences surface. We have seized their mobile phones to ascertain whom they had shared the details with."
"If police fail to take any action, we will launch a stir demanding the arrest of the duo," Arakeri had told The Times of India. Bisaralli had told the newspaper that he had published two anthologies of poems and participated in state-level literary conventions but had "never faced such a situation."
The Hindu reported that as many as 30 advocates appeared for the duo. "They have not committed any crime and strongly felt it was not right to abscond. That is why they decided to surrender. I hope they will get bail tomorrow," R. Jagannath, defence advocate, reportedly told the daily. The government's move has come under criticism with people sharing the recitation on social media and translations coming up in 13 languages.
---