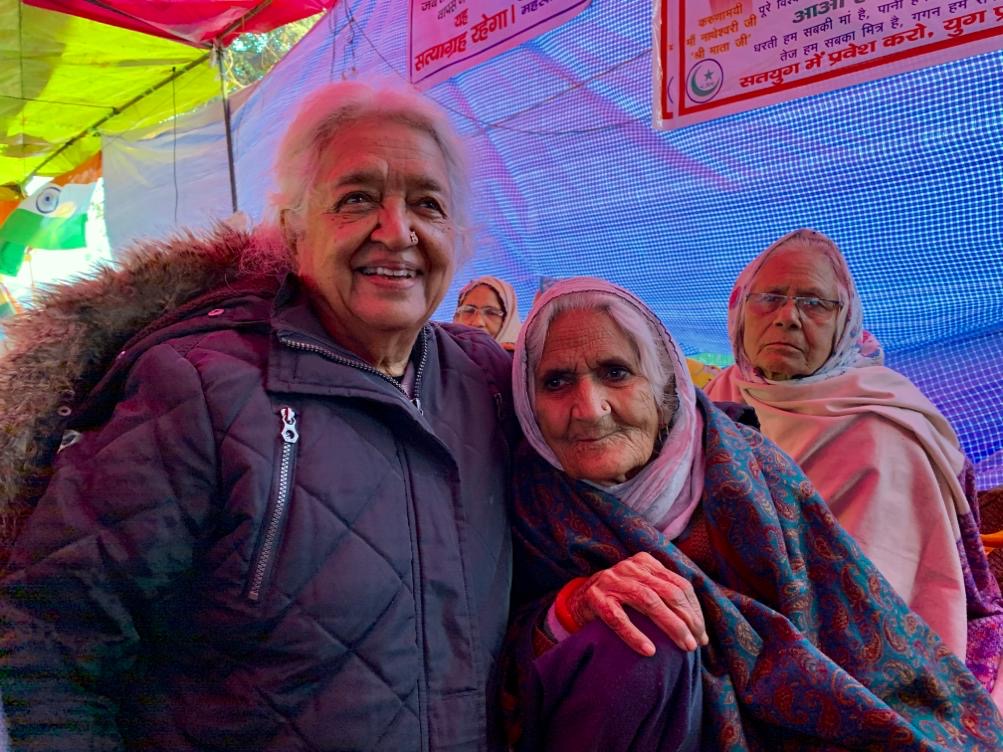 The space did not look like a site for protest. I had heard that there were smart posters of various kinds and looked for them. Then there they were stuck on the outside walls on a line of shops which were in a kind of verandah raised from a street level. Most of them were handwritten with thick pens or brushes, totally diverse: film titles, book titles, popular slogans — the Indian flag and Gandhi were the most popular.
 A three line layer/ring of mostly young men surrounded the protest site. Though the ropes that defined the ring were just one line, their respect for that boundary was striking. They were watching over the protesters, it seems as the time, 5.30 pm was not the time personalities came to visit.
When I visited at around 6 pm, there were about 500 women sitting on the floor. In the middle, there was a pathway for those who were coming and going, including young men, volunteers, responding to requests, including guiding visitors.
On a makeshift dais, basically a table with a sheet on it, stood a young woman from the Muslim community, and the audience listened to her with wrapped attention, and some responses when necessary. She was not raising slogans; she was explaining how these laws would be affecting them and what were the kind of arrangements that were being provided in the press and the other supporters. Next to her there was a raised platform of tables pulled together and there sat the elderly women, the three women who had gone to meet the governor. They defied age as they did not have the look of "tired old women". As I walked up the middle lane, they called for me, and asked me to sit on the platform with them, surely coming from the anxiety about my age, white hair and wrinkled face is so bonding!
The leading lady immediately started to talk to me. She said, "We will sit here till the law is recalled. We belong here". The convention was that visitors address them. I had no such intention — as apart from being weak in Hindi and Urdu, I had come to listen to them and not the other way round.  But the pressure would not let up. "Go up, speak to all of us", said the woman. It is good they listen to another elder, a woman. So there I was, the mike was taken down by male volunteers, a video cameraman was positioned, and there was expectation in the audience. All the women were hushed and looking up at me — a challenge.
I remembered a naara (a slogan), a call that we used when we joined the rally for the valley, the huge protest movement of the Narmada Bachao Andolan (NBA) and raising my arm, shouted "Awaaz do, hum ek hai". It seemed to fit as soon as I saw all the 400 arms go up and resonate the naara. We repeated it several times and then I stepped down.
Outside the tent, spread over quite a large area of uneven space, there were various kinds of 'exhibits'- a very large map of India and archway groups of young men chanting some of the slogans popularised by the students of Jamia Millia University and Jawaharlal Nehru University in Delhi — "Azaadi".
I left not only feeling humbled but fully assured that the women and girls of India, whether students, or mothers and housewives, old or young, have now risen in spectacular ways and were given support from the rest of India whether corporate or academic or voluntary organisations. They can perhaps rebuild the "India of my dreams". It helped to shed the various prejudices and notions that we have, for example, that Muslim women do not "come out", that young men are all predators, that knowledge is limited to the formally educated. It revealed that India's political consciousness across class, community and religion is not only alive but is a special feature and perhaps an outcome which lingers — an outcome of the special style of India's freedom struggle — led by Gandhi?
---