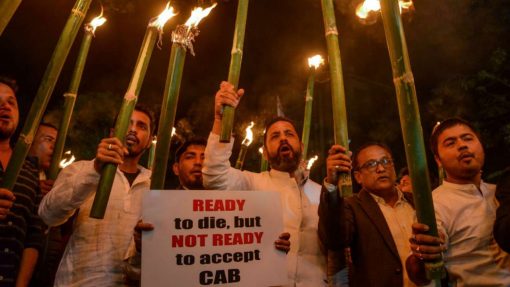 The Supreme Court of India has scheduled its next hearing on the petitions challenging the CAA for January 22. While the entire country has been resounding with protests against the amended citizenship act, the students' groups of universities from the Northeast of India have called for a total shut down of all universities and colleges in the region on the day of the hearing.
A total of 72 petitions are scheduled to be heard on January 22. Earlier, around 59 petitions were filed in the apex court challenging the constitutional validity of the amended act.
The students' fraternity of the universities in the Northeast have called for the bandh as a symbol of protest and urging the Supreme court that it addresses the negative impacts of CAA on the indigenous people of the region.
Several universities including Gauhati University, Dibrugarh University, Tezpur University, Assam Women's University, Assam Agricultural University of Assam, North Eastern Hill University (NEHU) of Meghalaya, Nagaland University, Rajiv Gandhi University in Arunachal Pradesh have given the joint call for shut down, as per reports.
Ever since the Citizenship Amendment Act (CAA) has been passed in both the houses of Parliament, widespread protests were triggered in almost every state of the country. In the northeastern states, however, the protests have an older history.
These states have been resisting the amendment ever since it was proposed in 2016, with Assam and Tripura being at the forefront of the resistance in the past four years. Following the CAB becoming an act, the protests have only intensified. Till now, five persons have been killed in police firing in Assam, while curfew was imposed along with internet shut down in both Tripura and Assam. The imminent fear of being reduced to a minority by the indigenous people in these states have been the main concern of the protests against CAA, especially in the northeastern states. The concerns over violation of the secular nature of Indian Constitution is another reason behind these protest.
Krishak Mukti Sangram Samiti's Akhil Gogoi and youth leaders Bittu Sonowal and Dhairjya Konwer have been slapped with NSA and are still lodged in jail. The BJP-led government in Assam have resorted to arrests and intimidation as the means to suppress the protesters.
All Assam Students' Union (AASU), Asom Jatiyatabadi Yuba Chhatra Parishad (AJYCP), Krishak Mukti Sangram Samiti (KMSS), left parties, Congress and other tribal organisations are unequivocally demanding the scrapping of the act and the release of everyone who were arrested during the protests.
---