Cost of primary education (class 1 to 5) has increased by 31% between 2014 and 2018, shows a comparison of National Statistical Office or NSO (formerly National Sample Survey Office) survey reports for the 71st Round and 75th Round. This is mainly fuelled by a staggering increase in private schools, both aided and unaided varieties. Similar increases have taken place in other higher levels of education, the reports show. [See chart below].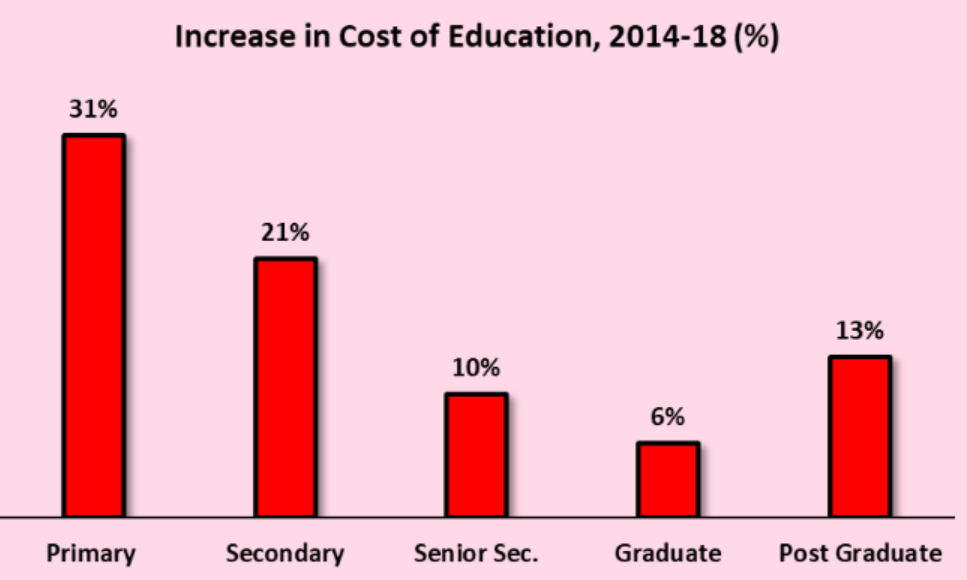 Although the two reports have some differences in methodology and definitions, these do not detract from a valid comparison being made here. The differences lie in counting hostel students separately compared with counting them as part of their families previously, and other such minor aspects.
The NSO has not yet released the full survey report for 2018 (75th Round). It has only released 'Key Indicators'. As a result, they have conveniently omitted to provide the discipline-wise costs for technical and professional courses (specifically medicine, law, engineering and so on) across the type of institution (private or government). These are available in the previous report for 2014 (71st Round).
It may be seen (in the Chart above) that the increase in cost of 'graduate'-level education is not as high as others. This 6% rise is an average which hides the sharp difference between rural and urban colleges, as also between private and government colleges.
In rural areas, the average graduation cost is Rs.16,485 per annum compared with Rs.25,204 per annum in urban areas. The staggering difference in costs between government-funded colleges and private (aided or unaided) colleges is shown in the Chart below.
In a government college, the average cost for graduation is Rs.9,703 per annum compared with Rs.14,037 in private-aided colleges and Rs.20,462 in totally private colleges.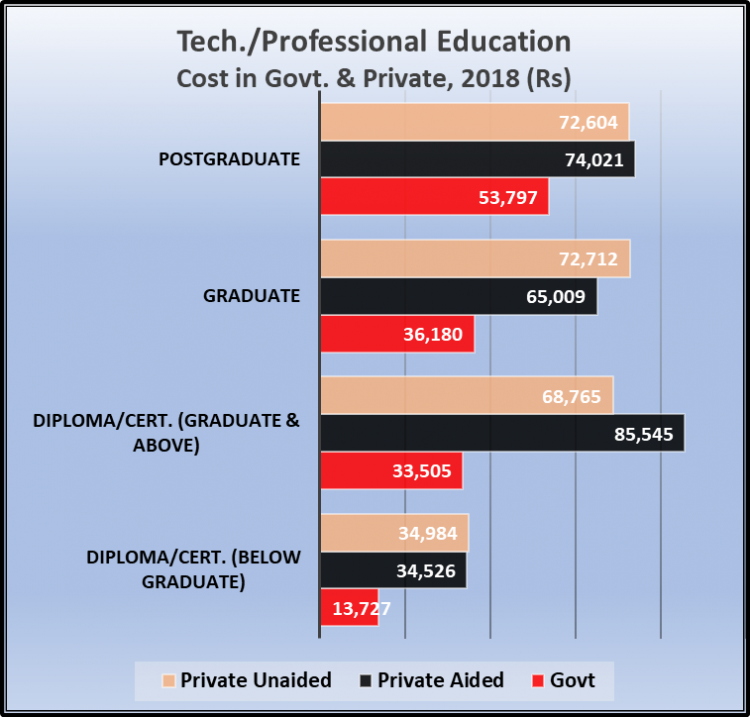 Diploma or certificate courses that are below graduate-level, like many computer or other information technology-related courses, clock an average of Rs.13,727 in government institutions compared with 2.5 times more in private aided or unaided institutions.
What this worrying data show is the inexorable rise in the cost of education that is much beyond the average incomes of families. The net effect of this is that these families have to either cut down on other spending (like food, transport or rent) or get their children to stop studying. The latter choice is considered an unwise option these days because most people believe that education is the key to future prosperity.
Unfortunately, the consumer expenditure data collected for the 75th Round will not be released by NSO, although it was leaked last month. The government claims it was flawed. This data would have shown respective shares of spending on education, health, food etc. The leaked data showed an unprecedented dip in consumer spending.
The government, meanwhile, appears to be supremely indifferent to this pain of common people, as it is hell bent on further privatisation of education, as spelt out in its New Education Policy.
Simultaneously, the Narendra Modi-led Bharatiya Janata Party government is also pushing for ever higher fees and other charges, as seen in Delhi's Jawaharlal Nehru University. It is ceding the sphere of education to private profit-making entities while pretending to nurture high quality education for the elite in select institutions. This model spells a disaster of unimaginable proportions for the country, as it will doom future generations to low quality education.
---