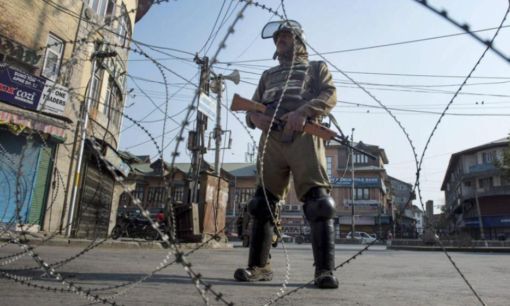 Srinagar: Hundred days have passed since the central government's unilateral decision to abrogate Article 370—granting special status to the erstwhile state of Jammu and Kashmir—suspended normal life in Kashmir. Even as the situation appears to have improved on the ground, beneath this veneer of normalcy is a population choked to silence due to fear and intimidation from the authorities.
As the crisis in Kashmir entered 100 days on Tuesday, journalists held a protest for the second time in Kashmir since the initial clampdown began. Reporters and photo-journalists claimed they are unable to perform their duties due to internet ban which, according to them, is a basic journalism tool today.
Hundreds of persons including top politicians, lawyers, businessmen, activists remain incarcerated including children. Amongst the detained politicians are three former chief ministers of Jammu and Kashmir – Omar Abdullah, Farooq Abdullah and Mehbooba Mufti. Farooq, who is a sitting Member of Parliament from Srinagar constituency, and president of the region's prominent political party National Conference (NC), has been slapped with draconian Public Safety Act (PSA) and has been confined to his home since then. Scores of other politicians are currently lodged in hotel turned sub-jails in Kashmir without access to outside world.
Human rights body Amnesty International says it documented a clear pattern of authorities using administrative detention on politicians, activists and anyone likely to hold a dissenting opinion before and after August 5, including women and children. Scores have been detained under PSA and shifted to jails outside Kashmir, putting the families of the jailed persons in difficulty as well.
An Amnesty spokesperson told NewsClick that the lawyers interviewed by Amnesty India provided a similar account of the situation, saying that most of their clients do not have copies of PSA detention orders which hinders them from filing basic habeas corpus petitions in courts.
"Many others do not have access to lawyers, especially when they are lodged in jails outside Kashmir," the spokesperson added.
Migrant labourers working in Kashmir have also faced huge risk in the last three months as 11 non-locals including labourers, apple traders and workers were killed after militants targeted them in seven different attacks especially in South Kashmir.
Hundreds of migrant labourers from different states like Bihar, West Bengal, Rajasthan and Odisha, who were workin in Kashmir before August were forced to leave the valley as the situation worsened following the lockdown.
Many returned to valley after restrictions eased only to leave again as they came under attack from suspected militants. Today, not more than a few hundred, remain in the valley.
The economic losses, according to Kashmir Chamber of Commerce and Industries (KCCI), crossed over tens of thousands of crores due to the restriction and subsequent civilian shutdown. The worst affected, said president of KCCI, Sheikh Ashiq, is the apple industry of Kashmir.
The apple industry, which is worth Rs 8000 crore, is considered to be the backbone of state economy and contributes 8% of the total GDP of the state. As the situation worsened, apple trade became one of the major controversial issues in Kashmir with suspected militants threatening traders to halt all business, damaging the sector's peak harvest season.
Private transport and public transport, however, was resumed in parts of the valley as 100 days passed causing traffic jams in several key commercial areas of the region. Many shops which opened only in the morning hours have said that their business increased during the day.
In several areas, police and security forces continue to detain many youth including children below the age of 18 years. A senior police official, posted in Srinagar, told NewsClick that the detentions are a part of the measures taken by the police to maintain "peace" in the region. "Most problems are caused by people who are in age-group between 14-24 years which is why many young people below the age of 18 are also picked up," the official said.
Police and administrative officials in Kashmir are optimistic that they have managed to thwart any major law and order situation in Kashmir even though some claim they are "sitting on a powder keg".
Meanwhile, suspected militants on Wednesday shot at a shopkeeper, identified as Mehrajudin Zargar, in Tral area of Pulwama district in South Kashmir. According to initial reports, the victim has been rushed to a hospital.
On August 5, the BJP-led government at the Centre revoked what was considered as the 'special status' for Jammu and Kashmir safeguard under Article 370 of the Indian Constitution. Under the law, the region enjoyed a semi-autonomy within the Indian union after J&K signed the instrument of accession to formally join independent India. The abrogation was followed by the move to further bifurcate J&K into two union territories – Jammu and Kashmir, and Ladakh.
As the decision was taken all major stakeholders in the erstwhile state, including top politicians, businessmen, activists, lawyers and members from the civil society, were arrested in what the authorities termed as a "preventive measure" to thwart any opposition against the move.
For more than a month, authorities in J&K enforced unprecedented restrictions in the region, barring all civilian movement and confining more than 8 million people inside their homes. Not just that, the government imposed a severe communication blockade banning all landline, mobile and internet services in Kashmir.
After 45 days of clampdown, the government began by restoring 45,000 landline phones in the Valley. The communication blockade, however, continued as mobile services were restored partially on October 14 while the internet services continue to remain disrupted even today.
The mobile phones were restored days after the government issued an advisory revoking ban on the visit of tourists to the Valley. The ban was implemented after the government had directed all tourists and Amarnath Yatra pilgrims to leave Kashmir immediately on August 2.
"With this step, tourists will be able to visit the state without being handicapped by the lack of phone connectivity," a government spokesperson said following the restoration of mobile communication. Due to the ban, more than 80 lakh mobile phones were affected for two months. Only 40 lakh postpaid phones from the state-operated BSNL and all privately owned networks in the region were restored.
The three months following August 5 marked the grimmest period in Kashmir as restrictions, arbitrary detentions, torture, intimidation and communication blackout brought life to complete standstill with almost no scope for people to voice or share opinion against the state's decisions.
---