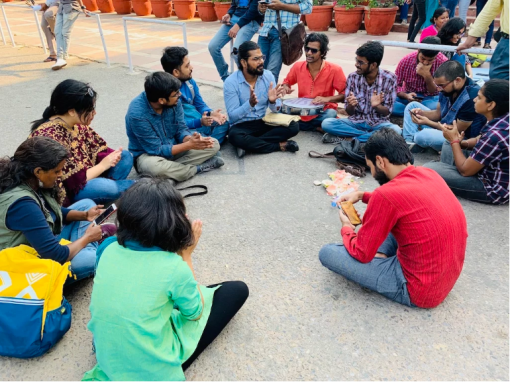 The stairs outside the administrative block at the famous freedom square are still occupied by the students, although in a smaller number, who called for a complete shutdown of the university on November 4. While a group is busy in painting posters, the other group are singing a song composed by famous poet Hirawal, "The skin of a human is cheaper than a cow." The group is led by a second year student of MA History, Shashi 'Samad'. He became an internet sensation soon after his video song written by legendary poet Habib Jalib went viral on social media. Samad, who is visually challenged, says, "Songs give us hope in our days of struggles."
Hundreds of students like Samad are up in arms against the latest hostel manual, passed in a closed door Inter Hall Administration meeting, which proposes a massive hike in hostel, mess and security fees, limits movement of students and absolves the terms of reservation in allocation of hostel rooms to students from the marginalised sections of the society.
Recalling his journey from Gorakhpur in the Uttar Pradesh to the prestigious university, Samad said, "I studied in a blind school in Gorakhpur up to Class VIII. I really cannot tell you how bad the affairs can be in these schools. Not only are you treated badly, the hostels are very unclean. Even the food that is served stinks. I quit that school and travelled to Benaras where I joined another school funded by a private trust. However, the situation was the same. These trusts take funding in lakhs from big companies but do not bother even to offer you slippers. After completing my schooling, I took admission in Benaras Hindu University. There, although, they have taken a few steps to sensitise people about our issues but we feel helpless in the absence of technical assistance. Even the staff did not know about the software developed for students like us."
He continued, "Then I came to JNU for my masters. Here we are provided the technical assistance that we have always longed for. Even though it is still not enough, the fund cuts and fee hike will make JNU like any other university where the administration limits its duties by building ramps. My protest here is to keep JNU accessible to all students, including those like me."
Standing close to Samad, Surya Prakash, a student at the Centre for Informal Sector and Labour Studies, says that JNU is more than a gamut of buildings. Introducing himself, Surya said that he is the first from his family to have enrolled in JNU. He said, "My father could only complete matriculation. He somehow got a job in Steel Authority of India Limited. Since we hail from the dalit community, the affairs were not smooth from the beginning. I completed my graduation from a college in Patna. I used to represent the North Zone while playing cricket. I even started my own start up for repairs and renovations. Although the first project was successful, it miserably failed later. Then, I thought I should study. A friend of mine suggested that I should apply to JNU as it was way cheaper than other universities. I applied and I was selected for the M.A Program."
He added, "To be frank, I used to be someone who would resort to violence first to express my anger. It is JNU who taught me to prioritise reason over violence. We have our own annual presidential debate where people raise slogans and argue without indulging in violence. Go and try it in any college in Patna. You will be attacked. I am receiving some money from my father now. But I cannot ask for more. His earnings barely support our family. With this fee hike and limitations, the administration wish to reduce ourselves to our identities. JNU helped us determine our character. We cannot let this administration destroy it."
Satish Chandra Yadav, general secretary of the Jawaharlal Nehru University Students' Union, who is standing nearby, recalls his days in BHU, "I was enrolled in BHU. Now when you take a closer look at that campus, you can find out that your caste becomes a matter of pride and in turn, it strengthens the casteist mindset. We all know that the campus is highly fragmented between two upper caste communities. Now what do you expect that a common student will learn in this atmosphere."
"I applied for my MPhil in Delhi University. My friends suggested that the hostels are quite expensive and it will cost me Rs 12,000 per month to bear my expenses. Since I received only Rs 3,000 from my family, I chose JNU. Fortunately, I got selected. In JNU, we went through the process of learning and unlearning. We learnt that gender biases do exist and how we can overcome it. We gain knowledge about the diversity in our country. They cannot snatch it from us," he says in a determined voice.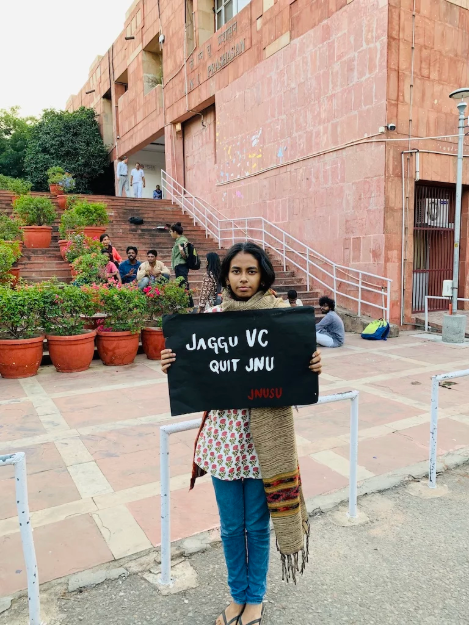 Amid the hustle and bustle and frequent sloganeering, Chunmun Kumar talks about his remarkable journey from working at a factory to studying at one of most prestigious university in India. Now a student of MA History second year, Chunmun completed his graduation from Langat Singh College from Muzaffarpur in Bihar. My college was 50 kms away from my village. I came to Delhi, worked as a factory worker and then returned home to attend my final exams. I earned Rs 6,000 per month two years back while working for an automobile firm in Noida Sector-1 in Uttar Pradesh. Most workers were hired for six months and laid off and again hired for six months. The firms do it to deny permanent jobs to workers. I worked like them. Around the same time, I came into contact with the trade union movement. A friend over there suggested me to continue studies in JNU as its fee structure was affordable for students like us. I studied hard to prepare for the entrance exams and gained admission in the History department."
Talking about the fee structure and the scholarship, he says, "Now, my studies are supported by a mere Rs 2,000 merit cum means scholarship. Sometimes, my teachers and friends support me. They could do so because our fee was minimal. We were fined Rs 1 for delayed payments for mess bill. So we used to apply in fifth month and got Rs 10,000. We could settle the bill which would amount to Rs 12,000 to Rs 12,500 by asking friends. Now, with the eviction clause, the administration wants to throw us out of the campus."
The stories of students like Chunmun and Samad stands testimony to the inclusive character of the university, and shows why the students are fighting. They are determined to continue their struggle until the administration rolls back the hostel manual, which was further exhibited by a couplet Samad recited for his fellow protesting students.
Zameen par Lahoo ka hisaab chahta Hoon
Main ab Gulab nahi Inquilab Chahta hoon
[I want the answer for the blood spilt on Earth
I do not want a rose now, but a revolution. ]
---