The viability of the Uniform Civil Code (UCC) has always been a bone of contention in socially and politically plural South Asia. It is entangled within the polemics of identity politics, minority rights, women's rights, national integration, uniform citizenry and, of late, global Islamic politics and universal human rights. While champions of each category view the issue from their own perspectives, making the debate extremely complex, Partha S. Ghosh's The Politics of Personal Law in South Asia: Identity, Nationalism and the Uniform Civil Code, Second Edition, takes up the challenge of providing a holistic political analysis. In this work, India figures prominently, being the most plural and vibrant democracy, as well as accounting for almost three-fourths of the region's population. 
The following is an excerpt from the chapter "Old Wine in the Old Bottle" of the book.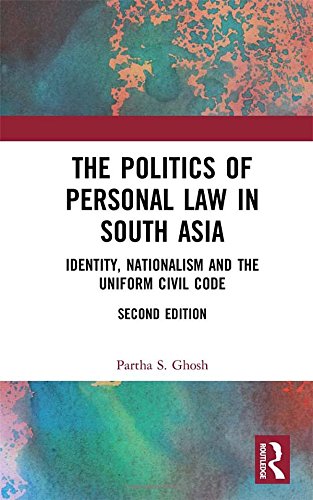 Triple Talaq Controversy
It is not easy to go into the intricate meaning and history of triple talaq in this limited space as every idea expressed has been contested, which itself proves that Muslims are as plural and opinionated as any other Indian community. In his Times of India (23 August 2017) article Maulana Wahiduddin Khan gives a simple description which may serve our purpose here though the debate would continue. According to him the institution of instant triple talaq is not a principle of Islam. Quran does indeed provide for divorce if a conjugal relationship becomes incompatible, but there is a proper procedure for it as laid down in Quran and which was adhered to by Prophet Mohammad and the first caliph Abu Bakr. They dismissed any utterance of talaq thrice at one go as something which must have been done in a fit of anger and therefore treated them as only one such utterance. In any case, a divorce situation should take at least three months to mature. But this practice was diluted during the time of the second caliph Umar when it became commonplace to use instant triple talaq as a complete process to effect a divorce. It may be underlined that it was not a Shari'ah law, therefore. His was a hukm-al-hakim, meaning an executive order. Such orders could be valid only in particular cases but, could not have the status of Shari'ah law. However, during the British time the practice was followed more commonly and Hanafi school (to which most Indian Sunni Muslims, and the entire All India Muslim Personal Law Board, belong) made the instant triple talaq the norm, more often through fatwas. Against the background of the Supreme Court verdict of 22 August 2017 (discussed below) Wahiduddin Khan said : 'In such a scenario, my advice to Hanafi Muslims is to take the Supreme Court's verdict as a reminder and review their practice. They should consider triple talaq in one go as a case of a decision having been taken in anger and take it as only one talaq—as had been done during the time of the Prophet.'1
The recent controversy started in early 2016 when Shayara Bano, a 35-year-old Muslim woman from Uttarakhand, filed a petition in the Supreme Court to declare the talaq-e-biddat (the unilateral and irrevocable form of divorce called triple talaq) pronounced in 2015 by her husband, Rizwan Ahmed, an Allahabad-based property dealer, as unconstitutional since it violated her fundamental rights (https://assets.documentcloud.org/documents/2725467/Shayara-Bano-Writ-Petition-FINAL-VERSION.txt). If one goes by just the question of declaring triple talaq as unlawful, there was nothing new. Earlier court judgements had done that time and again as in the cases of Shamim Ara v State of U.P. (Supreme Court, 2002), Dadgu Pathan v Rahimbi Pathan (Bombay High Court, 2002), Najimunbee v Sk Sikander Sk Rehman (Bombay High Court, 2004), Dilshad Begum Ahmadkhan Pathan v Ahmadkhan Hanifkhan Pathan (Bombay High Court on appeal following Sessions Court judgement, 2007), Riaz Fatima v Mohd Sharif (Delhi High Court on appeal folloing Sessions Court judgement, 2007) and Shakil Ahmad Sheikh v Vahida Shakil Sheikh (Bombay High Court, 2016) (details of the cases are in Agnes 2016d: 13-15). Besides, since Shayara Bano was a chronic victim of domestic violence in the hands of her husband, which had continued for 15 long years before she was banished to her parental home, she could have taken recourse to any or all the three existing secular laws, namely, the Protection of Women from Domestic Violence Act of 2005, the Muslim Women (Protection of Rights on Divorce) Act of 1986, and under Section 125 of the Code of Criminal Procedure (CrPC). She, however, chose to appeal to the Supreme Court through a PIL claiming that her husband's action amounted to a violation of her fundamental right as enshrined in the Indian Constitution. The case drew huge media attention because of three things: one, the contemporary texture of Hindutva politics; two, a short-sighted AIMPLB, ever worried about Muslim identity running into danger; and three, an over-enthusiastic electronic media waiting for any masala (literal meaning: spice, connotatively: socially sensitive) topic around which it could pit two or more cantankerous groups of garrulous commentators on primetime TV to boost one's own TRP score over that of the other channels.
[…]
A Political Analysis
Since all laws are political constructions, and personal law is no exception, it would be instructive to make a political analysis of the Supreme Court judgement because it is expected to have its impact on the discourse over UCC as well as on Indian politics. The beauty of the judgement was that it made everyone happy, of course for different reasons. Everyone claimed that they got what they wanted. Shayara Bano was happy that her claim that her fundamental rights had been violated was upheld by the apex court. Four other petitioners who wanted their divorces declared illegal and unconstitutional got the verdicts in their favour. The Bharatiya Muslim Mahila Andolan (BMMA)'s plea that triple talaq had no sanction in Shari'ah was upheld. Even the AIMPLB was pleased that the verdict underwrote the validity of Muslim personal law. The women activists in general were happy that the judgement was a step forward and if the process continued apace, discrimination against women in terms of property rights and other social taboos, as prevalent in other personal laws, including the Hindu law, would receive wider attention and eventually judicial interventions.
But politically speaking, the biggest gainer was the BJP, particularly because it could sell it as a victory by totally glossing over the fact that its position was not upheld by the Supreme Court. The Modi government had forcefully defended its affidavit in the court for a complete ban on all forms of divorce practised by Muslims under their personal law. Attorney General Mukul Rohtagi had deposed before the court that the government would enact a law to do away with all forms of divorce available to Muslims under their personal law. Court asked for a clarification as to how such a law would not interfere with the issue of minority rights as enshrined in the constitution: 'If talaq in entirety is erased, how will a Muslim man walk out of bad marriage?' The court explained that if the government wanted uniformity then it should tell all its citizens that they could marry only under the Special Marriage Act, 1954. The bench put the following poser to Rohtagi: 'Marriage is a religious ceremony. The manner in which you are arguing, it will finish all personal law rights. Some religious rights are given to all under Article 25. The way you argue, it would mean that religion and religious practices can be thrown to the wind.' Rohtagi's reply was: 'If the court takes the first step and quashes talaq in entirety, we will take the next step of enacting a new law.' Though he was reconciliatory to the extent that let other forms of talaq (excluding instant talaq) continue for the time being, but his underlying point was that 'if all three forms of talaq are struck down, then we will not have a vacuum. Triple talaq is not part of religion… Do Muslim women have equality in the matter of divorce within the community? Do they enjoy equal rights compared to women of other communities within the country? Do they enjoy similar rights compared to Muslim women in other countries? If the answer to the three questions are no, then that custom, even if [it is] part of religious rights, must be struck down as unconstitutional.' The bench's counter to this was that 'right to religion cannot mean that Article 25 protects only what citizens do inside a temple, mosque, gurdwara or other religious institutions but not other customs or practices they perform outside … If a man gives Rs. 10 to one son and Rs. 5 to another son, does he violate the right to equality of the sons? Marriage and divorce are part of personal laws and are religious ceremonies.' (Times of India, 16 May, 2017).
From the above, it is clear that Modi government's argument in the court was at best partially upheld. But the party spoke loudly and clearly that it was their complete victory and Modi should get all the credit for steering the nation to this outcome. The party said that it was good that Muslim women get their right and it was a matter of pride for them and the entire country. Muslim women too would have respect like women in other communities. Modi called the judgement 'historic', which would mean 'empowerment' of Muslim women. The BJP president Amit Shah viewed it as a 'resolute step towards New India,' which gave 'the right to crores of women to live with equality and dignity. It is a beginning of a new epoch of self-respect and equality for Muslim women'. The Union Law Minister Ravi Shankar Prasad was ecstatic: 'I am proud of Narendra Modi ji. He stood firmly behind those who are victims of triple talaq. And let me say this is Narendra Modi government, not Rajiv Gandhi government.' Senior advocate Mukul Rohtagi, who as the attorney general had argued the government's case, said that the ruling had 'completely vindicated' the government's position. This was grossly incorrect. He also claimed that it was 'a step towards achieving the ultimate goal of a uniform civil code'. This amounted to reading too much into the judgement.
---
1. For a more nuanced understanding of the complexity surrounding the evolution of the concept of triple talaq, see the two-part interview of Faizan Mustafa in Scroll.in,
9 and 10 May 2017, https://scroll.in/article/836745/faizan-mustafa-supreme-court-has-already-declared-triple-talaq-invalid-it-may-just-reiterate-that, and
https://scroll.in/article/836751/people-will-accept-triple-talaq-out-of-fear-of-god-legal-expert-faizan-mustafa, both accessed on 11 August 2017.  
---
These are excerpts fromThe Politics of Personal Law in South Asia: Identity, Nationalism and the Uniform Civil Code, Second Edition, written by Partha S. Ghosh and published by Routledge, 2018. Republished here with permission from the publisher.