Translation is not just about words, it is about carrying a culture, a history, a whole world into another language. Translations do not just bring languages closer to one another, they also introduce us to diverse modes of imagining and perceiving different cultures.
To mark the International Translation Day, celebrated on 30 September, the Indian Cultural Forum will be doing a series of posts to emphasise the power and importance of translations.
Sahir Ludhianvi was a remarkable film lyricist and an iconic literary poet. In Sahir: A Literary Portrait, Surinder Deol paints a sensitive portrait that reveals an artist who was aware of the depth of his poetic message as well as of his ability to present it in words that captured the reader's imagination. The book contains free verse translations of over ninety of Sahir's literary creations as Deol strives to bring together four distinct elements of Sahir's work: his deep-rooted love for nature, his snug romanticism, his sensitivity to human suffering, and his unceasing optimism for a better tomorrow.
The following is an excerpt from the section "Poems: War and Peace" of the book.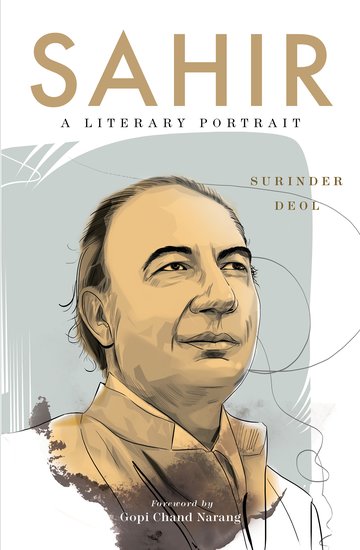 'Parchhaaiyaan' is incomparable in terms of the intensity of its antiwar message. Sahir is laser-focused on his central idea, namely, the preservation of global peace. The horrors of the preparation for war are portrayed alongside the unravelling lives of two ordinary lovers caught up in this whirlwind of war. The poet leaves the reader wondering whether this is an account of something that actually happened, or what could happen in the future if we are not careful.
[…]
The scenario presented in the poem—a global war, conscription of Indian soldiers to fi ght someone else's battle, a foreign power's control over war and peace-making, etc.—makes it clear that it was written not in 1955, as is generally understood, but around 1944 or 1945, when Sahir lived in Lahore. According to one account, this poem was fi rst published in an Urdu magazine called Chattaan, edited by Shorish Kashmiri, one of Sahir's close friends. The poem, whenever written, whenever published, will always be remembered as unique in Urdu literature.
Writing a war poem, especially highlighting its destructive impact on society as a whole, was a favourite topic among the progressive poets. But a poem that mirrored the horrors of war against the backdrop of a relationship between two individuals—perhaps a romantic relationship—and how it impacted those lives was something different and special. Only two progressive poets—Sahir and Faiz—were able to bring together the really big and the really small successfully. Whether it was about revolution or war, a poet like Josh Malihabadi came across noisily, unloading a whole carriage of slogans and affirmations, while Sahir and Faiz made a deep connection with the inner chords of being, through a velvet romantic softness and mysteriously captivating meaning-making. Another noteworthy factor where both these poets distinguished themselves was musicality; the rhythmical flow of words and movements that introduced tonal variations turned their poems into musical compositions: a lament for the dead, or perhaps a covenant or disposition for the living.
The Shadows
In the heart of the adolescent night,
there is a milky edge
that is fidgeting like a dream
made of shiny marble.
Beautiful flowers, beautiful leaves,
beautiful branches
are flexibly bending down
like a maiden's body.
The soft contours of the horizon
have blended into the air.
The land spouts loveliness
as if it were the land of our dreams.
Shadows arise in my imagination.
Sometime as guesses,
other times as certainties.
The trees, under whose shadows
we sought protection,
are standing motionless
like a trusted guardian.
Under those very trees today,
once again, two living hearts
have come to say something
and to listen to the words
with their silent lips.
I don't know with how much struggle
and how much eff ort
they have succeeded to come here,
by stealing moments
that have the feel of being partially asleep
and partially awake.
This is how we felt the air,
it was the same season,
the same years—
that is where the journey
of our love commenced.
With fast-throbbing hearts
and wishful eyes we off ered
our little prayers
for lotus buds to become big fl owers.
We wished for the acceptance
of prayers that came from
deep within us.
Shadows arise in my imagination.
You are coming to meet me,
hiding from the eyes of the people around,
with downcast eyes
and body as if it were a stolen object.
You were afraid of the sound
of your own footsteps,
and the movement of your own shadow.
Shadows arise in my imagination.
A little boat is moving
with the force of the wind.
The boatman sings a song
matching the sound of the fl owing water.
Your body shakes
when the wave hits
and you fall into my arms.
Shadows arise in my imagination.
I am pinning a flower in your combed hair.
Your eyes lower themselves with joy.
God knows what I am going to say today!
My tongue is dry
and my voice is rapidly wearing down.
Shadows arise in my imagination.
You have wrapped
your delicate arms around my neck.
The shadow of my smile
is falling on your lips.
I am certain
that nothing would separate us now.
You are concerned
that we are separate even in this union.
Shadows arise in my imagination.
You are arranging my books
randomly spread on the bed
with great reverence.
You are singing those songs in tender tones
that are sung on the wedding night
by women to the accompaniment of drums.
Shadows arise in my imagination.
How heart-warming were those moments,
and how lovely were those points in time.
How delicate were those decorations
worn by the grooms,
how attractive were those pearl strings.
Every small alley of our village
was filled with greenery,
making the place look like an island of dreams.
Each breath we took
and each wave of the morning breeze
felt like a melody.
Suddenly the sound of booted footsteps
was heard from the other side of the fields
whose green shoots were dancing wildly in the wind.
The breeze coming from the west
had the smell of gunpowder.
On the bright face of construction
the cloud of destruction spread widely.
The dance of savageness was seen in each village,
and the wilderness of the forest spread into cities.
From the civilized countries of the west
came some uniformed officers—
boasting, cheering, and swaying.
Ropes of tents were thrust
into the heart of the silent fi elds.
Soft paths were scarred
from people walking wearing heavy boots.
The horrifying military bands
overwhelmed the delicate sound
of the spinning wheel.
The fiery dust raised by the passing jeeps
drowned the apparel of flowers.
Human beings became cheap,
produce became expensive.
Traditional meeting places got empty,
the lines in front of recruiting offi ces
became longer and longer.
The graceful and bright youth of the village
left aft er they were recruited as soldiers.
The paths that did not return many
became well worn.
The friends who left
lost their conscience and their adolescence.
Mothers' grown-up sons
and sisters' adorable brothers—
they all left .
The village was gripped by sadness,
the spring that usually came with the festivals
disappeared.
The swings tied to the delicate branches
of mango trees vanished too.
Bazaars were covered with dust,
and hunger started to sprout in the fi elds.
Everything of value
flew from the shops
into underground storage.
The plight of distressed homes
increased to troubling levels.
The rise in prices brought famine.
The shepherds lost their way,
water maidens left their water holes.
Weak and helpless virgins
left their parents' homes.
Poverty-stricken peasants
sold their implements, their bullocks,
and their fields.
The desire to survive drove them
to sell the means
by which they could have made a living.
When nothing was left to sell
then the flesh trade started.
What was not allowed in private
was now encouraged in crowded places.
Shadows arise in my imagination.
You are coming with your head bare,
your hair tousled,
carrying the burden
of thousands of accusations,
stripped naked by lustful eyes,
trying to cover your body's nakedness.
Shadows arise in my imagination.
I have been to the city
looking at several possibilities.
No one valued what I had to off er.
From the gambling places
of the political oppressors,
there was no fair off er
for the skills I had to off er.
Shadows arise in my imagination.
In your home there is clamour
of the Day of Judgement.
The mailman has brought a telegram
from the front.
The one who was dearer to you
than your own life,
that brother has perished
in the 'enemy's hell'.
Shadows arise in my imagination.
Every step of the way
there is a crowd of ill fame.
Every bend in the way
opens doors to infamy.
There is no friendship, no courtesy,
no loveliness, no sincerity.
No one belongs to anyone.
Everyone seems to be a loner.
Shadows arise in my imagination.
I don't know this pathway
that is deserted like my heart
is going to take you anywhere.
You are being slain
by the killers of ethics and morality.
The redness seen in the horizon
is coming from the bleeding
of my heart's desires.
Shadows arise in my imagination.
I remember the evening
wrapped in the sun's blood.
I remember how the glowing dreams of love
came to an end.
That evening reminded me
that in this world
the smile of maidens
is traded the same way
as a farmer's field.
That evening reminded me
how in the capitalist system
the relationship between two innocent souls
is also put up for sale.
That evening I came to know
that when a father's assets are sold,
a mother's gleaming dreams
go up for sale too.
That evening I came to know
that when the brother is killed in a war
then the sister's youth is traded
in rich men's pleasure houses.
I remember the evening
wrapped in the sun's blood.
I remember how the glowing dreams of love
came to an end.
Today, while sitting alone
or being an object of desire in an assembly
several thousand miles away from me,
you are weaving dreams of me
sitting in someone's lap.
And I work very hard day and night
carrying love's agony in my heart.
I die for the sake of living.
I make fun of my talent
while making a stranger feel good.
I am helpless.
You are helpless.
Helpless is this whole world.
My inner pain
is weighing on my mind.
The price of living
is either the gallows or disgrace.
I could not get to the stakes
and you could not get
to the end of your struggle.
You could not embrace
what you wanted.
We are two souls
that have failed to reach
their goals.
We are living with pyres
flaming out from our breaths.
Our commitments burn silently.
For those affl icted by the realities of life,
even the garbs of their dreams are burning.
I see two shadows lurking
in the midst of trees once where we met.
Once again two hearts have come forward
to mingle and to blend.
Once again I see the hurricane of death rising,
the clouds of war appearing.
I am wondering
whether these two would meet
the same end as ours.
Their passion too would be defamed.
Who knows whether their future
also holds a blood-soaked evening.
I remember the evening
wrapped in the sun's blood.
I remember how the glowing dreams of love
came to an end.
Our love could not stand against
the forces of misfortune,
but I wish these two will achieve
the night of their deeply held desires.
We were given the task of dying endlessly,
but we wish these two lovers the melodious
and playful gift of life.
For a long time now
the game of politics is played this way:
kids get killed
when they grow up.
For a long time now
rulers have been obsessed
with sowing the seeds of famine
in faraway lands.
For a long time now
the dreams of youth are treated
like a wasteland.
For a long time now
love has been frantically searching
for a place of its own.
For a long time now
the beauty of life
is looking for ways
to save its honour
walking oppressive trails.
Let us address
all those devastated souls
that they should give their wounds
a voice and let them speak.
Our secret is no longer strictly ours.
It is shared by all.
Let us include the whole world
as partner in this mystery.
Let us rise up
and tell the political players
that we hate these games of war.
If the apparel of life
comes only in the colour of blood
then we don't want it.
Let us say
clearly and loudly
that if any assassin came our way
then with every step approaching
the ground underneath
would shrink.
Each wave of breeze
will change its direction,
and every branch
will take the colour of stones.
Let us rise
and tell every warmonger
that we need implements
to do our work.
We do not wish to possess
anyone else's land,
but we need ploughs
for tilling the land that we own.
Let us say
that we do not want to see a trader
come our way.
We are not going to put up
any more virgins for sale.
Our fields have woken up,
our crops are standing upright.
In this place,
we are not going to sell
even a small patch of land.
This land is the land of
Gautam and Nanak.
On this sacred soil
no savages would be allowed
to walk again.
Our blood is held in trust
for the new generation.
No garrisons will feed
on our blood once again.
If we failed to raise our voice
then this dazzling mound of dust
shall not be safe again.
Our land will not be safe,
our sky will not be safe
from the evil spirits brought to life
by the madness of atom.
During the last war
our homes were burnt,
but this time
don't be surprised
if our moments of solitude
are burnt, too.
During the last war
forms and figures were burnt
but this time
don't be surprised
if our shadows are burnt, too.
Shadows arise in my imagination.
Parchhaaiyaan
javaan raat ke siine p duudhia aanchal
machal raha hai kisi khwaab-e marmariin ki tarah
hasiin phuul hasein pattiyaan hasein shaakhein
lachak rahi hain kisi jism-e nazniin ki tarah
faza mein ghul se gaye hain ufaq ke narm khatuut
zamiin hasiin hai khwaabon ki sarzamiin ki tarah
tassuvaraat ki parchhaaiyaan ubharti hain
kabhi gumaan ki surat kabhi yaqiin ki tarah
voh per jin ke tale ham panaah lete the
khare hain aaj bhi saakat kisi amiin ki tarah
unhien ke saaye mein phir aaj do dharakate dil
khaamosh honton se kuchh kehne sunne aaye hain
n jaane kitni kashakash se kitni kaavish se
y sote jaagte lamhe chura ke laye hain
yahi faza thi yahi rut yahi zamaana tha
yahin se ham ne mohabbat ki ibtda ki thi
dhadakte dil se larzti hui nigaahon se
hazuure ghaib mein nanhi si iltja ki thi
ke arzu ke kanval khil ke phuul ho jayein
dil o nazar ki duuayein qabuul ho jayein
tassuvaraat ki parchhaaiyaan ubharti hain
tum aa rahi ho zamaane ki aankh se bach kar
nazar jhukaaye hue aur badan churaaye hue
khud apne qadmon ki aahat se jhonpti darti
khud apne saaye ki junmbush se khauf khaye hue
tassuvaraat ki parchhaaiyaan ubharti hain
ravaan hai chhoti si kashti havaaon ke rukh par
nadi ke saaz p mallaah giit gaata hai
tumhaara jism har ik lahar ke jhakole se
meri khuli hui baahon mein jhuul jaata hai
tassuvaraat ki parchhaaiyaan ubharti hain
main phuul taank raha huun tumhaare juude mein
tumhaari aankh massarat se jhukti jaati hai
n jane aaj main kya baat kahne vaala huun
zabaan khushk hai aavaaz rukti jaati hai
tassuvaraat ki parchhaaiyaan ubharti hain
mere gale mein tumhaari gudaaz baahein hain
tumhaare honton p mere labon ke saaye hain
mujhe yaqiin k ham ab kabhi n bichhrein ge
tumhein gumaan hai k ham mil ke bhi paraaye hain
tassuvaraat ki parchhaaiyaan ubharti hain
mere palang p bikhri hui kitaabon ko
adaaye a'jzo karam se utha rahi ho tum
suhaag raat jo dholak p gaaye jaate hain
dabe suron mein vohi giit ga rahi ho tum
tassuvaraat ki parchhaaiyaan ubharti hain
voh lamhe kitne dilkash the voh ghariaan kitni pyari thein
voh sehre kitne naazuk the voh lariaan kitni pyaari thein
basti ki har ik shaadaab gali khawaabon ka jaziira thi goya
har mauj-e nafas har mauj-e saba naghmon ka zakhiira thi goya
n gaaha lehkte kheton se taapon ki sadaayein aane lagien
baruud ki bojhal bu le kar pachham se havaayein aane lagien
taa'miir ke raushan chehre par takhriib ka baadal phail gaya
har gaanv mein vahshat naach uthi har shehr mein jangal phail gaya
maghrab ke muhazzab mulkon se kuchh khaki vardi posh aaye
idhlaate hue maghruur aaye lehraate hue madhosh aaye
khaamosh zamiin ke siine mein khaimon ki tanabein garne lagien
makhan si mulaayam raahon par buuton ki khraashein parne lagien
faujon ke bhiyaanak band tale charkhon ki sadaayein duub gayein
jiipon ki sulagati dhuul tale phuulon ki qabaayein duub gayein
insaan ki qiimat girne lagi ajnaas ke bhao chadhne lage
chaupaal ki raunak ghatne lagi bharti ke daftar badhne lage
basti ke sajiile javaan ban ban ke sipahi jaane lage
in jaane vale daston mein ghaiirat bhi gai barnai bhi
maaoon ke javaan bete bhi gaye bahnoon ke chahete bhai bhi
basti p udaasi chhane lagi mailon ki bahaarein khatam huien
aamon ki lachakti shaakhoon se jhuulon ki qataarein khatam huien
dhuul urne lagi baazaron mein bhuukh ugne lagi khilyaanon mein
har chiiz duukanon se ur kar ruuposh hui tehkhanon mein
badhaal gharon ki badhaali badhte badhte janjaal bani
mehngaaii badh kar kaal bani saari basti kangaal bani
charvaahiaan rasta bhuul gaaein panhaariaan panghat chhor gaaein
kitni hi kanvaari ablaaein maan-baap ki chaukhat chhor gaaein
aflaas zada dehqaanon ke hal-bel bike khaliaan bike
jiine ki tamanna ke haathon jiine hi ke sab saamaan bike
kuchh bhi n raha jab bikne ko jismon ki tajaarat hone lagi
khalvat mein bhi jo mamn'u thi vo jalvat mein jasaarat hone lagi
tassuvaraat ki parchhaaiyaan ubharti hain
tum aa rahi ho sar-e aam baal bikhraae hue
hazaar gona malaamat ka baar uthae hue
havas-prast nigahoon ki chiira-dasti se
badan ki jhenpti uriyaaniyaan chiipaae hue
tassuvaraat ki parchhaaiyaan ubharti hain
main shehr ja ke har ik dar ko jhaank aaya huun
kisi jagah meri mehnat ka mol mil n saka
sitam garon ke siyaasi qimaarkhanon mein
alam-nasiib farasat ka mol mil n saka
tassuvaraat ki parchhaaiyaan ubharti hain
tumhaare ghar mein qayaamat ka shor barpa hai
mahaaz-e jang se harkaara taar laya hai
k jis ka zikr tumhein zindagi se pyaara tha
voh bhai narg-e dushman mein kaam aaya hai
tassuvaraat ki parchhaaiyaan ubharti hain
har ek gaam p badnaamioon ke jamghat hain
har ek mor p rusvaaion ke mele hain
n dosti n takaluff n dilbari n khaluus
kisi ka koi nahien aaj sab akele hain
tassuvaraat ki parchhaaiyaan ubharti hain
voh rahguzar jo mere dil ki tarah suuni hai
n jaane tum ko kahan le ke jaane vaali hai
tumhein khariid rahe hain zamiir ke qaatil
ufaq p khuune-tamaanaaye-dil ki laali hai
tassuvaraat ki parchhaaiyaan ubharti hain
suraj ke lahu mein lipti hui voh shaam hai ab tak yaad mujhe
chaahat ke sunehre khwaabon ka anjaam hai ab tak yaad mujhe
us shaam mujhe maa'luum hua kheton ki tarah is duniya mein
sehmi hui doshiizaaon ki muskaan bhi bechi jaati hai
us shaam mujhe maa'luum hua is kaargahe zardaari mein
do bholi bhaali ruuhon ki pehchaan bhi bechi jaati hai
us shaam mujhe maa'luum hua jab baap ki kheti chhin jaaye
mamta ke sunehre khwabon ki anmol nishaani bikti hai
us shaam mujhe maa'luum hua jab bhai jang mein kaam aaye
sarmaaye ke qahvakhane mein bahnon ki javaani bikti hai
suraj ke lahu mein lithri hui voh shaam hai ab tak yaad mujhe
chaahat ke sunehre khwabon ka anjaam hai ab tak yaad mujhe
tum aaj hazaron miil yahaan se duur kahiin tanhai mein
ya bazm-e tarab aaraai mein
mere sapne bunti ho gi bethi aaghosh paraii mein
aur main siine mein gham le kar din raat mushaqqat karta huun
jiine ki khatir marta huun
apne fun ko rusva kar ke aghiaar ka daaman bharta huun
majbuur huun main majbuur ho tum majbuur y duniya saari hai
tan ka dukh man par bhaari hai
is daur mein jiine ki qiimat ya daar o rasan ya khvaari hai
main daar o rasan tak ja n saka tum jahd ki hadd tak aa n sakien
chaaha to magar apna n sakien
ham tum do aaisi ruuhein hain jo manzil-e taskiin pa n sakien
jiine ko jiye jaate hain magar saanson mein chitaaein jalti hain
khaamosh vafaein jalti hain
sangiin hakayak zaari mein khwabon ki ridaein jalti hain
aur aaj in peron ke niiche phir do saaye lehraaye hain
phir do dil milne aaye hain
phir maut ki aandhi utthi hai phir jang ke badal chhaaye hain
main soch raha huun in ka bhi apni hi tarah anjaam n ho
in ka bhi junon badnaam n ho
inke bhi muqaddar mein likhi ik khuun mein lithri shaam n ho
suraj ke lahu mein lithri hui voh shaam hai ab tak yaad mujhe
chaahat ke sunehre khwabon ka anjaam hai ab tak yaad mujhe
hamaara pyaar havaadis ki taab la n saka
magar inhein to muraadon ki raat mil jaaye
hamein to kashmakash-e marg-e beimaan hi mili
inhein to jhuumti gaati hayaat mil jaaye
bahut dinon se hai y mashghala siyaasat ka
ke jab javaan hon bachche to qatal ho jaaein
bahut dinon se hai khabat hukam raanon ka
ke duur duur ke mulkon mein qahat bo jaayein
bahut dinon se javaani ke khwaab viiraan hain
bahut dinon se mohabbat panaah dhundhati hai
bahut dinon mein sitam diid shaahraaon mein
nigaar-e ziist ki ismat panaah dhundhuti hai
chalo k aaj sabhi payamaal ruuhon se
kahein k apne har ik zakham ko zubaan kar lein
hamaara raaz hamaara nahien sabhi ka hai
chalo ke saare zamaane ko raazdaan kar lein
chalo ke chal ke siyaasi mukamaron se kahein
ke ham ko jang o jadal ke chalan se nafrat hai
jise lahu ke siva koi rang n raas aaye
hamein hayaat ke us perhan se nafrat hai
kaho k ab koi qaatal agar idhar aaya
to har qadam p zamiin tang hoti jayegi
har ek mauj-e hava rukh badal ke jhapte gi
har ek shaakh rag-e sang hoti jaye gi
utho k aaj har ik jangju se y kah dein
k ham ko kaam ki khatir kalon ki hajat hai
hamein kisi ki zamiin chhiin-ne ka shauq nahien
hamein to apni zamiin par halon ki hajat hai
kaho k ab koi taajar idhar ka rukh n kare
ab is ja koi kanvaari n bechi jayegi
y khet jaag pare uth khari hui faslein
ab is jagah koi kayaari n bechi jayegi
y sarzamiin hai Gautam ki aur Nanak ki
is arz-e paak p vahshi n chal sakein ge kabhi
hamara khuun amanat hai nasl-e nau ke liye
hamaare khuun p lashkar n pal sakein ge kabhi
kaho ke aaj bhi ham agar khmosh rahe
to is damakte hue khaakdaan ki khair nahien
junuun ki dhaali hui atomii balaaon se
zamiin ki khair nahien aasmaan ki khair nahien
guzashta jang mein ghar hi jale magar is baar
a'jab nahien k y tanhaaiyaan bhi jal jayein
guzashta jang mein paikar jale magar is baar
a'jab nahien k y parchhaaiyaan bhi jal jayein
tassuvaraat ki parchhaaiyaan ubharti hain
---
Read more:
Who Wants to Cross Over?
The Mysterious Poetry of the Desert
The Story of a Translation​
The other side of the line of Hinduism
Talking Translation : Revisiting Anis Kidwai's Azadi Ki Chhao Mein
This is an excerpt from Surinder Deol's Sahir: A Literary Portrait, published by Oxford University Press. Republished here with permission from the publisher.