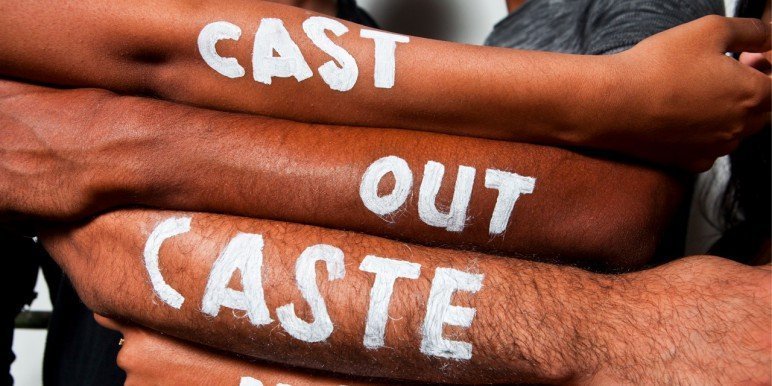 Image courtesy: India Resists
Our India is the "India of castes", where casteism makes one spew venom of the violence. There is no dearth of violence against dalits and adivasis in the country. These acts of violence are nothing but routine instances of crimes and are sensational events for the media. The number of instances of abuse and violence against the dalit community have increased to such an extent that one is compelled to feel that no one should be born as a dalit in this country.
One of such incidents that could put the whole world to shame was uncovered very late. In Bijapur district of Karnataka, going to the school is considered to be a crime for the dalit girls. Not many people from the dalit community can access education. Especially in the villages, where casteism is extremely rampant, girls from the lower castes receiving formal education is a rarity. These girls become a nightmare for the upper-caste men and these men reduce them to meagre objects that can be sexually violated.
A nineteen-year-old girl Ramya* (name changed) from Vasanthapura village of Devarahipparagi taluk in Bijapur district was just a student of grade XII. She dreamt of pursing higher education and becoming a government employee to help her family get rid of their poverty. In order to fulfil her dream, she also used to attend computer classes at a coaching centre.
On September 14, 2019, Ramya went missing. Worried, her parents looked for her ardently, but failed to locate her. As a result, they approached the police. The parents claimed that they had enough evidence to prove that their daughter was kidnapped. However, the police sub-inspector Vinodh Kumar, other police officers, Asangi and Virabhadrappa of Kalakeri police station shut them down. They were reportedly humiliated and sent back. After a few days, when the parents revisited the police station to lodge a complaint, they were shocked to see that the police were sitting with those whom the parents had accused of kidnapping. Reportedly, the police threatened the parents saying that they would file a complaint against them.
After several days, Ramya's dead body was found floating in a canal in the village. The police, without following any protocol, without even informing the parents and without even performing a post mortem, the SP and PSI cremated the body. When dalit organisations in the state learnt of the incident, they protested and exerted pressure on the state government. As a result of this, the case was transferred to a different investigative agency.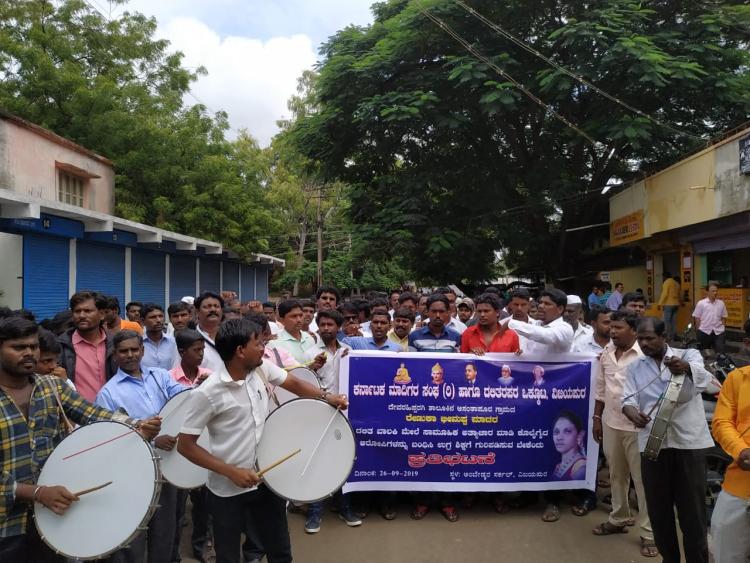 Image courtesy: Huchangi Prasad
The investigation has now revealed that he case was suppressed initially owing to the political pressure; and there was also a lot of money involved. Officer Vinodh Poojari and constable S B Asangi have been suspended. Following the interrogation of the accused, the story that has come out is a scary one:
Madivalappa Basappa Badigera (26) and six others had kidnapped Ramya. She was taken to a deserted place and was gang raped. After this, she was suffocated to death. They continued raping her body even after killing her and her genitalia was filled with stones. One of the six accused has been arrested so far. Even though the police are saying that the search for rest of them is underway, the dalit organisations in the state are accusing the police of putting up a show. They are also claiming that there is a tremendous political pressure to ensure that the case is fully shut down.
Apart from this barbaric incident, we also have to look at what happened in Shivapuri of Madhya Pradesh. Two children of age 12 years and 10 years, belonging to the dalit community, were lynched for defecating in the open in front of the Panchayat office of Balkeni village. Both perpetrators, Hakkim Yadav and Rameshwar Yadav, have been arrested.
Irony is that our prime minister, Narendra Modi, is in America talking about India being free of open defecation; however, boys here are lynched for defecating in public—in absence of toilets at home.
Such incidents remind us of what happened with a dalit minister from Chitradurga, A Narayanaswamy. He was stopped from entering the Peme village because he was a dalit. With such deep-rooted discriminatory structure and the extent of the violence it propagates, India could have been a recipient of an anti-Nobel for peace, if there would have been any such award.
There is an increase in the violence against dalit communities in the country. India is now living its darkest days. According to a 2017 report based on the Scheduled Caste and Scheduled Tribe (Prevention of Atrocities) Act, a dalit is getting killed every five days, a dalit woman is getting raped every day and every four hours, there is an instance of violence against dalits. These numbers are based on official data. However, India continues to portray its image as a so-called fast-developing country in the world.
I demand justice for Ramya and Roshan and Avinash Balmiki. And I do not have any other option but to ask Ramya to not make the mistake of being born in this "India of castes".
---
Read more:
Huchangi Prasad: "The one who is in pain knows the pain"
Firing at the Heart of Truth: Remembering MM Kalburgi
Basavanna – A man who rebelled against Sanatana Tradition