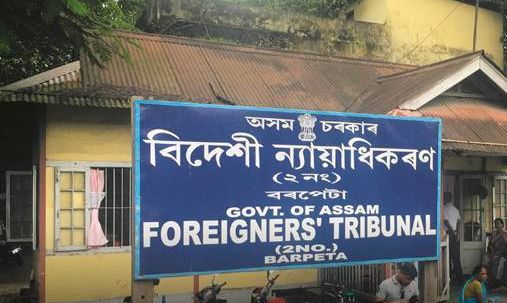 [This is the third part of our three-story series on the constitution, functioning, efficiency and independence of Foreigners Tribunals (FTs) in Assam. This part of the series deals with the inherent gender bias, ex-parte decisions and presumption of non-citizenship in FTs.]
New Delhi: It is difficult for illiterate and poor women in Assam to prove their citizenship as most of them get married before they turn 18 years old and subsequently move to other villages. They generally do not have records to prove their links to their places of birth and to their families. By the time they attain the legal age (18 years) of being enrolled in the electoral roll, they are already at their matrimonial home. Their names are not recorded with their husband or with their father.
Such women, therefore, cannot rely on the voters' list — which is the most common document to prove citizenship — to prove that she is daughter of her father, to establish a linkage with parents before the Foreigners Tribunal (FT) to prove citizenship.
Any woman whose name is recorded in the electoral rolls post March 25, 1971, along with her husband is of no use before the tribunal. She has to rely on the certificates issued by authorities such as Gaon Burah (village headman), Gaon Panchayat (village panchayat or village council), school certificate — if she has attended primary or secondary schools, and nikah nama (marriage certificate), etc. to prove linkage with her parents.
But these certificates are considered "private" and "weak" and "unreliable" in the eyes of judicial system. If the issuing authority does not depose the tribunal to prove the contents of the documents, then the women are declared as foreigner as they fails to prove their linkage with parents as per the Evidence Act.
Married women constitute 60% of the total number of 'doubtful voters' or 'D-Voters'— the condemned category of citizens in Assam who have to prove their citizenship before FTs. The dispassionate process of listing people as D-Voters began around 1997, when the electoral rolls underwent an intensive revision aimed at ridding them of illegal foreigners.
Government figures suggest that over 2.4 lakh people have been declared as 'D-Voters' in the state since 1997, and over 1.1 lakh cases are still pending in tribunals.
The state's Bengali-origin population that lives on chars, the fertile sandbars or riverine islands of Brahmaputra and its tributaries, are also prone to being listed as 'D-Voters'. When a char begins to be submerged due to the floods, its people move out and settle at other places. Their houses, mostly made of corrugated tin sheets, are easy to dismantle and build. Sometimes, the char residents prosper and are able to build new homes on the mainland. This gets them into trouble. The sight of new houses feeds into an existing paranoia: of infiltration by Bangladeshis. Often, the residents of the homes are reported to the Border Police as foreigners. All such families are at risk of being considered "doubtful".
Cross Examination by Tribunal Member
Government pleaders in many FTs have either not been appointed or appointed very recently. In absence of the government pleader, tribunal members cross-examine proceedees, hence, becoming the judge and prosecution themselves.
In some cases, even in the presence of government pleader, some members of FTs – in the name of putting relevant questions under Section 165 of the Evidence Act – allegedly cross examine the proceedees.
Ex-Parte Decision
G Kishan Reddy, Minister of State for Home Affairs, on July 2, 2019, in a reply to an unstarred question, informed Parliament that 63,959 people have been declared as foreigners through ex-parte proceedings by FTs in Assam from 1985 to February 28, 2019. On July 16, 2019, the MoS once again told Parliament while replying to another unstarred question that 1,17,164 people have been declared foreigners upto March 31, 2019, by the FTs in the state. Thus, it is clear that more than half of the cases decided by FTs till date is through ex-parte proceedings.
"Though in some cases proceedee do not appear before the tribunal for some reason or the other, the most common causes of ex-parte cases are faulty service of notices," said well-known Gauhati-based lawyer Aman Wadud.
He alleged that many daily wage labourers who come to urban areas from their home district to earn a living are randomly accused of being illegal immigrants. "Tribunals often serve notice to the proceedees at their rented accommodation they once stayed. Their names and addresses are collected by the Border Police, who later accuse them of being a foreigner. The process server often don't serve the notice to the proceedee but hang it on some conspicuous part of the village, stating that the proceedee has left for some unknown destination," he alleged.
Asked who are these declared foreigners, Wadud said a person declared "foreigner" by a tribunal does not mean he or she is actually a foreigner. "Tribunals in majority of cases declare people foreigners because of minor anomalies in the spelling of their names and age mismatch in voters' list and other citizenship documents, for not mentioning certain facts in written statements, etc. Clerical errors and minor contradiction in deposition of witnesses also cost citizenship. Mostly people are held as 'foreigners' on technical grounds, and many a time even due to the lack of competent legal representation," he said.
Detention Centres
Once a person is declared a foreigner, he/she can be detained under Section 4 of the Foreigners Act, 1946. There are around 1,100 detainees currently in six detention centres in Assam.
Before deporting a foreigner, the country of origin has to confirm his/her nationality. According to an affidavit filed in the Supreme Court in WP (C) 1045/2018 by the State of Assam in February this year, only four declared foreigners have been deported since 2013.
In a recent visit to Dhaka, External Affairs Minister S. Jaishankar said that the National Register of Citizens (NRC) is India's internal problem. To date, India has not spoken to Bangladesh about deporting "declared foreigners".
If a person is detained after being declared a foreigner, and if she or she does not get any relief from higher judicial forums, he or she will be detained indefinitely if not deported. Indefinite detention is inherently illegal and inhuman, which denies a dignified life or even a dignified death to the detained.
The Assam government has said in the Assembly that in the last three-four years, 25 detainees have died inside detention centres. The Supreme Court vide its order on May 10 this year in WP (C) 1045/2018 has directed the state to release those detenues who have completed over three years in detention. This order has rightly put an end to indefinite detention, however, even three years of detention without any possibility of deportation is not reasonable either.
But, even after four months of the apex court's order, only nine declared foreigners have been released till now. The MoS for Home Affairs in reply to a question had informed Parliament that 335 detenues have been detained for more than three years as on June 25, 2019.
A large number of cases will be now tried before 300 Foreigners Tribunals across the state. A significant percentage of people excluded from the NRC could be declared as "foreigners". It has also become clear by now that there is no chance that Bangladesh will accept "declared foreigners" as their citizens. In such a scenario, all such excluded people stand to be rendered stateless.
Having been denied the right to a nationality by any state, stateless people are vulnerable to various kind of abuses. They are at risk of being deprived of access to basic rights, including access to education, health care, employment, the right to buy or sell property, open bank account or even get married. India is not a contracting party to the 1954 Convention, relating to the Status of Stateless Persons and the 1961 Convention on the Reduction of Statelessness.
Presumption of Non-Citizenship
The Supreme Court in 2005 in the Sarbananda Sonowal Vs Union of India case went on to hold that Article 355 of the Constitution had been violated, as the Union had failed to protect the State of Assam against the "external aggression" and "internal disturbance" caused by the "huge influx" of illegal migrants from Bangladesh to Assam.
Notably, the top court in the judgment quoted the report of former Assam Governor SK Sinha, that was prepared after talking to political parties and some authorities. The report was not based on any empirical data.
The apex court further stated in the Sonowal judgment, "A copy of the report dated 8th November, 1998 sent by Governor of Assam, Lt. Gen. S.K. Sinha (retired), former Deputy Chief of Army Staff, has also been filed along with this application. The report is a long and comprehensive one which was prepared after thorough inspection of border areas and districts, discussion with Indian ambassador in Bangladesh and talks with political leaders."
A few excerpts from the report are given below:
"1. The unabated influx of illegal migrants from Bangladesh into Assam and the consequent perceptible change in the demographic pattern of the State has been a matter of grave concern. It threatens to reduce the Assamese people to a minority in their own State, as happened in Tripura and Sikkim.
"2. Illegal migration into Assam was the core issue behind the Assam student movement. It was also the prime contributory factor behind the outbreak of insurgency in the State. Yet, we have made much tangible progress in dealing with this all important issue.
"3. There is a tendency to view illegal migration into Assam as a regional matter, affecting only the people of Assam. It's more dangerous dimensions of greatly undermining our national security, is ignored. The long cherished design of Greater East Pakistan/Bangladesh, making inroads into strategic land link of Assam with the rest of the country, can lead to severing the entire land mass of the north-east, with all its rich resources from the rest of the country. They will have disastrous strategic and economic consequences."
The Sinha report also stated, "Mr Inderjit Gupta, the then Home Minister of India stated in Parliament on May 6, 1997, that there were 10 million illegal migrants residing in India. Quoting Home Ministry/Intelligence Bureau sources, the August 10, 1998, issue of India Today has given the breakdown of these illegal migrants by States."
According to the India Today report mentioned above, Assam had four million illegal immigrants.
SK Sinha in his report also referred to SC Mulan, the Census Superintendent of 1931 Census, under the heading "Illegal Migration". The para from the Sonowal judgment is quoted verbatim below:
"ILLEGAL MIGRANTS
………………. Mr. Mulan described this as invasion using military terminology which in present geostrategical context, underscores the strategic aspect of the problem. It is unfortunate that to this day, after half a century of independence, we have chosen to remain virtually oblivious to the grave danger to our national security, arising from this unabated influx of illegal migrants. Third, the prophecy that except the Sibsagar district, the Assamese people will not find themselves at home in Assam, is well on its way to becoming true as reflected by the present demographic pattern of Assam."
Quoting the report of former Assam governor SK Sinha, the Supreme Court gave legitimacy to a report which quotes a statement made in 1931. Mulan made certain statements 16 years before Partition, and the migration even before 1931 was termed as illegal migration by SK Sinha.
Finally, the Supreme Court in the Sonowal case set aside the Illegal Migrants (Determination by Tribunal) Act or IMDT Act, 1983 and held that all cases pending before the tribunals under the IMDT Act shall be transferred to the tribunals constituted under the Foreigners (Tribunal) Order, 1964, and shall be decided in the procedure prescribed under the Order.
The Sonowal cases is now the most authoritative precedent to presume citizens as non-citizens. "External aggression" and "internal disturbance" became a narrative and influenced all subsequent proceedings under the Foreigners Act
The Gauhati High Court in a civil writ petition held the Gaon Panchayat Secretary certificate as "private document" and thereby invalidated around 46 lakh Gaon Panchayat Secretary certificate issued to women as documents for establishing linkage with parents.
The High Court in its judgment stated, "When the State is facing 'external aggression' and 'internal disturbance' due to presence of large number of illegal migrants, as held by the Supreme Court, where is the need to issue special directives to Gaon Panchayat Secretaries for creation of new documents to facilitate inclusion of names in updated NRC."
The Supreme Court in Assam Sanmilita Mahasangha Vs Union of India in a writ petition stated, "On 14th July, 2004, in response to an unstarred question pertaining to deportation of illegal Bangladeshi migrants, the Minister of State, Home Affairs, submitted a statement to Parliament indicating therein that the estimated number of illegal Bangladeshi immigrants into India as on 31st December, 2001 was 1.20 crore, out of which 50 lakhs were in Assam."
But the statement by the MoS was later retracted following a clarification which states that "the clarificatory note made it clear that the reported figures were not based on any comprehensive or sample study but were based on hearsay and that too from interested parties."
Despite clarification, the statement of the MoS (Home) made in Parliament was quoted in the judgment delivered by the bench of the Supreme Court monitoring the NRC.
The apex court again quoted the Census Superintendent of the 1931 Census in WP(C) 562/2012, "As early as 1931, CS Mullan, the Census Superintendent in his census report stated: 'Probably, the most important event in the province during the last 25 years, an event, moreover, which seems likely to alter permanently the whole feature of Assam and to destroy the whole structure of Assamese culture and civilisation has been the invasion of a vast horde of land-hungry immigrants, mostly Muslims, from the districts of East Bengal. …wheresoever the carcass, there the vultures will gathered together'."
After publication of final list of the NRC, over 19 lakh people were excluded. By now, it has become apparent that many genuine citizens have been left out. Hence, the number of alleged illegal immigrants is much less than what different constitutional authorities stated and which became basis for the Sarbananda Sonowal judgment and all subsequent cases related the issue of illegal migration in Assam.
---