Artist Pushpamala N recaptures the many facets of Gauri Lankesh in a loving verbal portrait. What made Gauri such a force of nature, even more than her zest for life and fighting spirit, was her extraordinary integrity. She moved from English journalism to Kannada without altering her voice or message. Staying true to the journalistic values of her father, P. Lankesh, she ran her Patrike without advertisements, but also brought to it her own straight-talking style, wide-angle vision and open-hearted sympathies.
September 5, the day of her assassination, was a special day of remembrance for Gauri since she regarded her father as her teacher. It now becomes a day to remember her exceptional life.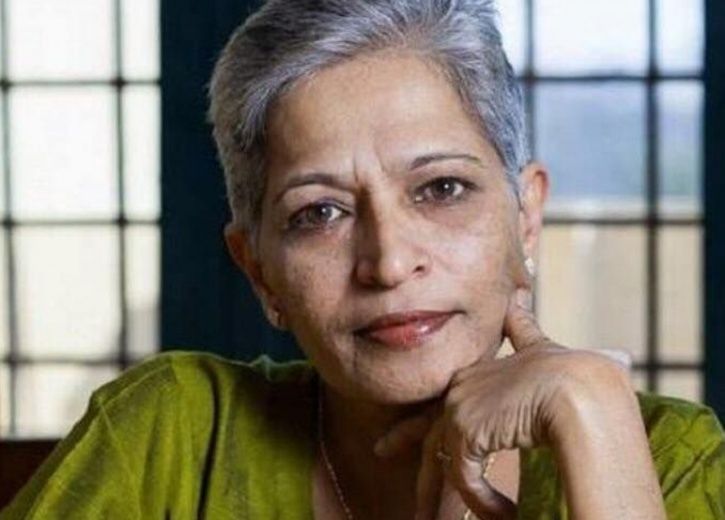 I was preparing to leave Bangalore for three weeks when I got a call from a friend in Mumbai asking me to switch on the TV immediately, saying that Gauri had been shot. I thought Gauri had gone driving off on one of her trips and been shot at. She had always received threats since the time she took over the Lankesh Patrike. Within minutes of the news of her death, people from all over were sending messages and calling. Many of my friends, who had met her at my place, were also devastated. By the time we rushed to her house, journalists and other people had already reached there, and a crowd began to gather. In the sleepless nights after that evening, an absurd thought occurred again and again—of Gauri sitting at her desk at the office that night before the edition and calling out, "Stop press! Gauri Lankesh has just been killed, we have to cover that!
Neither her family nor her friends had expected such a great public outpouring of grief and anger at her death, or that she would become a global icon of resistance. We had not thought that she was so powerful. With us, she was more vulnerable, speaking of her struggles and always good for an argument or a joke. We used to pop into each other's houses when we were depressed, to unwind. She could be brutally frank.
Gauri lived two streets away from my place, in a house built by her mother Indira, an astute businesswoman who owned a popular saree shop which had supported the family in lean times. Though we both grew up in Basavanagudi in south Bangalore, we only met when I moved into my newly built studio in Rajarajeshwari Nagar in 1996, after twenty years of having been away from the city. But I had known her father, P. Lankesh, since the early 1970s when, as a silly teenager just out of school, I used to hang around Central College with a disreputable bunch of older friends known as the "Chod" gang. The English department was famous. It had professors like the influential intellectual T.G. Vaidyanathan and P. Lankesh, the celebrated Navya (Modernist) Kannada writer, each with adoring groups around him. Later, becoming a new wave filmmaker himself, Lankesh had played the role of the rebel brahmin Naranappa in the first Kannada new wave film Samskara (1970), directed by Pattabhirama Reddy and based on the novel by U.R. Ananthamurthy, with Girish Karnad playing the good brahmin. It was a strong critique of caste, dealing particularly with the hypocrisy of the influential Madhava brahmin community (to which my family belongs). Though the censors had initially banned Samskara, the Union Ministry of Information and Broadcasting had revoked the ban. I do not remember much commotion from the brahmin community when it was released in 1970. My mother and her friends went off to see the film with a naughty air. I even acted in a play directed by Lankesh which had been staged in the Town Hall. It was the Kannada translation of Aristophanes' Lysistrata, a comedy about a woman, Lysistrata, who persuades the Greek women to boycott sex with their men to force them to end the Peloponnesian War. A family friend, member of the Swatantra party, wrote a strong letter to the Deccan Herald that the play was obscene. Though I was only in the crowd scenes, my father was furious and that was the end of my theatrical career.
Lankesh left his job and started the first Kannada tabloid Lankesh Patrike in 1980, to the disapproval of his literary friend who thought it would vulgarise his writing. He was probably inspired by the popular success of his political column in the Kannada newspaper Prajavani. Lankesh was a Lohiaite influenced by the charismatic Karnataka socialist leader Shanthaveri Gopala Gowda. I think his decision came out of a desire to "go to the people" after the tumultuous days of the 1970s, a decade marked by widespread movements for social justice and protests against the Emergency. Bangalore was the hub of the influential Navya literary movement, new wave cinema and new theatre dealing with social issues. Prasanna had founded the left-wing theatre group Samudaya just before the Emergency, and it had been performing political theatre all over Karnataka. The local paper Deccan Herald had also become a leading opposition after K.N. Harikumar came back from Jawaharlal Nehru University (JNU) and took over aseditor in 1978. The actress Snehalatha Reddy, socialist and wife of Pattabhirama Reddy, who had played Naranappa's dalit lover Chandri in Samskara, wasfalsely accused in the Baroda Dynamite case and jailed and tortured during the Emergency. She died
soon after being released.
Based on Gandhi's Harijan, the Lankesh Patrike was a powerful anti-establishment voice for the oppressed and marginalised, running on readers' subscriptions with a strict policy against advertisements. It grew to have a huge readership. It was a mixture of political exposés and sensational tabloid writing mixed with a strong literary content, providing a platform to new voices. What Lankesh also did was to invent a new language, or maybe many languages, delightfully tweaking Kannada with the fluidity of a master. Film scholar Madhav Prasad says he used to wait to see the new edition in Kolkata for the sheer pleasure of reading the language. One cover had the title "Bam Gum Yuddha"(Bangarappa–Gundu Rao War). No one had used Kannada with such audacity.
When I moved to Rajarajeshwari Nagar, I was introduced to Gauri by our older friend, the ex-cricketer Balaji, a neighbour of the Lankeshes. His house had served as an intellectual adda in Basavanagudi where Lankesh used to go to play badminton every evening. Basavanagudi was the centre of Kannada literature and theatre. The Vidyarthi Bhavan café in Gandhi Bazaar had been the meeting place for two generations of writers. Prasanna used to have a running joke that the great Kannada Navodaya (Renaissance) writer Masti Venkatesha Iyengar was so lusty thathe had not one, but "two-two dosas" every day.
When I first met Gauri, she was a journalist for the Sunday magazine edited by Vir Sanghvi. We used to meet often. Rajarajeshwari Nagar was lonely and scarcely populated. Gauri and her filmmaker sister Kavitha would talk in a racy, slangy Kannada that was delightfully new to me. We had completely different sets of friends and would throw large parties. My then husband Ashish Rajadhyaksha and our group of friends, all old Bangaloreans who had returned, had just started the Centre for the Study of Culture and Society—CSCS. Gauri had been married to journalist Chidanand Rajghatta, but they had broken up before we met. Lankesh and Ananthamurthy were the yin and yang of Navya literature and their children were good friends. But after Lankesh attacked Ananthamurthy in his paper, there was a rift. Gauri was loyal to her father and I never met the U.R.A. crowd at her place after that. I remember that at one of her parties, I was dancing on one foot because my other leg was encased in plaster after a bad scooter accident, when Prakash Belawadi (now a leading Modi bhakt) came up to me and bemoaned that people did not use theirhands to dance. He demonstrated some fancy moves.
In 2000, when Lankesh suddenly died, there was a crisis and Gauri had to take over the paper as editor. The sisters adored their father. Though Kavitha had been Lankesh's favourite and Indrajit, the youngest son, was his pet, Gauri was the only journalist in the family. She had recently moved to Delhi and was enjoying working in the new ETV channel for the first time as a television journalist. After Lankesh's death, the family realised that the paper was broke and there were only a few thousand rupees—"just enough for his cards money"—in his bank account. The Lankesh Patrike, which had a readership of two lakhs in its heyday when Lankesh was known as a kingmaker, had lost out in the new era of 24/7 television. The family thought of shutting down the paper, but Gauri told me that if the paper had been shut down, the agents would not return the collections from the last issue and they would not be able to pay salaries. When her younger brother Indrajit was named proprietor, she chafed at the thought that she would have to work under him as the editor. Some years later, when they fell out over her activism, she began her own paper, the Gauri Lankesh Patrike.
---
This is an excerpt from Battlling for India: A Citizen's Reader edited by Githa Hariharan and Salim Yusufji and published by Speaking Tiger. Republished here with permission from the publisher.