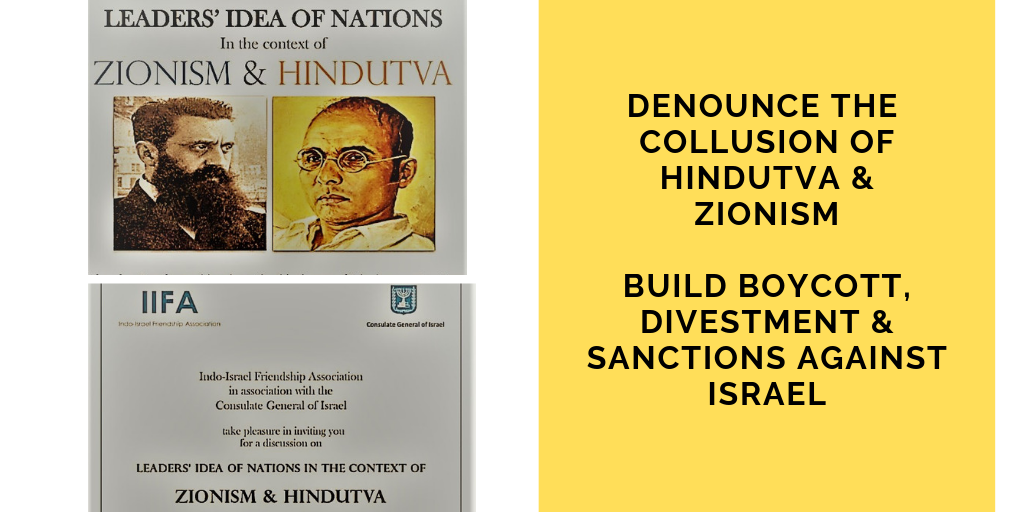 On the 26th of August, the Consulate General of Israel in Mumbai will host an event on Hindutva and Zionism in the Convocation Hall of Mumbai University. The speakers at this event are Gadi Taub of the Hebrew University of Jerusalem, a known advocate of Zionism; and Rajya Sabha MP of the Bharatiya Janta Party, Subramanian Swamy. A barely known organization called Indo-Israel Friendship Association is a co-organizer of this event. The poster of the event features the proponents of both supremacist ideologies- Theodor Herzl and VD Savarkar.
Zionism is a racist ideology calling for a settler-colonial, apartheid state where non-Jews have unequal rights, and in practice, has been premised on the ethnic cleansing of Palestinians for the last seven decades. Hindutva, its mirror image, is a supremacist ideology that calls for a nation of Hindus, where all other communities have to be relegated to an unequal status through suppression. At the centre of growing ties between the Modi regime and Israel is the collusion of these ideologies.
What does this imply for India and Indians? These ties are a realization of the Brand Israel project, the apartheid state's full-fledged strategy to whitewash its occupation, apartheid and settler colonialism against Palestinian people with 'growing partnerships' around the world. This finds an eager partner in the Modi regime, which is buying the largest share of Israel's weapons exports, allocating budget to its unsustainable and corporate farming model and even bringing in the Hindi film industry to cover up for Israel's crimes.
The weapons that Israel 'field-tests' on Palestinian bodies are today being deployed in Kashmir. The abrogation of Article 370 and 35(A), and the consequent threat of demographic changes, is also out of the Israeli manual of creating 'facts on ground' through illegal settlements in the occupied West Bank. The fantasy of Israelizing India is a prized one for this regime and its supporters.
The democratic and progressive forces in India, which are battling to save the soul of this nation, must in this moment align their struggles with that of the Palestinians. The largest coalition of the Palestinian civil society has called for boycotts, divestment and sanctions against the state of Israel until it respects their rights. Increasingly, we can see that our oppressors are united, and taking us down a dangerous path. In this grave moment, our struggles must unite too. It is time we overwhelmingly respected the Palestinian picket line and combined our struggles for freedom, justice and equality with theirs.
Signatories:
Achin Vanaik
Amitabha Basu
Anand Patwardhan
Archana Hande
Arundhati Ghosh
Bindu N. Doddahatti
Geeta Kapur
Githa Hariharan
John Cherian
Lakshmi Subramanian
Leki Thungon
Malini Bhattacharya
Marcy Newman
Mihir Bhattacharya
Mohan Rao
Nancy Adajania
Nayantara Sahgal
Nivedita Menon
Pushpamala N
Rajeev Dhavan
Rajni Palriwala
Ram Rahman
Ramaseshan Ramachandran
Ranjit Hoskote
Ritu Menon
Roshan Shahani
Sagari R Ramdas
Sanam Roohi
Sanjeev Khandekar
Sarandha
Shivangi Mariam Sharma
Simona Sawhney
Souradeep Roy
Subhash Gatade
Sudhanva Deshpande
Sukumar Muralidharan
Vaishali Narkar
Vijay Prashad
Vikas Bajpai
Vincent Manoharan
Vivan Sundaram
Vivek Monteiro
YC Subrahmanya
Yusuf Raza
---