Award winning film editor and an active member of the Women in Cinema Collective (WCC) Bina Paul talks to Bharathy Singaravel of the Indian Cultural Forum about the "ghettoisation" of regional films and the need to change that; cinema as resistance; censorship and more. Bina Paul is the artistic director of the International Film Festival of Kerala (IFFK) and the International Documentary and Short Film Festival of Kerala (IDSFFK). She is also the Vice Chairperson of the Kerala State Chalachitra Academy.
Bina curated the Malayalam Film Festival, 03 – 06 July, 2019 at the India International Centre (IIC), New Delhi. The festival, now in its second edition, was held in collaboration with the Kerala State Chalachitra Academy. Bharathy from ICF spoke to her at the IIC grounds before the screening of Kanthan, Lover of Colours on 05 July.
Image Courtesy: WikiCommons
Bharathy Singaravel [B]: I thought that we could start with the screenings at the India International Centre. What are the ideas that influence your choice of the six films shown here?
Bina Pau [BP]: We did these screenings last year as well. The ideas stem from the fact that there's so much happening in Malayalam cinema, in terms of younger filmmakers, new ideas and new forms. Now of course Netflix has taken over in a sense, but still a lot of these films just don't get seen. There is almost a ghettoisation of regional language cinema. I'm really keen to make a statement that we have to get out of these regular spaces, because a lot of these films are released and seen in Kerala, but not outside. When it comes to choosing the films, unfortunately or fortunately we have to work according to certain criteria. So we have to take cognizance of whether these films are recognised in Kerala or if they're cognised by the festival. Bhayanakam for example has won many accolades. It's an important film. It's talking about issues that concern everybody.
B: You mentioned the ghettoisation of regional cinema. This is something that has been bothering me too. What are set aside as "regional" are actually mainstream films. They're having theatrical releases in multiplexes. But the compelling ones on social justice such as those from south Indian cinema don't get the praise that an Article 15 does.
BP: They are important films. I think while Hindi cinema seems to be following a certain narrative, what is happening in a lot of south Indian films, in Malayalam especially, because we also have the International Film Festival of Kerala once a year in Trivandrum, there's a lot of exposure to world cinema. This exposure brings out some incredible work. The kind of filmmakers who are sending in entries, some of them are totally untrained and are often working on a very small budget. Kanthan, Lover of Colour that is being screened here at IIC is one such film. It was made on such a small budget and it is questioning caste and class politics. There's really cutting edge stuff that is going on and unfortunately, there's no venue for them to be considered mainstream. Mainstream is not a good word actually, but it's sad that you don't even hear of a film like Kanthan. In bringing it to IIC which is a space of thought, I think it also needs to be infused with these different narratives.
B: Cinema as resistance and censorship are issues that have been causing us concern for a while now. Your views on the Central Board of Film Certification (CBFC) and its impact on young filmmakers and independent filmmakers?
BP: The role of the CBFC is to categorise films according to what is suitable for which audience. Not to mention any particular regime, but it's always been an arm of the state. I think with YouTube and the internet in general, the CBFC is almost irrelevant.
There are many filmmakers who've had to fight because of it. But how does one get rid of it? Will the state ever let go of that power? So you find alternatives such as film festivals, internet spaces and film clubs. I see that the film club movement is creating an entire alternative narrative. I am not one who is for the corporate model of film distribution, anyway. I think we need to let go of this kind of distribution as a measure of it reaching a large number of people. A film like Amma Ariyan which was never released has had more screenings than any blockbuster. That was possible because there was a driven group of people who said, "No, this film needs to be seen."
B: You at the IFFK do not even ask for a censor certification, on the other hand, the IFFI (International Film Festival of India) rejected six films, branding them "anti-national". Would you like to talk about this aspect of the film festival in Kerala?
BP: Certainly. The IFFK has made is very clear. Our only concern is about the date of the film. We don't want films older than a year to apply, because that's unfair to filmmakers who're working now. I also have to mention that we are a state-run festival [supported by the State Government of Kerala]. I do know that this space that we are trying to carve out is dodgy. It's not easy. Right now we have a government that supports us and a ministry that supports us, but one can never say. We've managed so far. In the case of the IIFF, it is shocking. It shows the lack of a curatorial angle and the understanding of why you even have a film festival. Why would you have a festival for films that can be screened easily otherwise as well? It stems from a deeper lack of understanding of what a festival has to do. "Anti-national" is one hook that that they're using today, tomorrow it could be sex or something else.
B: Continuing on the topic of "cinema as resistance", how do you think the film fraternity has to mobilise right now, given the very specific set of issues that we are facing?
BP: It is the film community that needs to do the resistance. They need to find ways of telling stories that do that. I think it's happening in Tamil cinema. You're seeing alternative narratives, you're seeing different groups of people who are making films together. I think you have to be innovative in resistance. And I think the power of all art and filmmaking is to resist and artists have always found the means to do so. To mourn about the fact that there is censorship is one thing. But we also have to say, we will still make our films, we'll screen them, we will show the films that need to be shown, tell the stories that we need to and find the means to do that. Especially in today's world where there are means available. I think that is the challenge, rather than just saying we will fight censorship. We're never going to win that battle, because no state anywhere in the world is going to give up that kind of power.
B: How do you see the need for collective effort in relation to this, is it already happening?
BP: Certainly. For example there are film societies in Kerala that are subtitling films into Malayalam. Otherwise, what is the narrative? If there is a Hindi film, it gets subtitled into English which will reach only certain audience. These film societies take films from any part of the world and then subtitle them into Malayalam to screen at local film cubs. Big-budget films don't need to seek out such alternate means of distribution, but I do believe that independent filmmakers, if they face censorship will fight and also find other ways to screen their films for it to reach people.
B: I believe it was in a 2017 interview regarding the IFFK that you mentioned touring film festivals. How have you seen the nature of film festivals change?
BP: In my mind they have changed, because we are living in an age where we think everything is available. You assume that you can get any film you want, but I also know that there are lots of films that are not. You will not so easily be able to find a film from Cuba or Venezuela or from the Pacific Islands. Film festivals these days need to recognise two things. One is of course the providing of a platform for voices that are unheard of. The second is the notion that collective viewing is very empowering. When 10 people sit in a room and watch a film together, something else happens than just sitting in front of a computer.
Film festivals have to realize how much of a social responsibility it is. It's not just about choosing a good film. It's about choosing a film that is important to be seen. It's about choosing a film that otherwise may not get seen. It also means looking at the artistic value of the film. For me, these are the important questions.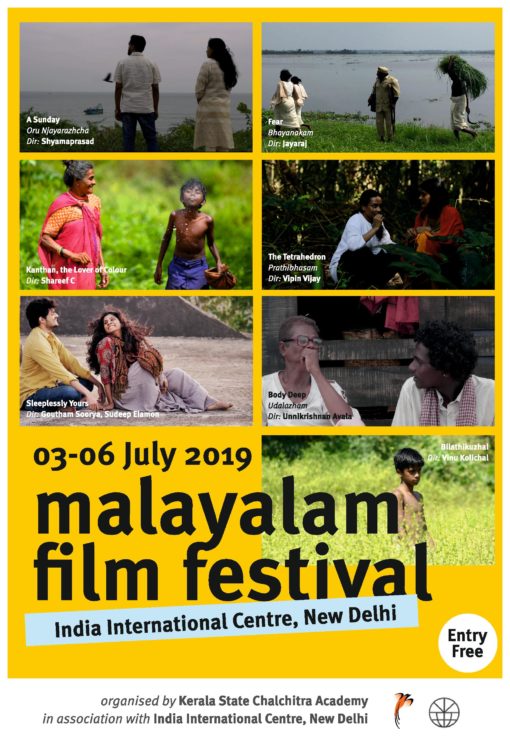 Today film festivals have become market-driven. At IFFK, we have tried to remain a viewer's festival. I know there is the Carthage Film Festival in Tunisia that does the same. There are many festivals that remain viewer festivals that say, "We know that there is the whole business of cinema, but we also know that there is a cultural value to it and that's what we give importance to."
B: This year's Documentary and Short Film Festival of Kerala (IDSFFK) just wrapped up. What stood out for you?
BP: Well, two aspects. One is the kind of documentary work that is happening in India is amazing. Again most of us hardly get to watch it or even know of it. The second was regarding the Anand Patwardhan film, Vivek (Reason). Despite it being released on YouTube, we were told not to screen it by the Union Ministry of Information and Broadcasting. But the Kerala Government [the Kerala State Chalachitra Academy] decided to move the High Court and we were able to screen it. It was important that we could flag the fact that this is a space of independence and resistance, in a sense.
B: Has the style, aesthetics and narrative form of documentary film changed in the years the IDSFFK has been happening?
BP: Very much. From being a sort of top-down experience, documentary has become much more inclusive. Lines between fiction and documentary, their separate aesthetics have infused into each other. I see this a lot in the feature film industry as well. You see a lot of films made in Kerala which do really well in which the aesthetic is almost documentary. So there is a nice understanding of the reality of cinema, which I really like. There is so much now in documentary, which is personal, which is political. You know, it's all stems from a different base from what it did earlier.
B: Lastly, can we talk about your work as an editor? What are the interventions that an editor makes, what guides your choices?
BP: That's a big question. Of course, as somebody said there's bad editing and there's a good film. You can only say it's badly edited or that it's a good film which means it's well-edited. The art of editing is in the invisibility. It's how you can put a story together in its best possible form of telling, without drawing attention to how you've done it, because it becomes so organically a part of it. Editing is really about how you tell the story when you already have the building blocks. You have the shots. You have the performances, you have the script. It's in the building of these elements and the way they're put together which makes the whole picture. It's not about individual cuts.
That is not the editor's job only. As an editor, I always think I have to get into my director's mind. I have to get into that mind to understand what it is that they see is the film or story. Then I can use my skills to bring out the best performance, to place performances in a certain way, to foreground or background action. It's more than just translating the script. It's actually building the film.
B: At what point do you come in? Are you present during filming?
BP: I don't edit much these days. I'm not often at the shooting, but you read the script and you see the rushes several times. You bring certain objectivity when you come in later, because you see things that the director might not have. That's very important for the film.
B: The physical aspect of editing has also changed drastically, hasn't it?
BP: Oh yes! Mechanically it's a wonder now. You press a button and it forwards, it finds, you don't have to do that work. But I do miss the physicality. I can never forget how when I used to edit on the Moviola, we'd have to join the film with sellotape. It would make a "kadak" sound every time it went by. I could tell by the rhythm of that sound each time a cut arrived. It was amazing being able to tell that from just the rhythm. The only way to see the full film during the editing was to sit in the projector room. Even there you could hear it.
Now, a lot of people work scene-wise because that's easier for them. So, yes it has seen a lot of changes. I'm glad for the mechanical advantages we have now. I cannot bear the thought of winding and finding. That's done with. The magic of something is lost though.
B: Thank you, Bina. Anything else you'd like to add to wrap up the conversation?
BP: I wish that people would come and see the kind of films that we're showing. I do think that watching films is such a world opening experience. Otherwise you don't really understand the cultural significance of those actors from different parts of the world. It opens your mind even more than reading, I would say. When you're talking about cinema as resistance, it's also about telling stories that open up the possibilities for other forms of resistance.Look at Kanthan that we're showing today. It's a small-budget film, an adivasi story, the filmmaker is virtually unknown, but it went on to win the 2018 Kerala State Film Award. [Kanthan, The Lover of Colours was made by Shareef Easa, a daily wage labourer who works at a rubber plantation in Kerala's Kannur district.] Such a film is possible today! Why are we only thinking of big-budget films? I feel very proud that Kerala affords place for such cinema.
---
Read More:
"A threat of being pushed into irrelevance is hanging over those who practice critical thinking"
"The film industry's attitude gives the notion of a very patriarchal space": Bina Paul
Aabhaasam: Democracy Travels at Night