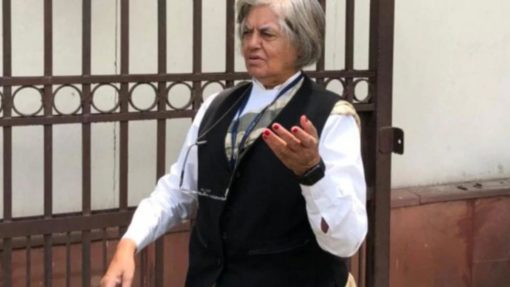 We, the undersigned individuals, strongly condemn the raids at the home and offices of senior advocates Ms Indira Jaising and Mr Anand Grover this morning by the CBI. The raids are being carried out in both Delhi and Mumbai. This, the latest in a long line of coercion and intimidation of Ms Jaising and Mr Grover, is nothing short of a brute show of intimidation as well as gross abuse of power. This is especially so since both the advocates, well known for their pioneering work in the field of human rights, and their NGO, 'Lawyers Collective', have fully cooperated with the authorities ever since criminal charges were filed against them in alleged FCRA violation cases. The raids that have taken place today despite this show of cooperation are shocking.
The reprisal against Lawyers Collective began in 2016 by suspending their FCRA license, which was then challenged in the High Court of Bombay. Lawyers Collective's challenge to the FCRA cancellation and non-renewal are currently pending before the High Court. On 13 June 2019, the CBI registered a First Information Report under the Indian Penal Code (IPC) relating to charges of criminal conspiracy, criminal breach of trust, cheating, false statement made in declaration and various sections under the FCRA and Prevention of Corruption (PC) Act 1988.
Lawyers Collective, a human rights organisation based in New Delhi with its registered office in Mumbai, was founded by noted Indian human rights defenders and lawyers Ms Indira Jaising and Mr Anand Grover. Ms Jaising and Mr Grover are senior advocates with an exceptional profile of public service, probity and personal and professional integrity. In 1986, Ms Jaising became the first woman to be designated as a senior advocate by the High Court of Bombay, and in 2009 she became the first woman to be appointed as Additional Solicitor General of India. Ms Jaisingh was a member of the UN Committee on Elimination of Discrimination against Women (CEDAW) between 2009 and 2012. She is a recipient of the Padma Shri awarded in 2005, followed by the Rotary Manav Seva Award for her services to the nation. Mr Grover was UN Special Rapporteur on the Right to Health between 2008 and 2014. The country's HIV/AIDS treatment programme has evolved with the serious efforts of the HIV/AIFS Unit of Lawyers Collective, headed by Mr Grover. Ms Jaising and Mr Grover, through Lawyers Collective, have advocated for advancing the rights of the most vulnerable and marginalised sections of Indian society, including children. On several occasions, they have challenged the unconstitutional and anti-people actions and policies of the State through judicial processes.
We, as citizens strongly urge that:
· Acts of intimidation and harassment against Mr Anand Grover, Ms Indira Jaising and Lawyers Collective stop immediately
· The criminal charges against Lawyers Collective be immediately withdrawn pending the decision of the High Court of Bombay.
· Misuse of the country's laws and the state machinery against human rights defenders come to an end
· The National Human Rights Commission of India take cognizance of this matter and take immediate action under the Protection of Human Rights Act 1993 (PHRA), including a review of the FCRA under Section 12 (d) of the PHRA.
A. Muthukrishnan
A.J. Vijayan
Aabida
Aasha Ramesh
Aatreyee Sen
Aban Raza
Abhijit Dutta
AbhilashaKumari
Abinash D.C.
Abir Dasgupta
Abraham P.C.
Achin Vanaik
Aditya Mukherjee
Aditya Bandyopadhyay
Aditya Shrivastava
Afaqullah Khan
Ahmar Raza
Aisha Farooqui
Ajitha G.S.
Akhil Chaudhary
Amal Sandy
Amala Dasarathi
Amandeep Sandhu
Amar Farooqui
Amir Rizvi
Amita Joseph
Amitabh Behar
Amitra Sudan Chakrabortty
Amiya Kumar Bagchi
Amreen Murad
Amrender Srivastava
Amrita Nandy
Anand Grover
Anand K. Sahay
Ananya Basu
Anchita Ghatak
Aneka Trust
Anil Varghese
Anil Bhatti
Anil Chandra
Anil Karne
Anil Sadgopal
Anil Verghese
Anisha Ghosh
Anjali Bharadwaj
Anjali Monteiro
Anjali Pawar
Anjali Rawat
Ann Joseph
Annie Raja
Anomita Sen
Antara Dev Sen
Anu Chenoy
Anuradha De
Anuradha Kalhan
Anuradha Kapur
Aquile Khan
Archana Prasad
Aritry Das
Arjun Dev
Arjun Sheoran
Arnesh Nag
Arpana Caur
Arun Dhole
Aruna Burte
Aruna Gnanadason
Aruna Rathnam
Arundhati Dhuru
Arundhati Ghosh
Arundhati Roy
Arunkumar H.G
Arvind Abraham
Asad Zaidi
Asavari Sharma
Asghar Wajahat
Ashish Kothari
Ashish Ranjan
Ashlin Mathew
Ashok Lal
Asmi Sharma
Asmita Aasaavari
Astha Bamba
Astha Kalarikkal
Astrid Lobo Gajiwala
Atif Jung
Atlury Murali
Avantika Srivastava
Avik Kumar Maitra
Ayesha Kidwai
Ayesha Sen Choudhury
Aysha
Baban Prakash
Badri Raina
Bebaak Collective
Bhanumati Rao
Bharat
Bharathy Singaravel
Bharti Ali
Bharti Sharma
Bhavreen Khandari
Bikash Deb
Bimla C.
Bindu Doddahatti
Bipasha Roy
Biraj Patnaik
Bittu K.
Bobjee Kurien
Bondita Acharya
Brinelle D'Souza
Brototi Dutta
C.P. Bhambhri
C.P. Chandrasekhar
Cassandra Nazareth
Cedric Prakash
Chaand Ohri
Chanchal Chauhan
Chander Uday Singh
Charu Makkar
Chinu Srinivasan
Chirashree Das Gupta
Chitra Joshi
Chitra Mathur
D.N. Jha
David Raj
David Soloman
Deeba Naseem
Deeptha Rao
Dev Desai
Deven Shah
Devika Daulet-Singh
Devika Prasad
Dewan Ritu
Dhamm Muktiwadi
Dilip D'Souza
Dinesh Abrol
Dinesh Mohan
Divya Vaishnava Gurugram
D.L. Tripathi
Dolphy D'souza
Elizabeth Seshadri
Enakshi Ganguly
Estelle Desai
Farah Naqvi
Fatima Babu
Fauzia Shakil
Fidel Sebastian
Firoz Mithiborwala
Fr Cedric Prakash
Freny Manecksha
G. Arunima
Ganesh Rajaram
Gargi Banerjee
Gargi Chakravartty
Gauhar Raza
Gaurav Menghaney
Gautam Mody
Geeta Kapur
Geeta Menon
Geeta Sajjanshetty
Geeta Seshu
Geetha Mehra
Georgina Louella Maddox
Ginny Shrivastava
Girija Kumarbabu
Githa Hariharan
Gopa Trivedi
Grijesh Dinkar
Guffran Siddiqu
Hamida Vasanwala
Harender Happy
Harish Iyer
Harleen Walia
Harsh Mander
Hasina Khan
Henri Tiphagne
Himanshu Gupta
Himayush Chopda
Hozefa Ujjaini
Inayat Kakar
Indira Arjun Dev
Indira Chandrasekhar
Indrani Mazumdar
Indranil Mukherjee
Iqtidar Alam Khan
Ira Bhaskar
Irfan Habib
J. Sandhya
Jacob John
Jacob Tharu
Jahar Kanungo
Javed Anand
Javed Malick
Jawari Mal Parakh
Jawed Ansari
Jawed Naqvi
Jayashree Joshi Eashwar
Jayashree Eashwar
Jayati Ghosh
Jean Dreze
Jebamalai Raja
Jehangir Asgar Jani
Jennifer Mirza
Jhuma Sen
Joe Athialy
John Cherian
John Dayal
Joseph Mathai
Joseph Xavier
Jothi S.J.
Jyoti Raghavan
Jyotsana Dhawan
K.J. Kumar
K.L. Tuteja
K.M. Shrimali
K. Sudha
Kabi Sherman
Kailash Meena
Kajol Menon
Kalpalata Dutta
Kalpana Purushotaman
Kalyani Menon-Sen
Kamal Chenoy
Kamini Tankha
Karuna Bishnoi
Kavita Mangnani
Kavita Srivastava
Keval Arora
Khairunnisha Pathan
Kiran Modi
Komal Ganotra
Koshika Krishna
K.P. Jayasankar
Krinna Shah
Krishna Bhansal
Kritika
Kritika Agarwal
Kumar Shahani
Kumar Shailabh
Kumkum Sangari
L. Muthuramalingam
Lakshmi Krishnamurthy
Lata Singh
Latifa Hafeez
Laxmi Murthy
Leena
Lima Kanungo
Lucy Xavier
M.A. Khalid
M.K. Raina
M.M.P. Singh
Maaz Bin Bilal
Madangopal Singh
Madhu Prasad
Madhur Bharatiya
Madhu Sarin
Madhushree Basu
Madhusree Dutta
Maharukh Adenwala
Mahendra Singh
Malabika Majumdar
Mallikarjuna Sharma
Malobika
Malti Gupta
Mamata Dash
Mamta Sahai
Mamta Singh
Mamta Jaitly
Mandakini
Mangla Verma
Manish Purohit
Manju
Manoj Singh
Maria D'Cunha
Maria Goretti Gonsalves
Maroona Murmu
Mary E. John
Maulshree Pathak
Mausumi Chetia
Maya John
Maya Krishna Rao
Md Shadab Ansari
Meenakshi Ganguly
Meera Samson
Meera Sanghamitra
Meera Raghavendra
Miguel Queah Das
Mihir Desai
Milin Dutta
Mimansa Sahay
Mimi Choudhuri
Mini Mathew
Mira Shiva
Mithu Sen
M.J. Prabhakar
Mohammad Mansoor Alam
Mohan Katarki
Mohan Rao
Mohit Bhatia
Moloyashree Hashmi
Monica
Monica Chandy
Mukesh Bharti
Mukut Lochan Kalita
Myna Mukherjee
N.K. Sharma
Nadeem
Nadeem Rezavi
Nagaragere Ramesh
Nalini Taneja
Namrata Mukherjee
Nandan Maluste
Nandini Sundar
Nandita Gandhi
Nandita Shah
Narjees Nawab
Naveen Gautam
Naveen Kishore
Navjot Altaf
Navtej Johar
Nazma
Neeladri Bhattacharya
Neeraj Malik
Neeta Chakravarty
NehaTanwer
Nicole Rangel
Nidhi Singh
Nikhat Fatima
Nikhil Kumar
Nilanjana Roy
Nilima Sheikh
Nina Rao
Nisha
Nishit Kumar
Niti Saxena
Nitin Sethi
Nivedita Guhathakurta
Nivedita Menon
Nivedita Saksena
Niyati Singh
Noella de Souza
Nupur Chowdhury
Nupur Sinha
Nuzhat Kazmi
Om Prakash Singh
Ovaisi Sultan Khan, Delhi
P. Chandramohan
P. Nandi
P. Sachidanandan (Anand)
P. Vijayakumar
P.K. Shukla
P.T. George
Padmini Rajaram
Pallavi Gaur
Pallavi Gupta
Pamela Philipose
Parijata Bhardwaj
Parthiv Shah
Philip C. Philip
Philip Mathews
Prabhat Kumar
Prabhat Patnaik
Prabir Purkayastha
Prachi Lohia
Pradeep Deb
Pradeep Narayanan
Pragya Vats
Prashastika
Praveen Jha
Praveer Peter
Preeti Singh
Priti Patkar
Priya P.
Priya Srinivasan
P.T. George
Pulin Nayak
Puneeta Roy
Pushpamala N.
Pyoli
Qamar Intekhab
Qurban Ali
Qutubjahan Kidwai
Raahi
Radhika
Radhika Desai
Radhika Jha
Radhika Menon
Radhika Singha
Rafiul Alom Rahman
Rahul Roy
Rahul Verma
Raj Chauhan
Rajashri Dasgupta
Rajendra K. Sail
Rajendra Narayan
Rajendra Singh
Rajinder Arora
Rajiv Gupta
Rajni Arora
Rakhi Sahgal
Ram Rahman
Ramakrishna Chatterjee
Ramani Sachidanandan
Ramchandra P.N.
Ramneek Singh
Ramona Adhikari
Rashid Hussain
Rekha Awasthi
Rekha Shridhar
Revati Laul
Richa Jha
Rimli Bhattacharya
Rita Manchanda
Rita Panicker
Ritambhara Shastri
Rithika Ravikumar
Ritu Mehra
Ritvik Agarwal
Rohini Mohan
Rohini Hensman
Roop Rekha Verma
Rosalyn Demello
Rossi D'souza
Ruchira Goswami
Rumi Harish
S. Devika
S. Prakash
Saajhi Duniya
Saba Dewan
Saba Hasan
Sachi Maniar
Sadaf Jafar
Saeed Mirza
Sahba Husain
Saheli Women
Sahhida
Sahyatrika
Sajjad Hassan
Sakina Dhorajiwala
Salil Shetty
Samara Chopra
Sandhya Lakshmi C.
Sania Hashmi
Sanjay Kak
Sanjeev Kumar
Santosh Shinde
Sara Khan
Sarah Mathews
Sarojini N.
Sashi Kumar
Sathyakala K.K.
Satya Prakash
Saurabh Sinha
Sehba Farooqui
Shabnam Hashmi
Shahab Ahmad
Shahbaz Khan Shervani
Shahina Parveen
Shaizuddin Ahmed
Shakti Kak
Shakun D.
Shamshad Pathan
Shamya Dasgupta
Shantanu Sen
Sharada Gopal
Shashi Sail
Shaswati Mazumdar
Shefalle K.
Sherna Dastur
Shilpa Alhuwalia
Shireen Moosvi
Shireen Vakil
Shiv Sahoo
Shobha Gupta
Shomona Khanna
Shreeradha Mishra
Shrikant Modak
Shruti Pandey
Shweta Tambe
Shweta Wankhede
Shwetank Mishra
Shweta Tambe
Sindhu Naik
Sindhu T.P.
Siraj Dutta
Smiriti Nevatia
Smita Gupta
Smita Parmar
Smriti Minocha
Sneha Visakha
Sohail Hashmi
Soma K.P.
Sonu Niranjan
Soumitra Ghosh
Soumya Dutta
Sourav Suman
Sravanthi Dasari
Sreekant Kannan
Subir Sinha
Sudha Gopalakrishnan
Sudha Murali
Sudha Shankar
Sudhanva Deshpande
Sudhir Chandra
Sukhdeep Singh
Sukumar Muralidharan
Sumangala Damodaran
Sumi Krishna
Sumit Chakravartty
Sumita Hazarika
Sumitra Mishra
Sumitra Ankuram
Sunil Jha
Sunil Mehra
Sunil Mohan R.
Sunita
Suroor Mander
Sushmita Verma
Susie Tharu
Suvira Jaiswal
Svati P. Shah
Swagata Raha
Swapna Gopinath
Swathy Margaret
Swati Awasthy
Syeda Hamid
T. Mohan
Tannistha Datta
Tanya Lamba
Tara Ahluwalia
Tara M. Rai
Tara Rao
Taru L. Dalmia
Tasha Koshi
Tasqeen Macchiwalla
Teesta Setalvad
Teresa Khanna
Thaku Pujari
Uma Shankari
Usha Ubale
V. Ramakrishna
V.S. Krishna
Vaidehi Subramani
Vaishnavi K.
Valay Singh Rai
Varun
Vasudha Dalmia
Vasundhara Chauhan
Vatsala
Ved Kumari
Venkatesh Nayak
Vertika Chaturvedi
Vickram Crishna
Vidya Das Arora
Vidyut
Vijayakum
Vijayalakshmi Josh
Vikas Rawal
Vimalbhai
Vinay K. Sreenivasa
Vineet Tiwari
Vineeta Bal
Virgil D. Sami
Virginia Saldanha
Vishwajeet Ghosal
Vishwamohan Jha
Vivan Sundaram
Vrinda Grover
Vriti Sawhney
V.S. Krishna
Wilhelmine Ferreira
Xavier Dias
Zishaan Sikandari
Zoya Hasan
---