This is the first in a series of features where we will share stories, images, videos and other materials that would allow us to see Palestine beyond the headlines and statistics. The story of Palestinian resistance, seen through the lens of culture, new media and art.
Today we share the story of the friendship between Naji Al-Ali's Handala and Madhubala. Here is the artist Orijit Sen's telling of it: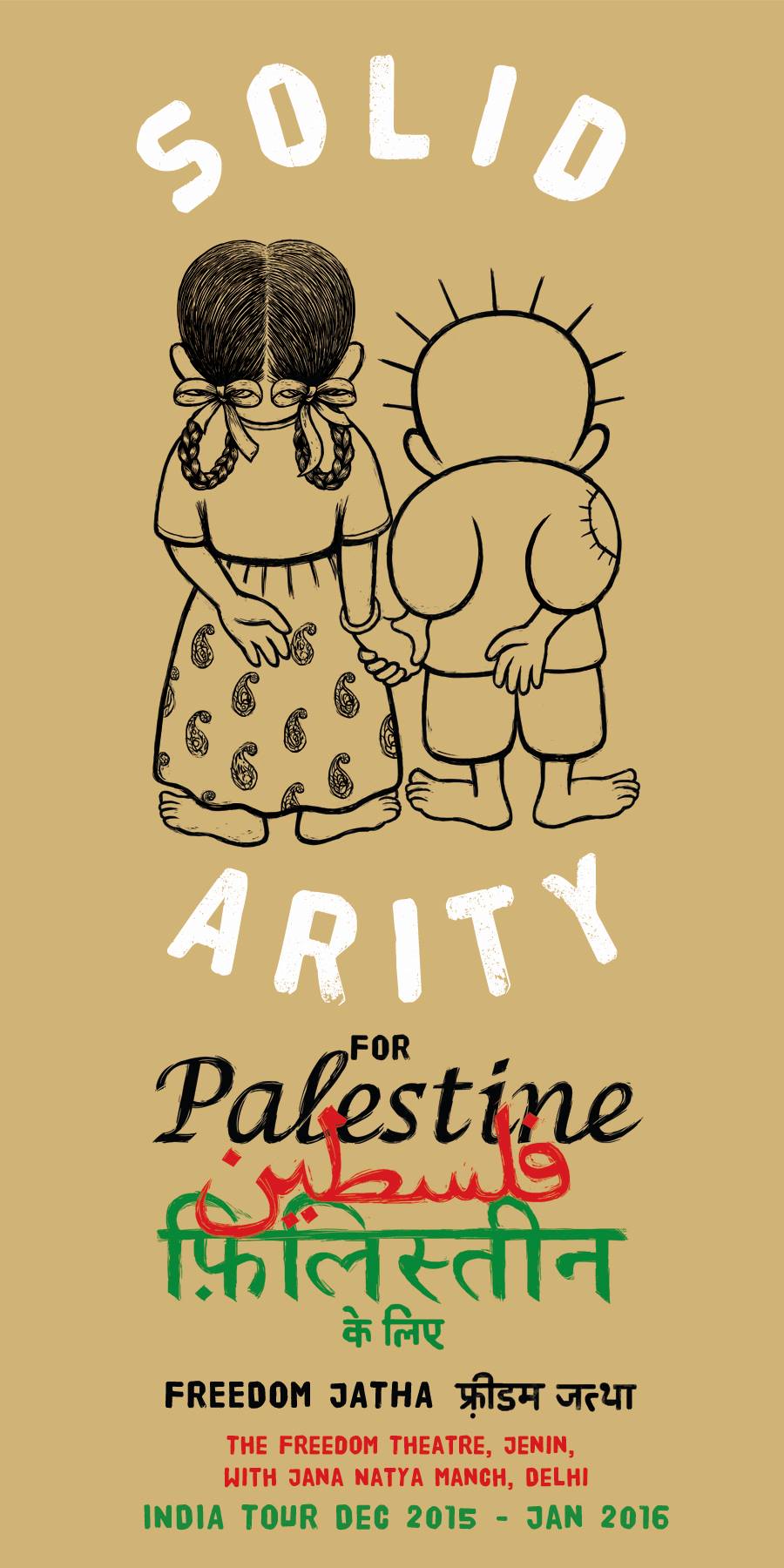 "Between 1975 and 87, Palestinian cartoonist Naji Al-Ali produced a large number of powerful drawings featuring the character Handala. According to him, "The child Handala is my signature, everyone asks me about him wherever I go. I gave birth to this child in the Gulf and I presented him to the people. he has promised the people that he will remain true to himself. He is not beautiful; his hair is like the hair of a hedgehog who uses his thorns as a weapon. Handala is not a fat, happy, relaxed, or pampered child. He is barefooted like the refugee camp children, and he is an icon that protects me from making mistakes. Even though he is rough, he smells of amber. His hands are clasped behind his back as a sign of rejection at a time when solutions are presented to us the American way.
"I presented him to the poor and named him Handala as a symbol of bitterness. At first, he was a Palestinian child, but his consciousness developed to have a national and then a global and human horizon. Handala was born ten years old, and he will always be ten years old. At that age, I left my homeland, and when he returns, he will start growing up. Things will become normal again when the homeland returns." Sadly, Naji was never able to return. He was assassinated in London in 1987. In this image, which I have drawn in heartfelt tribute to a great fellow cartoonist, Handala has acquired a new friend — an Indian girl who stands hand in hand with him. Her name is Madhubala."
---
Read more:
Seeking Palestine: New Palestinian Writing on Exile and Home
The Freedom Theatre in Palestine: Building a Theatre from Ruins