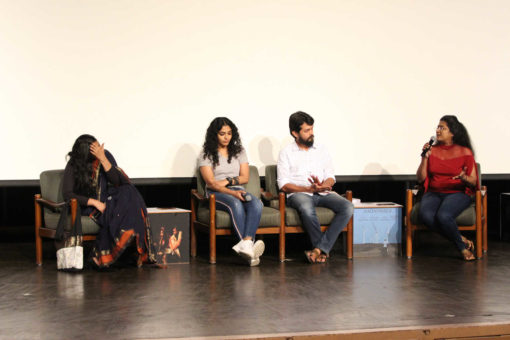 On Sunday, 19 May, a significant number of women journalists gathered inside courtroom no 203 of the District Court, Delhi, to express solidarity with another woman, whose courage had inspired them all to end the silence that had haunted them for years.
The woman in the eye of the storm was journalist Priya Ramani, who has been fighting against a criminal defamation case filed by MJ Akbar, an ex-minister in the Narendra Modi government and a journalist himself for many years.
Sunday was the second day of MJ Akbar's cross examination by Ramani's lawyer Rebecca Mammen John, during which Akbar flatly denied all accusations against him.
In October 2018, journalist Priya Ramani and at least 17 other women had accused Akbar of sexual harassment, and in one case, even rape. Despite the various accounts on public platforms, Akbar's selective decision to sue only Ramani was called out by several women as vindictive. All of these women, including Ramani, had described the same pattern of sexual harassment where Akbar insisted they meet him for job interviews at hotel rooms.
In the Delhi court however, Akbar not only denied the defence lawyer's charges, he also dismissed the evidence and said that he was only hearing about the cases by some of these women for the first time. He added that he could "not recall" the names of these women.
While Ramani was "cheered on by family, friends, and colleagues", Akbar was alone and friendless. This image of women standing with each other against a powerful predator who came to the court room that day, and also on the first day of the cross-examination earlier this month,  speak volumes about women solidarity in the media.
On 18 May, a day before this hearing, a group of women artists were in Delhi to talk about sexual harassment at the workplace. Separated by geographical boundaries and professional spheres, the narratives of these women revealed similarities in the designs of powerful men who exploited and abused scores of young women and yet remained protected by institutions of patriarchy.
These women, Rima Kallingal and Padmapriya, both well-known artists from the Malayalam film industry, have been fighting against discrimination and sexual harassment for two years as part of the Women in Cinema Collective. Formed in May 2017, the WCC is a pioneering organisation constituting women creative workers from the Malayalam film industry. The collective continues to challenge the patriarchal world view of Indian cinema. It "has dragged into limelight the ugly underbelly of commercial film-making controlled by cliques, cartels, and celebrity power1". Despite its path-breaking overtures, the collective has not received much attention in national news media organisations set in Delhi or Bombay.
At a panel discussion organised at the India Habitat Centre as part of the ongoing Habitat Film Festival, both Kallingal and Padmapriya spoke about the formation of the collective, of the challenges it faced along the way, and those it continues to face. The panel was moderated by film journalist Anna M Vetticad who has been following the collective since its conception and director Judith Namradath. The screening of Namradath's directorial debut film, Aabhaasam preceded the panel, and had come into controversy when the #MeToo movement emerged in Kerala. Actor Divya Gopinath who stars in Aabhaasam had accused senior actor Alencier Ley Lopez of sexual assault during the film's shooting. In a moving video posted on her Facebook account, she wrote of the many occasions when Alencier had entered her room drunk. One time she was alarmed to wake up and find him in her bed.
Soon after Gopinath's video, director Judith Namradath stepped in to support her. "I will reiterate Divya's written and spoken words over a 100 times. Any sensible person who has worked in Aabhaasam will stand by her," he wrote in a Facebook post. The women on the panel, including Vetticad, commended Namradath for his extending support to Gopinath and spoke about the importance of feminist male allies in the movement.
The account of the women on the formation of the WCC was as inspiring as it was enraging.
In 2017, a popular actress of the Malayalam film industry was abducted and sexually assaulted for hours inside a moving car. On the basis of the woman's FIR, Malayalam "superstar" Dileep was found to be the prime conspirator in her abduction and assault because he had certain personal issues with her. "The WCC was started as a sort-of support group for the actress," recounted Padmapriya. "But that one incident triggered discussions around sexual harassment that we had all faced at some point. All of us had these experiences to share that we had never spoken about to anyone for years." As a result, the WCC was formalised as a collective in May 2017 and since then has been engaged in breaking down the structures of power and abuse.
Moving forth, the members expressed the desire to not stop at fighting against issues of gender and sexual violence but also to shatter the glass ceiling, to enable women who are joining the film industry in larger numbers to "lay claim to legitimate spaces for self-actualisation and creative satisfaction."