The recent publication Bhed-Bharat provides a searing account of atrocities against dalits and adivasis between the years 2014 and 2018. The editor of the book, published in Gujarati and also available in English, is Martin Macwan, dalit human rights activist based in Gujarat and founder-member of the Navsarjan Trust. In a conversation with writer Githa Hariharan for the Indian Cultural Forum, Martin Macwan discusses the continuing – indeed escalating – injustice dalits and adivasis have been subjected to.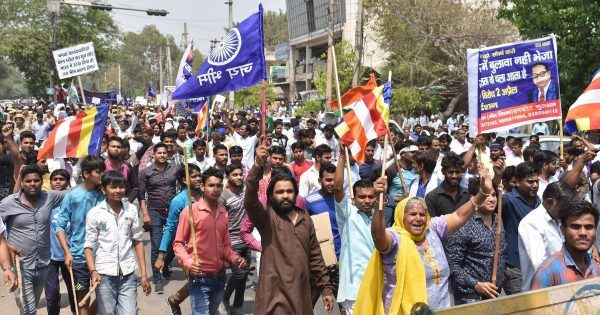 Githa Hariharan (GH): The first thing that struck me about the regional as well as state-wise organisation of the book is that dalits and adivasis have been at the receiving end of injustice across the country. And this is only from registered cases, and those reported in media – in other words, incomplete data.
Martin Macwan (MM): Yes, because of regionalisation of the media, a comprehensive picture of atrocities and injustice against dalits and adivasis has not emerged. Besides, what gets reported are only the sensational cases. Given the fact that there are so many abuses, they are perceived as if it is something "routine" – it does not disturb the conscience of the society at large.
Also, "atrocities" have, unfortunately, been confined to physical violence. What about the non-implementation of policies and measures? This marginalises these communities even more. I have noticed that English language newspapers do sometimes report on policy issues but not regional papers in local languages.
GH: So, on the whole, the media tends to limit itself to reporting the more violent, obvious, physical cases – what you are describing as sensational. What about government?
MM: We really do not see an attempt to present a comprehensive picture in the State assemblies and the Parliament. So it is difficult, even for enlightened dalits and adivasis, to strategise articulation or action. Besides, what gets presented in government reports are pure figures – which do not convey the human picture as the narratives in the book do. This is the context: most dalits and adivasis struggle for basic survival. Their condition makes it hard for them to know and understand the plight of their fellow community members across the country. So, for instance, a dalit from Gujarat may not even know that there are dalits in Assam or Mizoram.
Then there is the critical question of the veracity of atrocity figures. West Bengal with a dalit population of as much as 23 per cent does not report beyond 80-85 cases under the Atrocity Act. It is clear that facts are being suppressed. How do you explain the fact that the National Commission on Scheduled Castes and Scheduled Tribes report cases 20% higher than the cases reported by the National Crime Records Bureau? A related question is whether the police in local stations are friendly and sensitive enough to dalits and adivasis to help them register cases.
Besides, there are discriminatory practices in government institutions such as schools and anganwadis – which are mandated to inculcate the value of equality. There have been cases of rape, pregnancy and child birth involving minor Adivasi girls in Ashram Shalas that are specially financed and run for them. There have been deaths of Adivasi children in these Ashram Shalas.
GH: What about response from civil society, or from students and teachers? Do you find the same situation of the "blunted conscience" as you do in the media and in the government?
MM: Unfortunately, caste discrimination – mostly manifested through atrocities – has been generally perceived as the problem of dalits rather than the problem of the nation – though it is the biggest challenge to the Constitution of India and its core value of equality. Even in interaction with students and faculties of colleges and universities, I find they admit ignorance about such happenings. Most of their questions at the end of my talks are on reservation for dalits and adivasis, an irritant for them.
GH: Of course, this injustice / atrocity is a terrible old story in India. But this compilation between 2014-2018 — is this a continuation of the old story or does it indicate new forms of injustice? Atrocities?
MM: While atrocities against dalits and adivasis are not new, there are some features which are certainly "new":
The NDA made promises to both these communities during the 2014 Lok Sabha elections, but atrocities have continued. The government, over the last five years, claims enormous development in the country, but again, the facts on the ground do not show a reduction in atrocities against dalits and adivasis.
One would think that with increase in education, urbanisation and modernisation there would be less caste prejudice and so a lower number of atrocities. But what we find is that caste discrimination co-exists with development in all its manifestations. The new generation of the so-called educated have protected their caste status.
There has been a systematic growth in caste-based organisations as social, political and religious platforms. Applying sections of the Atrocity Act are especially difficult against a religious body. That would mean organised protests from the dominant caste groups.
In the absence of research-based study and evidence, the Supreme Court strengthened prejudice in dominant castes through its order that the Act has been misused by dalits and adivasis. In a way, this was also used to justify the low conviction rate in the offences under the Atrocity Act.
A striking unique feature emerges from Gujarat, the "model" state. Compared to a mere 7.01 percent dalit population (some sources say 6.7 percent), 32.9 percent of the total convicts in Gujarat is dalit. 23.4 percent of undertrials in Gujarat jails is dalit. What does this mean? That the community, by and large, are the most criminal community and not the victims of criminal abuse?
A new feature is that minor girls are, increasingly, the targets of caste-based sexual abuse.
From my experience, I have seen that the atrocities committed earlier were the result of blatant caste prejudice and the structure of social power in rural areas. Nowadays, we also see that many atrocities against dalits are committed because of jealousy. A dalit man is attacked for riding on a motorcycle. A young man is murdered by mowing him under motorcycles for playing an Ambedkar song as a ringtone. Or dalit college-going youth are assaulted for tucking their shirts in or for sporting a moustache.
GH: You point out that in spite of the NDA giving dalits and adivasis more seats, there has been an increase in atrocity cases since 2014. Is this linked with the consolidation of power of the right-wing across the board?
MM: On a larger note, we need to stress that the root causes of the atrocities are poverty, subjugation and social-economic powerlessness. Most atrocities are around the issues of land, wages and entitlements. While the State has confined its response merely to provide compensation, the social and economic inequalities have become pervasive and systemic. In 2010, Navsarjan conducted a study to map the prevalence of untouchability practices. This study, often quoted in assembly and parliamentary debates, found that in 90.2 percent of the 1589 surveyed villages in Gujarat, dalits who practise Hinduism are not allowed to enter temples. Hindutva organisations such as RSS have never dared to undertake agitation to ensure temple entry for Dalits even when they want them to remain Hindu. Religion has become a platform for political power in present times. Since untouchability is perceived as a creation of Hinduism, in the context of systemic nexus between political and religious (Hindu) power, there is no political will to address the question of untouchability.
This also speaks of the complete ineffectiveness of the dalit and adivasi parliamentarians. Dr Ambedkar had foreseen this when he pursued the demand for a separate electorate for dalits, which he considered the best constitutional remedy to ensure effective political representation of Dalits. Those elected on reserved seats are more preoccupied with being advocates of their party and less with the urgent concerns of the community they are to represent. At the village level, often those dalits and adivasis who are elected as Sarpanch are laborers in the farm of the deputy Sarpanch.
GH: One concrete manifestation of this current nexus between "religious" and political power you speak of has been the rush of attacks by "cow vigilantes". Could you comment on repercussions of these attacks on livelihood, food and nutrition, in addition to physical danger?
MM: The profitable business of the dead cow has been captured by the so-called dominant castes which make money out of the skin, bones, horns, and the tail hair. The waste is transformed into chicken feed — here too the dominant castes have captured a large share of the business. The fat often finds its way to the bakeries. But all these businesses and factories have never been the targets of the cow vigilantes.
Nor have the panjrapoles (animal-shelter homes) been on the radar of the so-called cow protectors. These panjrapoles flourished in Gujarat after Independence, especially because the agricultural lands held by them were declared exempt from coverage under the Agriculture Land Ceiling Act. It was a good program for many landlords to turn their agricultural land into "gaushala" to save the land from going away to landless dalits and adivasis under the Agricultural Ceiling Act. Besides, there is no audit on the number of cow deaths in these panjarapoles, the reasons for death, and the money earned by selling the dead cows.
While Kerala, West Bengal and Tripura had the most successful land reforms, Gujarat has had the most disastrous implementation of land reforms which was to benefit dalits and adivasis. True, the most successful land reforms post-Independence took place in Kathiawar State. Here, in a short span of four years, 3.75 million acres of land were transferred from the feudal castes to the present day patidars or Patel who were then considered shudra.
Dalits and adivasis have mostly been reduced to landless agricultural labourers. To survive in the rural areas, they are forced to stick to caste-based occupations such as manual scavenging and disposal of carcasses. In present times, with the soaring of land prices, the lands given to dalits for skinning the carcass have become a bone of contention. As it happened in Una, in the name of the cow protection, dalits are attacked to remove them from those pieces of land.
There is another angle to the phenomenon of cow vigilantes. Under the influence of the Ambedkar-Phule ideology, dalits have invested a lot in education. Despite a poorly implemented reservation policy, they have been able to secure benefits in jobs. But OBC youth have little education and so, meagre employment opportunities. There is little ideological work done among them. Hence, their only "capital" is their caste – they can use it to get power when they are backed by politicians to make exhortations in the name of cow protection. More cows die eating plastic – but no one is concerned about that, neither these people nor the state.
GH: And the economic consequences of this nexus between caste and religion?
MM: True, this nexus has economic consequences for dalits and adivasis. There are several incidents recounted in Bhed-Bharat which show how social and economic boycott follows the atrocity incidents. Dalits and adivasis are then deprived of work, share cropping. They are denied places for defecation. They are denied credit, common village services, and much more.
GH: Again, demonetisation and growing unemployment are among the problems we have faced in the last five years. In particular, what has this done to dalit and adivasi lives?
MM: I asked an adivasi man in a village about the impact of demonetisation on his family. He said there was no impact simply because he did not have a currency note. As for dalit women, they lost all their hard-earned savings they had saved for social occasions without the knowledge of their husbands, as the savings became public during demonetisaton.
Unemployment has been the major problem. With increased wages, farmers prefer wheat and paddy cutting machines in rural areas. The factories prefer migrant labour from other states to ensure they do not organise around labour rights. So labourers from each state are forced to migrate. Factory wages seem higher but they are not — as the working hours are often 12 instead of 8. Besides, employment is often based on the volume of work.
There have been more cases of caste confrontations in the factories as opportunities have reduced. Also, unemployment among the educated has been a sharper among dalits and adivasis – with no implantation or weak implementation of reservation. Too often, the burden of running the family has fallen on women. You can see them every day, carrying fodder on their heads to feed their animals and earn some supplementary income.