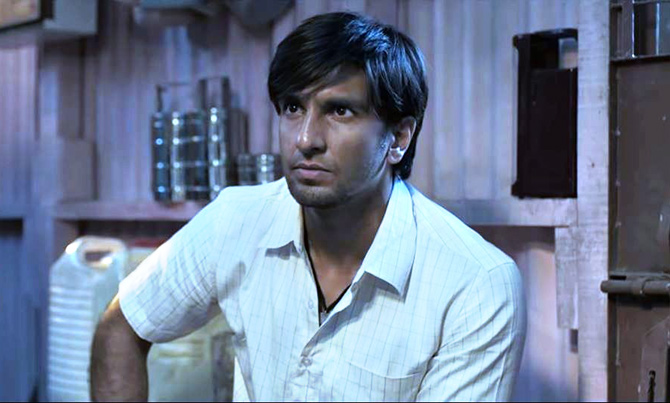 Image Courtesy: Rediff
This is an analysis of the film Gully Boy's relationship to politics, or as lead actors, Ranveer Singh and Alia Bhatt would say its "apolitical" politics.
Singh's character, Murad, has a couple of dialogues that could well pass for dialogues from a socialist film advocating transformation. "Koi doosra batayega meri aukaat kya hai?" (Will someone else tell me what my place is?) he asks his father. In a moving scene towards the end, he declares he is not a slave (ghulaam) and that he must strive for a better life.
Murad is a dreamer who must challenge the fact of his predecided fate. He leaves an office job where he works as a sales representative and wins a rap battle, making it to the finals of a contest where the winner gets 10 lakhs, and the chance to open a show for an international rapper's gig in Mumbai.
The contest is Murad's way to exit his condition. But realism-minded viewers will know that Murad is likely to be a ghulaam even in the world he thinks is emancipatory.
We don't have to look far for proof. Hip-hop artist Sez posted on January 23 that he had still not been paid dues for his track "Mere Gully Mein" by Sony (not Excel Entertainment). Worse, Sez says he didn't even know his track would be recorded afresh for the film, with the voices of Ranveer Singh and debutant actor Siddhant Chaturvedi.
At some points, Gully Boy does show that the showbiz world is discriminatory. In the first half of the film, when Murad is working as a driver, he is asked to step away from the entrance to a club where he had dropped his Madam. This is the gesture that will eventually make him quietly say, "Apna time aayega" (One's time will come). And sure enough, towards the end when Murad performs solo for the first time, he is told he doesn't need to pay an entry fee to the club where he is to perform his song, "Apna Time Aayega".
The film would have it that the problem lies with the individual (Murad) and not with the system as a whole. It makes the consumerist showbiz world of entertainment desirable for a working-class Muslim hero with a name that means Desire.
This is why as Nandini Ramnath says, "Earnest sloganeering threatens to derail the narrative. Gully Boy falters in its attempts to hold forth on social evils (domestic abuse, female empowerment, class bias), and is most unconvincing when proposing a solution to inequality."
Yet the film's emancipatory potential lies in its attempts at realism, at being life-like. When Ranveer Singh doesn't play the star and instead plays the character, Murad.
When Madam comes out of the club crying, Murad wonders why he cannot communicate his empathy to her. The montage plays with the track Doori, co-written by DIVINE and Javed Akhtar. It's one of the few Bollywood instances where the woman and the man are not each other's sexual objects, and the possibilities for real empathy are explored through the lyrics:
"Ab dekho toh hum paas lekin/ Socho kitni doori hai/ Ab kaisi yeh majboori hai/ Socho kitni doori hai."
Perhaps this distance (doori) is one of what's called class. The plot, however, attempts to make Murad the Bollywood hero of a typical rags to riches story. He becomes sure of his success and the questions opened up in the film are not engaged with. It seems to take a step forward in raising these questions, and two steps back in not engaging with them.
For the rest of the women characters (Safeena, played by Alia Bhatt, or Sky, played by Kalki Koechlin), like typical Bollywood female characters, desire Murad and the plot is written for him to become the masculine hero. Here too, the lifelike depiction of Murad and Safeena's romance – both however depicted with a skullcap and hijab, statistically unlikely – is the only respite to the tried and tested Bollywood plotline.
The central tension in the film: Ranveer Singh as Bollywood hero, and as Murad the gully boy from Dharavi. One of the reasons the film is two and a half hours long is its attempts to accommodate both these characters.
In a recent interview director, Zoya Akhtar says she likes writing ensemble characters, while the idea of a protagonist-hero runs against an ensemble cast. This tension is clearly seen in the song sequence 'Doori', in a series of close shots of Murad's face, and in a crucial moment when the fourth wall breaks and the audience sees the angst in Murad's eyes.
"Mere Gully Mein", on the other hand, is a typical song sequence where the hero and his best friend are required to do stupid movements in front of the camera.
Through the character of Moeen (brilliantly portrayed by Vijay Verma), there is some engagement with larger social structures outside of the family. We sympathise with Moeen, the criminal, but once more the film stops short of creating real solidarity with him.
Murad and Moeen consolidate their friendship while in prison, where Moeen says exactly what Murad has been screaming against: That it was his fate to land up in jail. Of the two 'working class' characters, the possibility of change is only given Murad.
Murad must let go of these origins to eventually become the hero. Is it too much of a risk for Bollywood to show a working-class hero proud of his upbringing, succeed in Bollywood?
More on this tension: A montage of Murad and Moeen working together to steal cars, with Dub Sharma's 'Azaadi' playing over it. The track begins with samples of Kumar's impassioned cries for (freedom, liberation, independence, self-determination, autonomy…) and yes, while we really remember how Kanhaiya Kumar's cry for Azaadi saw him criminalised, the reference doesn't work.
Kumar's calls for Azaadi don't work here because they are without context even within the plot of the film. The film tries to make a political statement and fails spectacularly because it's conflicted about what kind of statement it wants to make.
It is more likely that Kumar's trial will push us into believing that the police (in this case the Delhi Police under central control) and some sections of the media and the government and courts too can act illegally. We should be happy if that plays out in the real life record. But it's not a risk Bollywood can take.
Gully Boy is an example of the possibilities of a good film if it recognises the responsibility it owes to the lives and characters it represents. We see that engagement in Akhtar's choice of an ensemble cast, in the dialogue's use of unstandardised Hindi-Urdu, in shooting on location.
It is this engagement that makes the film political. It is not that aesthetics and politics are in conflict. On the relationship between aesthetics and politics in literature, Walter Benjamin writes, "I want to show you that the political tendency of a work can only be politically correct if it is also literarily correct. That means that the correct political tendency includes a literary tendency… This literary tendency, which is implicitly or explicitly contained in every correct political tendency – that, and nothing else constitutes the quality of work. The correct political tendency of work includes its literary quality because it includes its literary tendency."
The contradiction is not "inherent" between politics and aesthetics. It is when they are seen to be oppositional, that a contradiction arises.
We see this contradiction recur in some of the contradictory statements made by the filmmakers. Zoya Akhtar repeatedly says, in the interview cited above, how much research into the real lives of rappers made the film what it is. The aim is to take something from life and then turn it into material for the film.
On the other hand, when they are questioned about the political implications of their work, they are quick to take refuge in fiction. This is my apolitical fictional interpretation, they cry, perhaps from fear of well-known consequence.
Fiction does not have politics, real lives do, and yet, good films must be lifelike.
This is a dead end. It would be better if filmmakers, and all other artists, had space and courage to realise films, and all other art forms, that have some stake in real life, and hence, in politics.
First published in The Citizen.