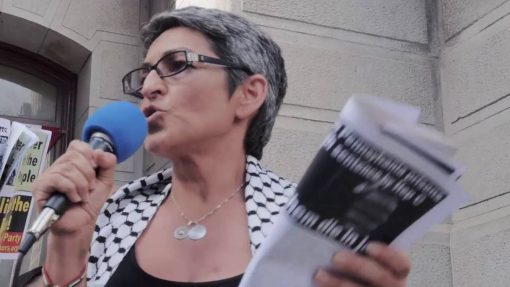 Image courtesy: Youtube
In yet another egregious display of its racism and colonialism, Israeli authorities denied entry to and forcibly deported writer Susan Abulhawa from Ben Gurion airport late last week, who was traveling to Palestine to participate in the Kalimat Palestinian Literature Festival. Susan is now back in the United States after a harrowing detention. In 2015 she was deported for the first time when she was traveling to Palestine to build playgrounds in Palestinian villages. Then, as now, Susan bravely stood her ground. In her recent statement, she recounted her 36 hours of detention, weaving it with the history of Palestinian resistance, and the courage of the people:
It occurred to me, too, that all Palestinians – regardless of our conditions, ideologies, or the places of our imprisonment or exile – are forever bound together in a common history that begins with us and travels to the ancient past to one place on earth, like the many leaves and branches of a tree that lead to one trunk. And we are also bound together by the collective pain of watching people from all over the world colonize not only the physical space of our existence, but the spiritual, familial, and cultural arenas of our existence. I think we also find power in this unending, unhealed wound. We write our stories from it. Sing our songs and dabke there, too. We make art from these aches.
Susan's books Mornings in Jenin, The Blue Between Sky and Water, her collection of poetry, My Voice Sought The Wind are shining testimonies of her finding power, of her making art from her aches.
The denial of Palestinians to go their homes is one of the most brutal aspects of Israeli occupation and settler-colonialism. It is also colossal violation of international law. The centrality of this is reflected by the fact that since last March, Israeli forces have killed over 200 Palestinians in Gaza, including children, who demand the same, painfully simple, right — the one to return to their homes.
By denying Susan entry to her homeland, Israel is sending out the message that their regime is terrified of Palestinians who assert their fundamental rights. They are scared of Palestinian voices, their art, their words and the truth ingrained within those. We in India have known this silencing very acutely in the last four years of living under a majoritarian regime, one that certainly draws inspiration from Israel. And we have known these acts of silencing only sprout a thousand more seeds of resistance.
Susan is a friend to many of us and we have had the opportunity to have her inspirational presence with us India in 2016 and again in 2018. We stand in solidarity with her and condemn her forced deportation in the strongest terms. Israel systematically shuts down Palestinian voices of resistance while it tries to promote itself as a liberal space of art and culture, organizing festivals and events. We refuse to participate in this whitewashing and reassert our support for the Palestinian call for an academic and cultural boycott of Israel. And we urge artists in India and across the world to support this demand and concretely build solidarity for Palestine.
---
For Susan Abulhawa, being Palestinian is "a state of enduring expectation." Abulhawa, in an engaging and candid personal essay, lists some of the inevitable experiences that come with the Palestinian tag:
To be alone, without papers, without a family or clan, a land or a country means one must live at the mercy of others. There are those who might take pity on you and those who will exploit and harm you. You live at the whims of your hosts, sometimes preyed upon and nearly always put in your place… But there are particular beauties and peculiar strengths that can only be found in the trenches of such a life – like the ability to hold your head high, even when someone has their boot on your neck; the wisdom to do whatever it takes to get an education, even when you're denied a school; the freedom of shedding shame and living one's truth, no matter how messy, without apologies;… the victory of a heart that does not succumb to fear or hatred or bitterness.

In other words, being Palestinian means being in a limbo — dispossessed, disinherited, exiled. It means belonging is denied or controlled by the occupier. But seeking Palestine also involves resistance in myriad ways. How does this happen? How do people survive being a refugee in someone else's country and even in their own? Among the modes of survival these fifteen writers illuminate for us are humour, wry and biting in turn; apathy, anger, longing; the use of words, of memory; the living out of intensely political lives, stoking the idea of Palestine so it may flame into reality. In this limbo of banal as well as exalted despair and hope, "Palestinians have been waiting at borders for nearly a century now."