On 28 August, five activists were arrested by the Pune police in a joint raid in several cities. Apart from the activists, K Satyanarayana and Anand Teltumbde's houses were raided by the police. The Pune police, in contempt of court, has released alleged doctored letters connecting them to an event that took place in Bhima Koregaon. Since his house was searched, Teltumbde has released a statement, written an open letter to the edtior of The Hindu, and has, most recently, been interviewed by Himal. On 28 August, Radhika Bordia tweeted that Teltumbde had foretold what had happened to him in the fifth chapter of his book The Republic of Caste.
In chapter 5 of this book – 'Manufacturing Maoists: Dissent in the Age of Neoliberalism' – Anand Teltumbde foretells what is unfolding today. His house has also been raided. pic.twitter.com/N06ck37LOy

— Radhika Bordia (@radhikabordia) August 28, 2018
The Indian Cultural Forum had interviewed Teltumbde when the book was published. They can be seen here and read here. The following is an excerpt from the later part of his essay "Manufacturing Maoists" (another excerpt from the same essay was published in The Caravan). Here, Teltumbde explains the ordeal faced by Soni Sori, an activist from Chattisgarh, and how the term "naxal" is used by the Indian state to especially target dalits, and the subaltern sections of the Indian society.
---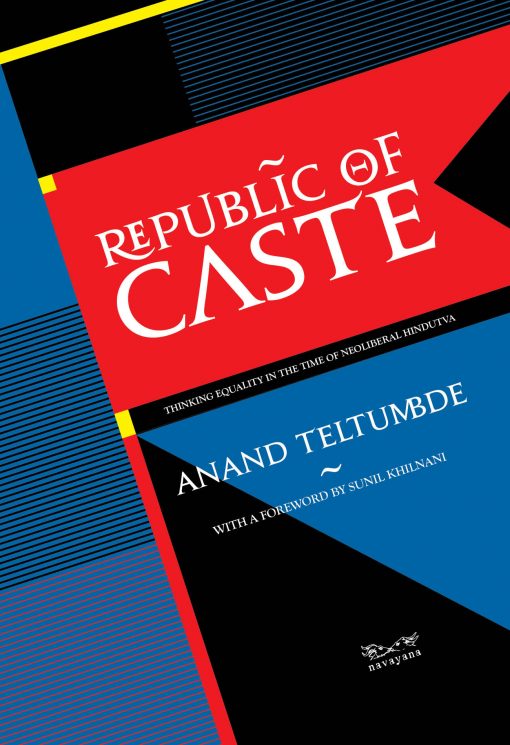 Justice man-handled
Soni Sori's travails had begun before her arrest by the Delhi Crime Branch on 4 October 2011. An educated woman from a politically-active tribal family (her father was a sarpanch for fifteen years, her uncle a CPI Member of Legislative Assembly, her elder brother a Congressman, and her nephew a journalist), she grew up in Dantewada, South Chhattisgarh. When Sori (35), and her nephew, Lingaram Kodopi (25), who had studied journalism in Delhi, began voicing the concerns of their people, this automatically brought them under the radar of both the Maoists and the police, and also into conflict with some powerful local people. The police tried to co-opt them as informers but when they paid no heed, they became victims of police harassment instead.
On 30 August 2009, the police took Lingaram away and kept him in a police station toilet for forty days. He was released on 10 October only after a habeas corpus petition was filed in the Chhattisgarh High Court. On 9 September 2011, the police picked up Lingaram and one B.K. Lala, a contractor of the Essar group, from their houses but claimed that they were caught red-handed exchanging money in the marketplace. Soni Sori, who had tried to discover the whereabouts of Lingaram, was declared absconding. Both were charged for acting as conduits for extortion money being paid by the Essar group to Maoists in order to safeguard its mining operations in the area. Despite the fact that the entire episode was exposed as a concoction (as reported by Tehelka, 15 October 2011), the police persisted with the charge, even after her acquittal in six out of the eight cases.
While in police custody, Soni Sori was brutally tortured and sexually harassed, which caused blisters in her genital area, leading to hospitalisation. She described this torture in her letters—how she was pulled out of her cell at the Dantewada police station at midnight on 8/9 October and taken to the superintendent of police, Ankit Garg, in whose room she was stripped, sexually assaulted, and tortured with electric shocks. After a Supreme Court order, a medical examination was conducted during which two stones were found to have been inserted in her vagina and one in her rectum, which were the primary cause of her abdominal pain. Despite such evidence of police brutality, the Supreme Court declined her plea to be kept in any jail outside Chhattisgarh, gave the state government forty-five days to respond and effectively handed her back to her torturers.
In her letters she specifically levelled accusations against Garg, saying, 'He has taken my all. I have been tortured in ways I can't describe here.' Her husband, Anil Phutane, who ran a restaurant at their native place in Dantewada, was already arrested as a Maoist and tortured so badly that he turned paralytic and eventually succumbed to his injuries in August 2013. She was not allowed interim bail to attend his funeral and make arrangements for her three daughters aged five, eight and thirteen. Her case provoked international outrage and people like Noam Chomsky and Jean Drèze protested against the 'brutal treatment meted out to her' but to no avail. On Republic Day 2012, her tormentor Ankit Garg was awarded a police medal for gallantry by the president of India.
Soni Sori's arrest came barely a year after the arrest of the then twenty-year-old Arati Majhi from Jadingi, an adivasi hamlet in Gajapati district, Odisha. The details are vividly documented in a factfinding report dated January 2011 by Women against Sexual Violence and State Repression. At about 4 am on 12 February 2010, some forty-odd Special Operations Group personnel and policemen from the Adava police station raided Jadingi seeking two Maoists, Sagar and Azad. They forcibly entered houses, dragged people out, beat them up and threatened to shoot them if they did not reveal the whereabouts of Sagar. One of the houses belonged to Dakasa Majhi, where Arati Majhi, his daughter was doing her usual morning chore of pounding the rice, while her parents, brother and sister-in-law were asleep. The security forces, all male, dragged her outdoors and began thrashing her, accusing her of interacting with the Maoists. Next, they picked up her cousin Lajar Majhi from another house, and Prasanno Majhi, a youth from a neighbouring village, whom they mistook for Sagar. They took Arati Majhi and the two boys with them, while her younger brother, Lalu Majhi, followed. They went on to pick up another Majhi relation, Shyama Majhi, and a boy, Dakua Majhi, from Tangili, the next village. After going some distance, they asked the boys to return but Dakua and Lalu stayed on asking for Arati's release. In the jungle near Baliponka, some security men gang-raped Arati, their crime witnessed by these boys.
On reaching the police station, the boys were threatened with death if they revealed anything. They were not only scared for their lives but for the lives of their family members, most of them already behind bars or being targeted by the police. It is said that one of Arati's brothers and a sister had left home and had probably joined the Maoists, but Arati was not a Maoist. It is clear that she was not arrested for any crime, not even for being the sister of suspected Maoists, as the police would not otherwise have turned her brother away. She was arrested because she could be tortured and raped with impunity. On reaching the police station they foisted eight cases on her, none of these backed by any evidence, but which sufficed to keep her in jail.
In March 2012, Maoists issued a thirteen-point demand under the name of Sabyasachi Panda, alias Sunil, secretary of the Odisha State Organising Committee of the Communist Party of India–Maoist (CPI–M). In exchange for the release of two Italian tourists they had abducted in Daringbadi in Orissa's Kandhamal district the previous week, the letter demanded a range of actions, from the political—by lifting the ban on the CPI–M—to welfare measures such as the provision of potable water to every village. The fourth of these demands was for the arrest and trial of police officials involved in the gang rape of Arati Majhi and in false encounter cases and custodial deaths in the region. Her name was also included in the list of thirty-two adivasis including Maoist sympathisers whose release was demanded by the Maoists. However, she was not released during the hostage exchange.
She was finally acquitted in all the eight cases on 17 July 2013 after spending nearly three and a half years in jail. Arati is back in her home but with her world completely shattered.
Who watches the watchmen?
These cases represent the plight of thousands of tribals and dalits in India. A plethora of constitutional provisions are in place to protect the Scheduled Castes and Scheduled Tribes, and yet, in practice no SC/ST law comes to their rescue or penalises the culprits. Why? Because they have been given the dreaded label of 'Maoist', an identity inconsequential in law as decreed by the Supreme Court but deemed self-evidently criminal by the police. To be designated a Maoist is to be implicitly considered 'the greatest internal security threat to our country', to use Dr Manmohan Singh's words on naxalism. The facts speak otherwise. The police who abuse and insult the poor, beat and torture them, molest and rape women, indulge in forgery and lies and foist false cases on innocents to cover up their own misdeeds are the main catalysts in manufacturing Maoists. Politicians who tacitly promote police criminality and endanger democracy are the real internal security threat to our country.
A cursory look at the so-called Maoist cases will reveal that the main intention of the police is to harass people by keeping them in jail for as long as possible. Their muddled logic informs them that such heinous treatment of leading activists would terrorise the general public into submission. Empirical evidence goes to show the contrary. Neither are the activists who are subjected to such blatant atrocities and injustice scared into giving up their activism, nor has there been any decline in the incidence of dissent. Rather, these acts of lawlessness by state actors further alienate people from the system and impel at least some of them to become Maoists.
All that is reflected in these episodes is the Indian state's intention to harm its own people, no matter how high the costs to the country. There are thousands languishing for years in Indian jails for the 'crime' of being Maoist. Invariably each one has suffered illegal torture during police custody and humiliating conditions thereafter during judicial custody. Custodial torture and lawlessness of the police are the norm in our democracy. India signed the "United Nations Convention against Torture and Other Cruel, Inhuman or Degrading Treatment or Punishment" in 1997 but is yet to ratify the treaty in domestic law. India does not have any specific law against custodial torture, nor does it have robust procedural safeguards against custodial violence. This directly feeds into the lawless behaviour of the police. One may not quarrel with the professional privilege of the police to arrest people and frame charges based on whatever information they may have, but these charges are subject to judicial scrutiny. When executive privilege is wantonly and grossly misused—as repeatedly established—one expects that some kind of check would be instituted against the lawlessness of the police. As it turns out, there is effectively none. The police can arrest anyone they want as a Maoist, torture and entangle them in a few dozen cases, which would easily mean jail time for a minimum of four to five years irrespective of what the court finally decides. One can see a pattern in Maoism-related cases where police lawlessness emerges as the sole culprit.
In the prevailing confusion, the distinction between the organisation and the ideology is deliberately blurred and people are charged with being Maoists on the ludicrous grounds of possessing literature on or by Marx, Lenin, Mao and even Ambedkar. On 15 October 2004, the Chandrapur police arrested Sunita Narain of Daanish Books, who had put up a book stall at an event to observe Babasaheb Ambedkar's mass conversions to Buddhism on Deeksha Day, in order to sell books on left ideology along with titles on Bhagat Singh and Babasaheb Ambedkar, all bearing the standard author's details as well as those of publication. The police registered an FIR under Section 18 (punishment for conspiracy and knowingly facilitating the commission of terrorist acts, etc.) of the UAPA. It was a charge surpassing every limit of absurdity, to connect the public sale and display of books with acts of violence threatening the sovereignty of India and striking terror in people (the general definition of 'terrorist acts' under the UAPA). The police acted either with wanton illegality or utter foolishness, which warranted that action be taken against them. But nothing happened to the police. Narain, on the other hand had to undergo the travails of defending herself against the onslaught of state machinery.
If at the very basic level of its interface with the people, the state conducts itself in the grossly inhumane and unlawful manner evidenced above (instances that are only a handful of the total), the entire constitutional superstructure simply crumbles, crushing whatever hopes people have of the state. This is the process that makes Maoists out of 'ordinary' people. Even if they were not Maoists to start with, by the time they come out of prison, they are tempted to embrace Maoist ideology. Police repression has thus been the biggest catalyst in manufacturing Maoists. Every unlawful act of state repression has brought windfall gains to the Maoists.
Even if those who were arrested are indeed Maoists, that does not make them criminals. It is not an issue of whether the Maoists are right or wrong, and even less so of justifying or condemning their actions. After all, they are people, who are responding to the deceit and violence of the state in their chosen way. One may disagree with their ideology or methods but one has to admit the horrific conditions which impel them to take a radical path. After six decades of a constitutional regime proclaimed in the name of the people, promising all kinds of lofty ideals, it has only aggravated the inherent injustice, inequality, violence, corruption, and doublespeak in society. While the rich flaunt their opulent lifestyles, the vast majority of people go hungry. The country has the dubious distinction of having the largest number of malnourished, anaemic, hungry people and underfed, underweight, and stunted children in the world. Indeed, the rot has gone much deeper than is usually imagined. Middle class attempts at tweaking the system appear trivial and ill-judged. In contrast, the alleged Maoists stand apart with their agenda of revolution. They are the only ones who appear to have correctly comprehended the dimension of the problem. It is utterly stupid of the state to think that imprisonment, torture, encounter killings, custodial rape and death are going to deter them from their goal. No revolutionary has ever buckled under these methods and shunned revolution.
The Maoists, by any sensible assessment, are neither closer to demolishing the Indian state nor are they progressing in that direction. Physically, they are holed up in the forested tracts of Chhattisgarh, Jharkhand, Orissa and Maharashtra with most of their important leaders already behind bars. Ideologically, of course, their influence extends beyond these areas but certainly not to the extent that the state projects. But for the help they get from the state, the Maoists would not be in a position to attract even the numbers they do. Nevertheless, the state proceeds to alienate vast sections of the people in the name of—to borrow from counter-insurgency argot—'flushing out' Maoists, and exposes the hollowness of its own democratic credentials. It unscrupulously operates its own terror machine in the name of a 'war on terror' or in the name of ensuring 'internal security' in combating Maoism. This, of course, is in addition to the ideological fortification it has constructed, taking advantage of the debacle of the socialist regimes and the resurgence of capitalism in the form of neoliberalism, whose cultural apparatus promotes crass individualism and an ethos of social Darwinism. However, deepening inequalities, the marginalisation of the lower classes, blatant elitist policy biases and the systematic erosion of democracy are kindling resistance.
The highhanded attitude in evidence today towards poor dalits and tribals is the primordial marker of an uncivil caste society that merely feigns civility. It has zealously maintained the divide between the dalit and non-dalit universes within itself. It is unfortunate that the modern constitutional state we created, instead of doing away with this incivility has imbibed it in full measure, promoting and accentuating the divide. The state apparatus favours those who are against dalits and tribals, and opposes those who stand up for them. If you sympathise with dalits and tribals, you become an outcaste, but if you despise them, you are welcomed into the fold. Maoism and nationalism are simply modern day euphemisms for outcaste and caste, respectively.
---
This excerpt has been published from the book Republic of Caste (Navayana, 2018). Republished here with permission from the publisher.