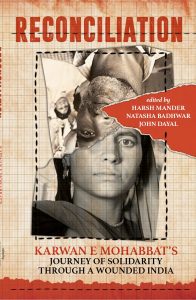 In response to hate crimes across India, manifested through the recent lynchings in the name of religion, a group of volunteers led by Harsh Mander travelled across eight states in India to unite against hate crimes. They called it the Karwan e Mohabbat or Caravan of Love. The book Reconciliation Karwan E Mohabbat's Journey of Solidarity through a Wounded India are the reflections of the sufferings of religious minorities. Across each state, every family the caravan met had heart-wrenching stories of how they lost their loved ones merely on suspicions.
The following is an extract from the chapter on Assam by Harsh Mander.
---
Assam: The Cow Thieves
The Karwan e Mohabbat started its journey from Assam. We met four families in this northeastern state, each of them weighed down by the heaviest of burdens that parents can be called upon to carry—the bodies of their own children. Four young men, felled in different ways, all by hate. After senior peace activist Ram Puniyani lit a small earthen lamp at Nagaon town in central Assam, we set out for Naramari, a Muslim-dominated village, 16 km away. Here live the families of cousins Riyazuddin Ali and Abu Hanifa, who were lynched four months earlier, on 30 April 2017. Childhood friends, the two had left their homes early that morning to fish in the neighbouring village of Kasamari, which is populated largely by Hindus and tribals. After the rumour rose—no one agrees about how—that they were cow thieves, a mob of a few hundred men gathered, chased down the boys and lynched them. Their families received the bodies at Nagaon's Bhogeswar Phukanani Civil Hospital later that day: there were knife wounds on their faces, their eyes had been gouged out, their ears cut off.
We met the parents of 20-year-old Riyazuddin Ali outside their small mud-and-thatch home adjacent to a small duck pond. They were disconsolate. 'Where did so much hate come from?' his father Raham Ali asked. 'Why should they kill two boys on a fishing expedition and mutilate their bodies so cruelly?' Riyaz's young widow clutched her one-year-old daughter. He used to drive a three-wheeler Tempo taxi.
Sixteen-year-old Abu Hanifa's parents were even more inconsolable, breaking down often, holding in their palms a passport-size photograph of the boy. Hanifa had helped the family by selling vegetables.
The two families led us to a small, leafy gravesite they had built between their homes, where the two friends were laid to rest together. Ten men had been arrested for the lynching. They were quickly released on bail. A group of local lawyers had agreed to work to secure justice for the boys. That afternoon, in Guwahati, 130 km from Nagaon, student leaders spoke of their vision for a new India sans hate and exploitation.
The second day of the Karwan e Mohabbat was, like the first, defined by sad meetings with bereaved parents. In the village of Kharbuja in Goalpara district, near the south banks of the Brahmaputra, we first met the parents of 22-year-old Yakub Ali, shot dead by a policeman who had exceeded his brief.
In Goalpara and other districts of Assam, tens of thousands of people have been served notices that they are 'doubtful voters', or 'D voters' in local parlance—ostensibly illegal immigrants from Bangladesh. In what constitutes an administrative paradox, it is not unusual for fathers or mothers to be deemed Indian citizens and their children to be deemed 'D voters'. People say that there has been a surge in the numbers detained as D voters since the Bharatiya Janata Party (BJP) government took power in the state in May 2016. The BJP government not only increased the number of Foreigners Tribunals (set up to identify D voters) from 36 to 100 but also made them much more active. As things stand, those unable to produce documents to establish their Indian nationality are housed in detention camps that are even more hellish than the country's infamous prisons.
Viewing this action as being targeted at India's Bengali Muslim citizens, Yakub had joined a protest on 30 June 2017. There exists a video of what then transpired. There was mild stone-throwing by the protestors from a railway track close to the village. Some policemen picked up stones and threw them back at the protestors. The video shows a policeman picking up a rifle, taking aim and shooting Yakub dead. There was no textbook use of milder force, no advance warning, no shooting below the waist. It was, unambiguously, a shooting to kill.
Yakub's family filed a police complaint against the policeman—whom they clearly identified on the video—but were not aware of any action against him. Yakub's father wept as he watched the video of his son being shot, falling between the railway tracks, his body being lifted by his friends. His brother spoke bitterly of how Bengali-origin Muslims felt because of official accusations that they were D voters. 'It is only because we are Muslims,' he said. Yakub's mother was born in and spent her entire life in Kharbuja. Yakub joined the protests after she had received notice a year earlier marking her as a D voter.
Yakub worked on road construction sites in neighbouring Arunachal Pradesh, and had returned home for Eid ul-Fitr. For his widow Rahima, it was a double tragedy. First married to his elder brother, who had died two years earlier in a motorcycle accident, she married Yakub in 2017. He then became stepfather to her two children. Now she was widowed again. Just as distraught were the parents of Lafiqul Islam Ahmed, who we met in Salakati Maszid Para village of Kokrajhar district. He was the very popular state president of the ABMSU (All Bodo Territorial Council Minority Students' Union). On 1 August 2017, two gunmen pumped a dozen bullets into him with an assault rifle in broad daylight in the busy Titagura marketplace. Several thousand people from all the communities gathered at his funeral. His killers remain untraced.
Lafiqul had tried hard to build bonds between the various communities in the Bodoland Territorial Area Districts in northern Assam, speaking up against the long history of hatred and violence in the area. His secular, inclusive and reform-based politics made him popular across communities, and a threat to the prevailing politics of hatred and division. He was a fierce critic of the ruling BJP, its mentor, the RSS, and what he saw as their anti-Muslim policies. He led agitations against the police killing of Yakub Ali. He fought against the eviction of tens of thousands of mostly Muslim families from government lands following their displacement by massive river erosion, as well as the listing of large numbers of them as D voters. When he was killed, Lafiqul was believed to have been tracking links between the local police and cow smugglers operating on the India–Bangladesh border.
---
This is an extract from ' Reconciliation Karwan E Mohabbat's Journey of Solidarity Through a Wounded India' edited by Harsh Mander, Natasha Badhwar and John Dayal and published by Context Westland, 2018. Republished here with permission from the publisher.