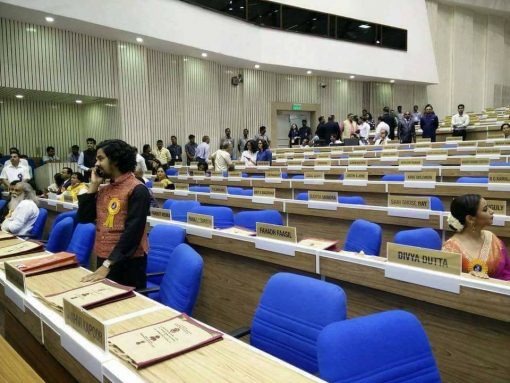 The 65th National Awards ceremony held on 3 May 2018 at Vigyan Bhavan, New Delhi raised some eyebrows when 66 artists and filmmakers walked out of the hall, boycotting the award function.  Information and Broadcasting Minister, Smriti Irani, who was there to present the award, was greeted by a largely empty hall, whose absence was made even more apparent by the nameplates of the absent award recipients that marked their seats. The award recipients boycotted the award after they were told at the last-minute that President Ram Nath Kovind would only present the award to 11 recipients out of a total of 140. Those who did receive the awards from the President included Boney Kapoor, who received the award on behalf of his late wife, Sridevi; Akshay Khanna, who received it on behalf of his father, the late Vinod Khanna; and the Bengali actor Riddhi Sen.
This is the first time in history that a serving President has not been available to present the award. The group who staged the walk-out had written a letter the day before, addressed to Chaitanya Prasad, Additional Director General, Director of Film Festival, they wrote, "It feels like a breach of trust, when an institution/ceremony that abides by extreme protocol fails to inform us of such a vital aspect of the ceremony with(sic) a prior notice. It seems unfortunate that 65 years of tradition are being overturned in a jiffy." In response, the Rashtrapati Bhavan attempted to justify the change by issuing a statement that said, "The President attends the award functions and convocation maximum for one hour."
It should not forgotten that one of the reasons why the national award is considered prestigious and important for the winners is because the award is given by the President of India and not by a cabinet minister.
The Indian Cultural Forum spoke to multiple filmmakers about their decision to boycott of the 65th Nationl Award Ceremony. Here is what they had to say:
 Aneez K Mappila , Director, The Slave Genesis :
"The 65th National Film Award winners, including myself, have boycotted the function because this is an unprecedented situation. This has never happened before in the last 65 years, where the President refuses to present the award.  This is part of a larger political agenda to bypass the President's power so that the country is under the control of a certain political party.  Some of us have decided to take a stand. We refuse to receive the award from a BJP Minister, and boycott the award distribution ceremony."
Meghnath, Filmmaker:
"They are breaking a 65 year old tradition. We are not commercial filmmakers. They could have told us in advanced, then we would not have come here. The President should present us the award. That is our right. It is a tradition that the President gives the award. Its one his duties. It takes years to make a film. And it takes a minute for the President to present the award."
Teenaa Kaur, Director, When the Sun Didn't Rise :
"It is very important for us to protest. But we are not boycotting the award itself. In the letter we received, it was mentioned that the President of India will give away the award. If the President was not available, they should have mentioned it before hand that a Cabinet Minister will be presenting the awards on behalf of the President. There's discrepancy in what the letter stated and what actually happened. We are very unhappy with this decision. We are not a union; we are a group of independent film makers who have been working in this field for years. Now, we have decided to boycott the award function."
Read the full draft of the letter here: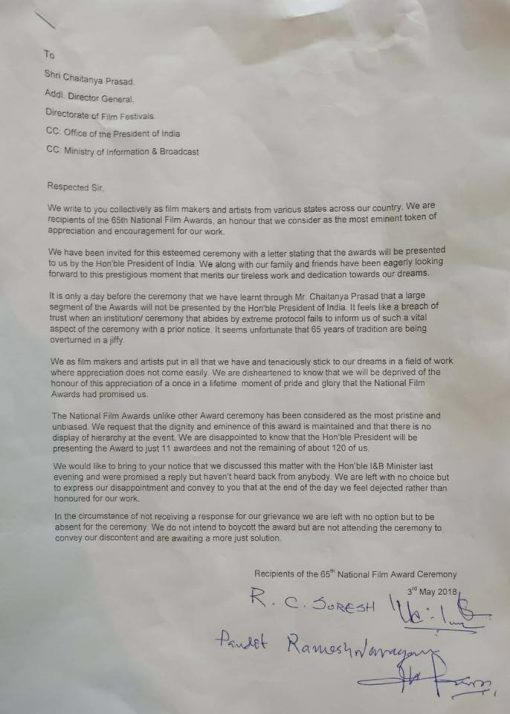 ---