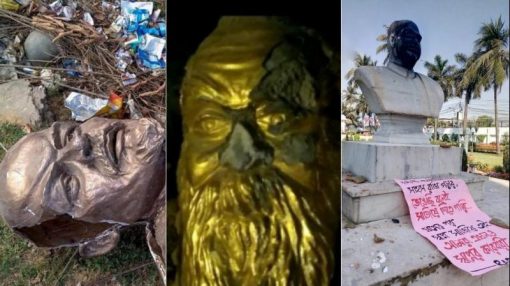 Ever since Lenin's statue was taken down in Tripura, statue vandalism seems to have become a trend in the country. The Bhartiya Janata Party (BJP) had only just won the State Assembly elections in the erstwhile communist state in March when a statue of Lenin was taken down at Belonia. This was even before the new government was formally instituted. At least two demolitions of Lenin's statues were reported in Tripura in the month of March.
Soon after, a BJP leader, H Raja, threatened to pull down statues of the Dravidian anti-caste crusader E V Ramasamy, popularly known as Periyar. Soon after, two men vandalised Periyar's statue in Vellore.
In the month of March, there were reports of six Ambedkar statues having been vandalised in Uttar Pradesh.
Most recently, the statue of Maulana Abul Kalam Azad, the first education minister of independent India, was vandalised during the Ram Navami celebrations in the North 24 Parganas district of West Bengal.
There have, of course, been statue demolitions in the past, not just in India but across the world. In America, protests erupted in Charlottesville demanding the removal of a statue of General Robert E Lee, known for fomenting racial tensions in his time. In India, dalits perceive Ambedkar's statues as a symbol of their self-respect and dignity. Tensions between the so-called upper castes and dalits often lead to the former vandalising the statues of dalit icons and leaders. Read Pardeep Attri writing about the importance of Ambedkar's statues back in 2012:
Statues of Dalit icons are built by Dalit people with their own money and contributions, not with the money from the state as Gandhi-Nehru statues are being made in India. So, why are Dalit icons' statues being broken and damaged? Statues represent a crucial point in the aspirations of Dalits towards democracy, aspirations of Dalits towards equality and justice. Dalits gather around these statues, get organised, organising functions and all these gatherings give them strength to believe in themselves and get inspired by other fellow Dalits. All these attempts to demolish Dalit icons' statues is an attempt to demoralise Dalits, deprive Dalits of their rich history and rob them of what Dalits have been able to gather after years of struggle.
While it is true that statues have been vandalised in the past too, in India and elsewhere, it is important to see the recent spate of demolitions in the current context.
The important questions are: what purpose do statue demolitions serve? Who asserts power by demolishing a statue?
When Lenin's statue was razed down in Tripura, several commentators, and not just from the ruling party, tried to downplay the vandalism by describing Lenin as a foreigner, and so irrelevant to India. But, the statues that have been vandalised since then help us see who "foreigners" are for the ruling party. Lenin, of course, is a communist; Periyar is a leader of the Dravidian movement; Ambedkar is a dalit; and Azad a Muslim.
That's the list of foreginers in right-wing India: communists, Dravidians, dalits, and Muslims. The ruling party is most likely to call them "anti-nationals" — a term used by the ruling party to describe people who do not subscribe to their ideology.
The demolitons are also region-specific. The most recent incident to be reported is the demolition of a statue of Maulana Abul Kalam Azad during the Ram Navami processions in West Bengal. The BJP does not have a political foothold in the region yet. Attacking a Muslim figure is indicative of what the people participating in the Ram Navami procession — not a particularly popular festival among Bengalis — think of a figure like Maulana Abul Kalam Azad, one of India's most prominent nationalists.
These attacks on statues are also accompanied by large scale violence.
Two people were killed in the riots that accompanied the Ram Navami processions. In 2018, West Bengal witnessed the maximum number of deaths related to cattle, especially cows, a revered animal for the Rashtriya Swansevak Sangh (RSS), the BJP's parent body. Several of them involved mob lynchings, a kind of mob justice that has been on the rise ever since the new government was formed in 2014.
Statue demolitions may be symbolic. But the figures attacked represent specific ethnic, ideological, language groups, all of whom are currently in the "threat list" of BJP.
---