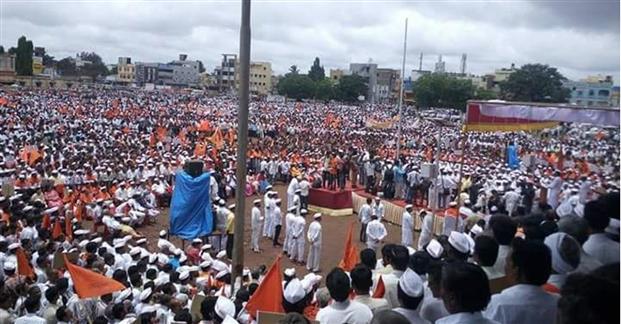 Close on the heels of a mega convention of Lingayats in Kalaburagi, thousands of members of the community, led by several heads of various Virakta mutts congregated in Chitradurga on Thursday, September 28, to reiterate the demand for independent religion status for 'Lingayata Dharma'.
The last time such a convention had been organised was weeks before the assassination of free thinker Gauri Lankesh who proudly called herself a Lingayat.
At this particular convention, which was organised by the Brihan Mutt in Chitradurga, as part of the ongoing Sharana Samskruti Mahotsava, saw participation of many of the Virakta mutt seers. The convention was also significant for the reason that Sri Shivamurthy Murugha Sharanaru, a prominent seer of the community, addressed the Lingayat convention for the first time, thus adding further strength to the movement.
Inaugurating the convention, Sri Shivamurthy Murugha Sharanaru emphasised that it had now become a movement of the people and one should be ready to take the legal route to get the demand fulfilled.
He raised questions on how the Jain religion was able to receive minority status in 2014 and stressed that political support for the movement was essential . He also emphasised the need for political support to take the agitation to a logical conclusion.
Terming the convention as the fifth for Lingayata Dharma, president of the Basava Samiti, Aravind Jattis, said all those who wore 'Ishta Linga' on their body were Lingayats.
Sri Basavalinga Pattadevaru of Bhalki Hire Samsthana Mutt emphasised the need to rectify the mistakes committed earlier to proceed further and also highlighted the need to establish 'Lingayat Mahasabha'.
Sri Nijagunu Prabhu Tontadarya Swami of Mundaragi Tontadarya Mutt said there was a need to use social media to strengthen the movement . inister for Water Resources M.B. Patil said one needed to make efforts to arrive at a decision by December 15.
---