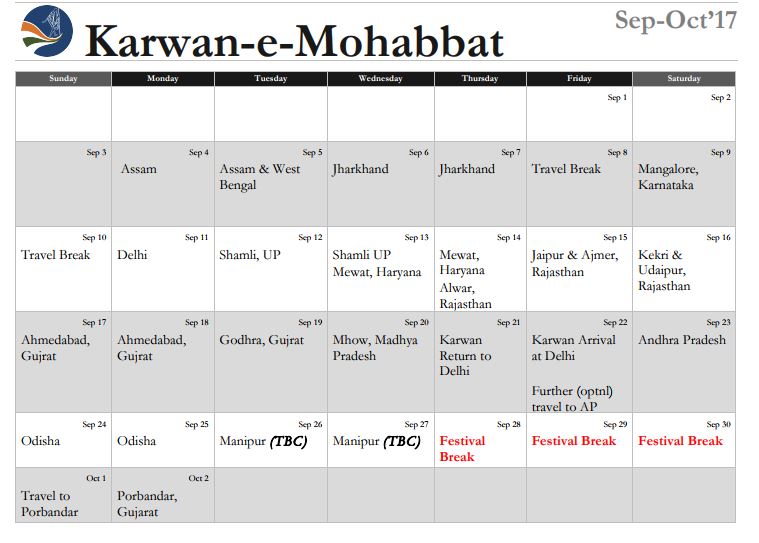 Karwan-e-Mohabbat , 'a Journey of Love, Atonement & Solidarity', initiated in solidarity with the families of lynch victims across the country, is on its way to Mangalore, Karnataka. The journey has been undertaken to spread the message of love and tolerance. Around 50 organisations have joined in to form the initiative including All India Democratic Women's Association, All India Secular Front, Alliance Defending Freedom, Alternative Law Network, Anhad, Centre for the Study of Society and Secularism among others.
The main aim of the Karwan is to visit the families which have suffered from lynch attacks to offer atonement and solidarity. The Karwan will travel from Assam to Andhra Pradesh from 4th September to 2nd October, 2017, to places that have suffered lynching.
Day 1
Karwan e Mohabbat was flagged off in Assam. On the first day we met the families of two cousins Riyaz and Abu Hanif who were lynched in Nagaon. They were both teenagers fishing in a nearby non-Muslim village, where on the rumour that they were cow thieves, they were lynched to death by a mob, who also badly mutilated their bodies. Their parents are still inconsolable that their eldest sons were killed by their neighbours, and with such cruelty. We hope our visit offered them a little solace. Ten men were arrested and were quickly released on bail. A group of local lawyers have agreed to work to secure for them justice.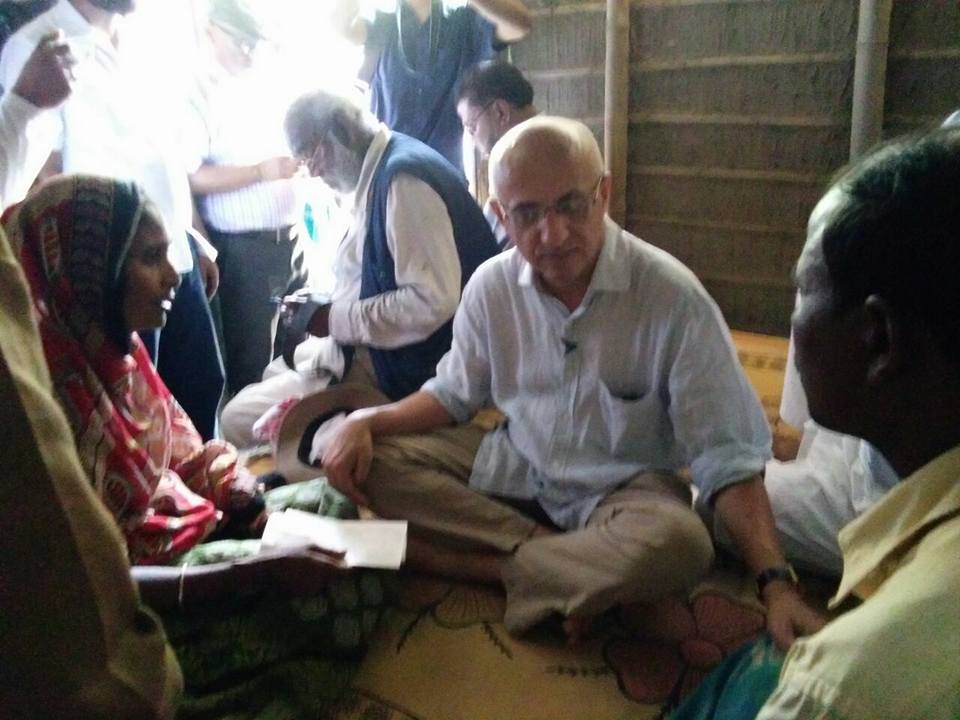 We were also able to constitute the first Aman Insaniyat Citizen Council in the district Nagaon. We hope that collectively civil society will be able to create these councils in every district, to fight hate and violence against minorities, Dalits, Adivasis and women, and all others.
Student leaders including Shehla Rashid and Umar Khalid spoke in the afternoon of their vision for a new India without hate and exploitation.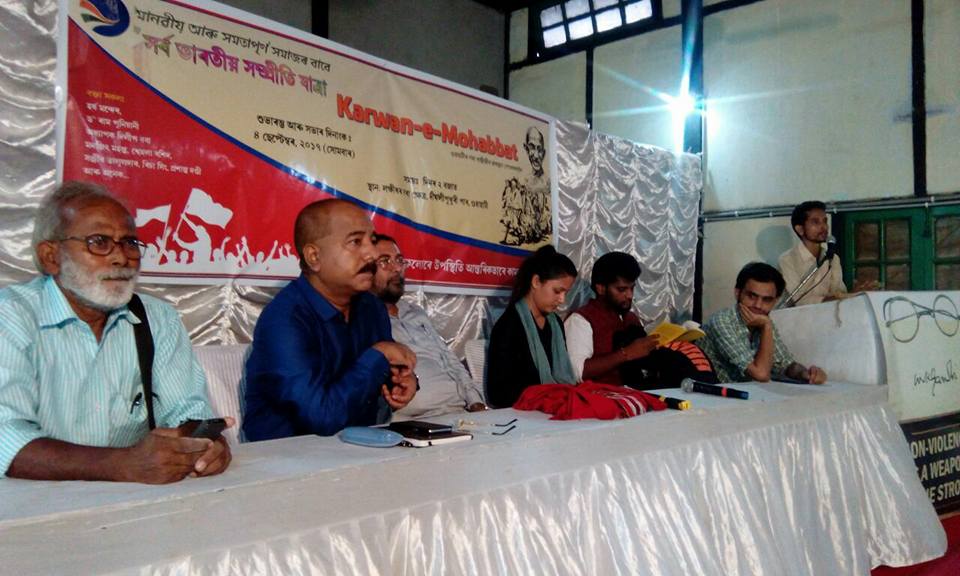 Day 2
On the second day of the Karwan e Mohabbat we first met the parents of 22 year old Yakub Ali, in his village Kharbuja in Goalpara District. In this and other districts of Assam, a huge number of persons have been served notices that they are 'doubtful voters'. It is not unusual for the father or mother to be deemed an Indian citizen and their children to be deemed 'doubtful voters'. Yakub joined a protest against this state action which they saw as targeted against Bengali Muslim citizens of India on 30 June 2017. A video record what followed. There was some mild stone throwing by the protestors. A policeman can be seen picking up a rifle, taking aim, and shooting dead Yabub. There is no use of milder force, no advance warning by the police, no shooting below the waist. It was a clear shooting to kill.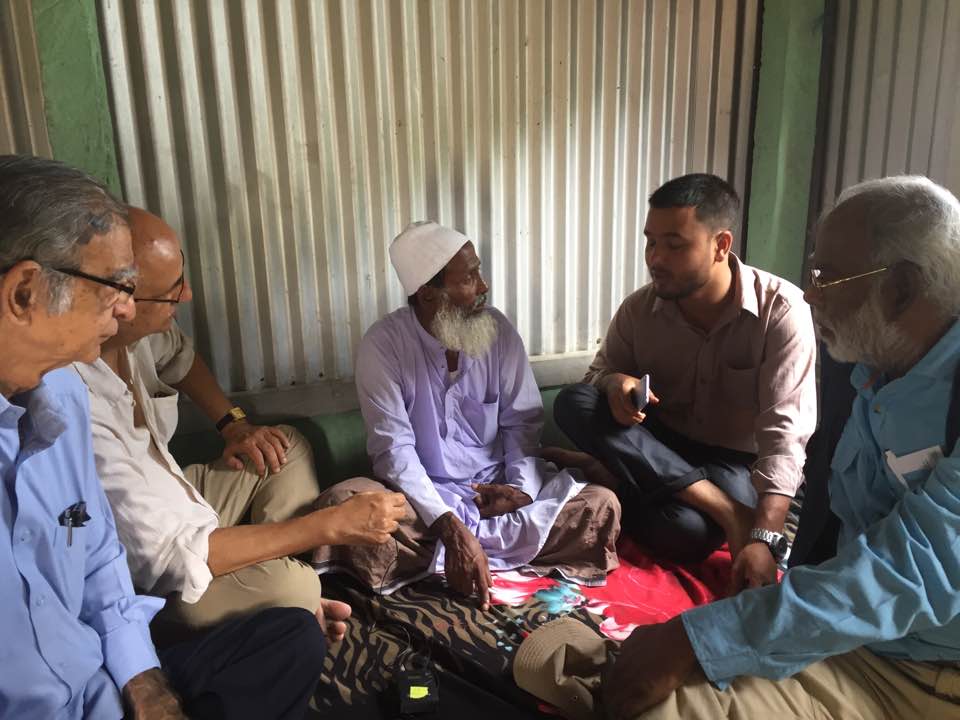 Equally distraught were the parents of Lafiqul Islam Ahmed who we met in Salakati Maszid Para village of Kokrajhar district. He was the very popular state president of the ABMSU (All Bodo Territorial Council Minority Students' Union). He had tried hard to build bonds between the various communities in Bodoland, and fought the long history of his homeland of hatred and violence between these communities. His secular, inclusive and reform-based progressive politics made him very popular with all communities, and a threat to the prevailing politics of hatred and division. On 1 August 2017, two armed gunmen pumped a dozen bullets into his body in broad daylight in a busy marketplace. Several thousand people of all communities gathered for his funeral. His main killers are still untraced.
Hate violence and an openly hostile partisan state have pushed Assam's minorities further than ever before into an intense sense of fear and dread. People committed to constitutional values of equality and secularism from all across India need to stand firmly with them.
Day 3
On third day we reached Giridih, Jharkhand. The old man who was lynched – Usman Ansari – has just about survived the lynching. Months after lynching he is still in hiding. The organisers allowed only a small group from the Karwan to visit him in secret.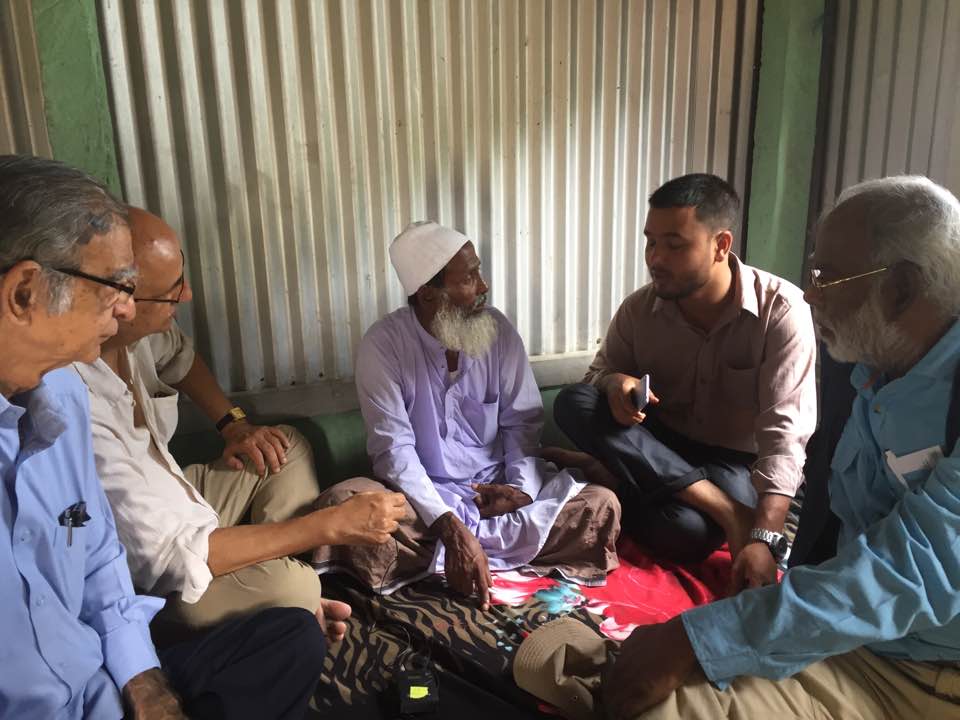 The story that unfolded on 28 July 2017 had many echoes from Dadri. Usman's house was the lone Muslim household in a Hindu settlement. It was rumoured that he had killed a cow, when a decapitated cow was mysteriously found in the village dump-yard. His neighbours attack him brutally in his home, beating him until he is unconscious. They take him for dead, and set on fire his home, reducing it to ashes. They are about to set his body aflame. His life is saved by seconds because of the arrival of the police and the DC. None of his villagers tried to save him during the killing, and haven't reached out to him since then. The state administration has also given no financial help.
In the village meeting that followed, around 300 men had gathered. We spoke but there was no remorse. They were convinced that Usman was guilty.
Day 4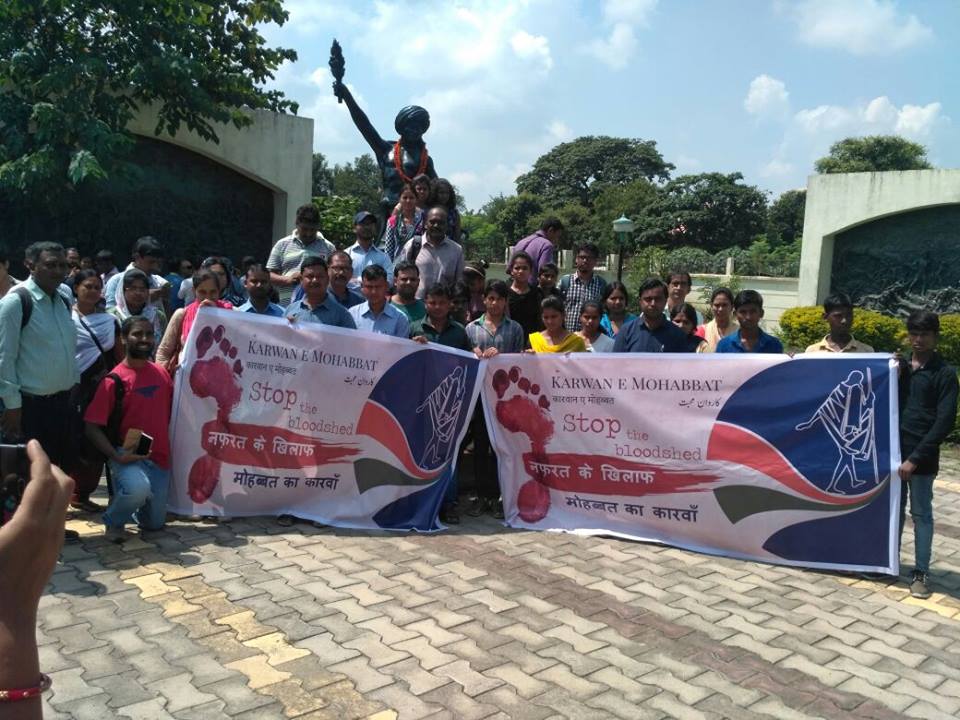 The fourth day of Karwan began with an unexpected healing moment, when the local gurudwara in Ramgarh district headquarters in Jharkhand where we spent the night at a dharmsala, invited the Karwan e Mohabbat to the gurudwara to endorse its call for solidarity.
We reached Manua in Manoa block of the district, and met Mariam Khatoon, widow of Amiluddin Ansari who was lynched two months earlier in the busy marketplace of Ramgarh town.
On the morning of 27 June 2017, coal trader Amiluddin Ansari was lynched brutally by a mob of young self-styled cow vigilantes. The police took his body to the nearby hospital and does a hurried secret post-mortem without allowing the family to see the body and to date have refused to share with them the contents of the report.
The state administration has done nothing to support the bereaved family. The younger children have dropped out of school. A group of local boys angrily protested when the police failed to arrest those of the attackers who could be easily identified from the video. The police slapped a series of criminal charges against these protestors, who spent 25 days in jail. Some of the attackers were later arrested, but there are many others who eye-witnesses are willing to name.
Day 5
This fifth day of the Karwan arrived in Mangalore.
With local activists including Vidya Dinker and Samvartha, we met Abdul Shameer. He was attacked on 23 August 2014, by the Bajrang Dal volunteers, armed with trishuls and rods. He used to drive a tempo to transport old cattle sold by farmers for slaughter.
He was attacked He was too petrified to run away, as they smashed the window of his tempo. They pulled him out and attacked him with long rods. He recognised in the crowd a fellow auto-rickshaw driver, who he recalls ate beef with him on many occasions. He called out to him to save him, but he joined the attackers. The blows got worse, until one man pierced his skull with a sharp trishul.
He has survived on extraordinary pubic charity, mostly from ordinary Muslims. Emotive television reports of his predicament spurred donations from all over, and this paid for his repeated hospitalisations, his sister's wedding and the daily expenses for his family. The auto rickshaw union with many Hindu members paid for one of his hospital bills, of more than one lakh rupees.
However, justice eludes him. the police arrested only a few men for attacking him, and they were out on bail in a few days. The trial has still to begin. But the police also registered crimes against him, under the Karnataka Prevention of Cow Slaughter Act 1964, and he barely escaped arrest by applying for anticipatory bail. Let us recall that it is a Congress government in Karnataka.
Day 6
On the sixth day of the Karwan, in coastal Karnataka, I request you to look first at the picture of the young man with his palms are cupped into the shape of a heart. This photograph was taken by his friend on a day that turned out to be the last day of his life.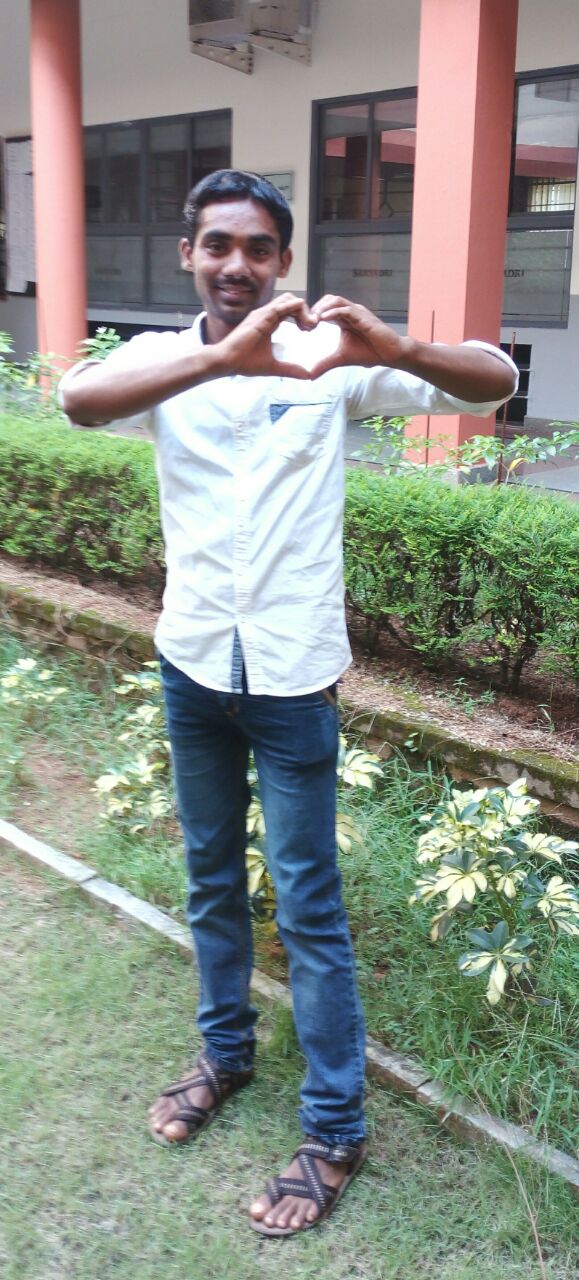 Harish Poojari was mistaken to be Muslim, because he was travelling pillion on the bike of his Muslim friend Samiullah.
On November 12, 2015, Harish took the day off picnicking with his friends. He returned home that evening, and set out again only for a few minutes to buy some milk. The next day, her son was brought home dead with 14 stabs.
The story that was pieced together by later investigations was that while he was returning from the shop, his close friend Samiullah, a Muslim, happened to pass by and offered to drop him home on his bike. It was a three minute ride. But on the way, a bunch of Bajrang Dal men, accosted them, and fell upon them with knives. Samirullah was badly injured but survived. His friend, stabbed 14 times and his intestines pulled out.
We paid homage to Gauri Lankesh, and her courageous battle against communal politics. We reflected together on how coastal Karnataka, long known for its communal amity between people of diverse faiths, had developed into a communal cauldron, a laboratory for Hindutva politics, including lynching that went back to 2004. We stressed the need to speak out and respond; and the meeting hearteningly resolved to set up an Aman Insaniyat Citizen Council to respond quickly to prevent and record hate crimes, ensure legal justice, and support the families shattered by hate violence.
In the afternoon, the organisers took us in a smaller group to meet a family in Krishnapuda village that had been bereaved by a different kind of hate violence. This was not by mobs by men in uniform, in the name of cow protection. This happened on 19 April 2014, a year after the Congress government assumed power in the state. Theirs was a family of wage workers. The dead man's brother Imtiaz told us that Kabir, his 22 year-old youngest brother, was a house painter. But he developed an allergy to the paint, and began to look for other work. The law in Karnataka permits the slaughter of old cattle and there was good money in transporting these animals. He was employed as a 'loader' in these cattle trucks for a thousand rupees a day. Farmers sold their ageing animals in a large cattle bazaar in Shimoga, and their trucks transported the animals to the coastal belt. He learnt that there was an established flourishing racket by which at every check-post police had to be paid off, and they would let the trucks with cattle cargo proceed. The truck with Kabir was halted at Tanikot Checkpost in Sangiri, by a special police force established to fight Maoist Naxalites. For reasons that are unclear, there was a dispute at the check-post even after money was paid. A constable fired into the air, and the driver, cleaner and other loaders all managed to run away. But he shot Kabir dead at close range. It was impossible to claim credibly that the man was killed because he was a Naxalite, cow protection was not the mandate of the force, and even if it was, why should a man be killed for this? There was large-scale outrage, and the police finally have charge-sheeted the constable for murder. But recently there are moves in the state administration to close the case without even completing the trial.
---
Harsh Mander is an activist, who works with survivors of mass violence and hunger, as well as homeless persons and street children.