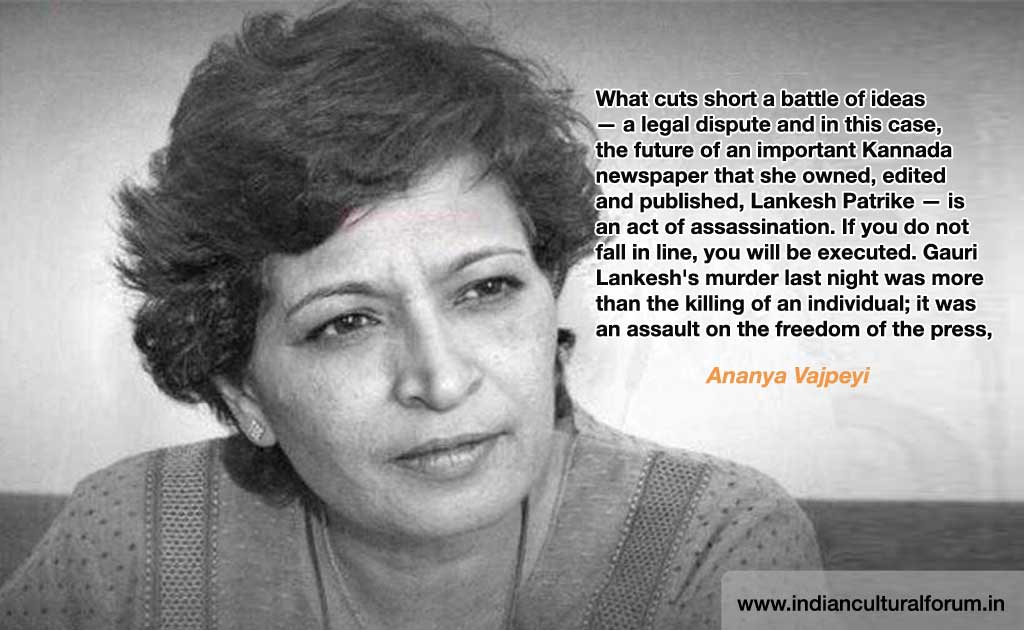 Before she was shot dead at her own front door on September 5, 2017, Gauri Lankesh had experienced every possible type of political and personal harassment and intimidation: from being trolled on Twitter, to criminal defamation suits filed against her, to relentless attacks in the media for her views about Hindutva and the Modi government. Such an onslaught must have been wearying, but she had the courage to fight back, and keep her voice strong and clear above the din.
What cuts short a battle of ideas — a legal dispute and in this case, the future of an important Kannada newspaper that she owned, edited and published, Lankesh Patrike — is an act of assassination. If you do not fall in line, you will be executed. 
Gauri Lankesh's murder last night was more than the killing of an individual; it was an assault on the freedom of the press, on the right to dissent, and on democratic citizenship as such. It was also, unmistakably, a menacing message to women who dare to play a prominent part in Indian public life. It's unacceptable in every way. She's gone; we cannot bring her back to life. But our rejection of and resistance to a regime that suspends democracy through outright violence against critics and dissenters has to redouble itself.