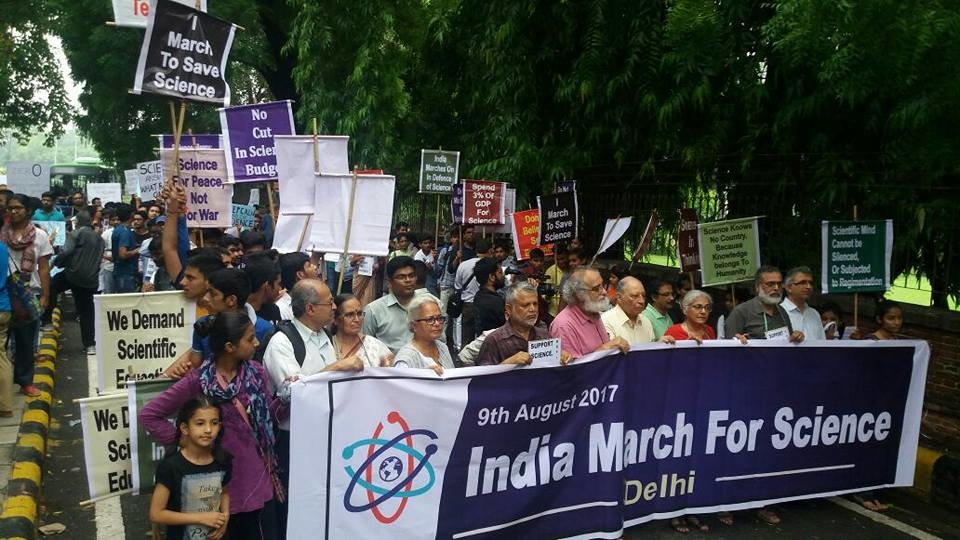 Hundreds of people marched from Mandi House to Jantar Mantar in Delhi as part of the India March for Science campaign call given by the scientific community. It was organised against the continuous fall in research funding along with the promotion of pseudoscience and baseless theories. The march took place in 25-30 cities all over the country, including the state capitals. The organisers of the march made the following demands:
1. Allocate at least 3% of GDP to scientific and technological research and 10% towards education.
2. Stop propagation of unscientific, obscurantist ideas and religious intolerance, and develop scientific temper, human values and spirit of inquiry in conformance with Article 51A of the Constitution.
3. Ensure that the education system imparts only ideas that are supported by scientific evidence.
4. Enact policies based on evidence-based science.

In India, the funding for scientific research has remained stagnant at 0.8-0.9% of the GDP, while in most countries doing notable research, 3% of the GDP is spent on it. The protestors demanded that action be taken on the recent cuts in funding, as well as the promotion of unscientific ideas.

In Delhi, the most stringent of these cuts have been seen at CSIR, Council of Scientific and Industrial Research. Research scholars working at CSIR labs said that over 50% of their funding has been cut. "There are people who have not been getting their salaries from the past few months, and they will not be getting paid in the future, until and unless their supervisors can manage to get funds from an external agency", said a research scholar. Supervisors have been telling new PhD students that the labs cannot fund their research anymore. People who are already working on projects have now started using money from their salaries to fund their research. "We are a CSIR lab, but we cannot depend on CSIR for money. Any money which does come is mainly from DBT (Department of Biotechnology). But the priority of DBT would be to fund a DBT institute first rather than funding a CSIR lab." The scholar from Institute of Genomics & Integrative Biology (IGIB), which is a part of CSIR wished to remain anonymous and refused to come on camera as she was afraid of the action that will be taken if it was discovered that she took part in the march. She said, an email had been sent to all the members of IGIB prohibiting them from participating in the march. CSIR has been told to get external funding for its activities. But the researchers of the institute say that any private organisation funding their work will want the research for its own profit. Because of this, they haven't been able to secure any significant external funds.
Another scholar asked , "how will Make in India plan work, if you'll not support your R&D? You cannot do science in India." The situation is dire as many researchers and scientists said that they have been reduced to beggars under the current government. "To do science, you have to beg. Many ongoing projects had to be shut down because of lack of funding."
Although the figures claim that the budget for the Department of Biotechnology has increased, this money doesn't seem to be reaching the people and the purpose it is meant for. "Although the budget of DBT has gone up, NII (National Institute of Immunology) hasn't been getting any money. We've seen fund cuts for the last couple of years. The research is moving at a slow pace. A lot of the institute's money is spent in paying salaries but the seventh pay commission still hasn't been enacted. This has been very problematic. We hire project staff but how will we pay them if DBT won't release any money?" NII is a research institute that comes under the Department of Biotechnology.
A faculty member at JNU said that the number of requests for research grants has seen a huge surge. "Two years back, the government used to get 60-70 proposals asking for funding. Now, they get over 200 such requests. They don't have the money to fund all these grants. So many people are now applying for grants and funds because earlier institutes used to have their own funds to facilitate this research. Now, scholars have to apply for grants as institutes cannot support their research."
On being asked for the response that the march would have, no one seemed positive that it will result in any productive action soon. "Nothing can happen overnight, but we hope that at least the government sits up and takes notice, and this initiates conversations with the government and scientists on taking things forward."

"This government is deaf and dumb. You cannot really expect anything."

A procession of students and teachers from the Bharatmata Saraswati Balmandir Senior Secondary School in Narela, Delhi also participated in the march. The science teacher of the school said that she has brought her students to the march because of the rising unscientific temperament amongst them. She said that the interest of her students in unscientific ideas such as the benefits of cow urine is an example of this. She felt it is important to bring the students to the march so that they question things before believing in them.
An activist said that five years ago, he used to be amused at the kind of "scientific" research happening in Pakistan, talking about a research paper claiming that the distance between the Earth and heaven is increasing. Now, he is extremely saddened by the state of affairs in India as similar absurd ideas are being promoted in the name of science.
Largely, the sentiment the protestors portrayed was that India is moving backwards when it comes to science. They were marching to stop this backward movement before it is too late, and years of efforts and scientific research are undone.

---