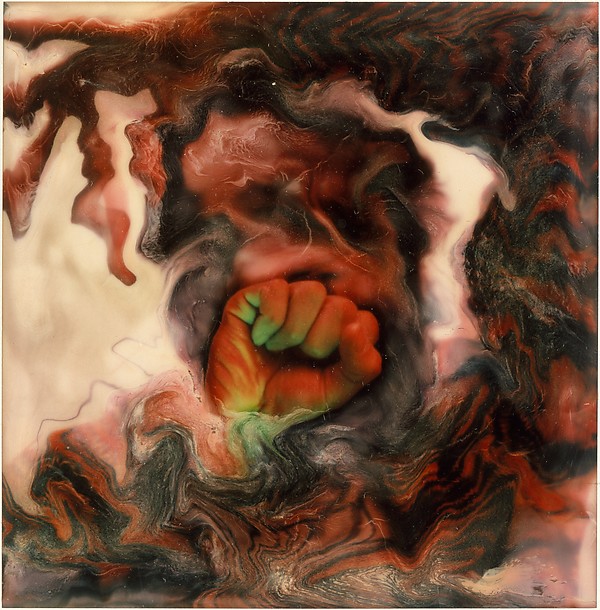 Lucas Samaras, "Photo-Transformation", 1973/ Image Courtesy: metmuseum.org
In 2006, the Hindi translation of Paash's famous poem "Sabh Ton Khatarnak" (The Most Dangerous) was included in the Class XI Hindi textbook. Now, in one of its periodic blows to education and culture, the RSS affiliated Shiksha Sanskriti Utthan Nyas has recommended that the NCERT (National Council of Educational Research and Training) remove a poem by the poet Paash from textbooks. Paash (Avtar Sandhu) is in good company. Dinanath Batra of the Shiksha Sanskriti Utthan Nyas also wants to keep students from reading the works of Rabindranath, Mirza Ghalib and MF Husain.
What would our students learn from Paash's work and his life? That we have poets who opposed any kind of religious fanaticism; poets who believed in a secular, progressive India, and were willing to die for their dream. A poet like Paash, who wrote for the people, and against any form of repressing the popular voice, whether it was through censorship, the Emergency, or the Khalistani separatists.
The Greatest Danger
The plunder of labour isn't so dangerous
The police baton isn't so dangerous
The fist of a swindler's greed isn't so dangerous
To be caught without a fuss is awful
To be caught in timid silence is awful
But they aren't so dangerous
Amidst the noise of deceit
To bow down when one is right is awful
To read in the light of fireflies is awful
But they aren't so dangerous
The greatest danger of all is
To be filled up with the corpse's silence
To not feel stirred and gulp down everything
To leave home for work and return home again
The greatest danger of all
Is the death of our dreams
The most dangerous time
Is what runs in your wrist
But stays fixed in your glance
The most dangerous eyes
Are those which see everything
But remain frozen like ice
Those eyes which forget to kiss
The world with love
Turned into ashes by the
Blind fire emanating from things
Losing itself drunk by daily work
In the twists of a futureless dilemma
The most dangerous moon
Is one rising in the ruins
But which doesn't needle your eyes
After a murder is done
The most dangerous song
Is one rendering an obituary
So your ears might hear as they
Stubbornly stick like rogues
Before the doors of frightened people
The most dangerous night
Is one descending into the sky of
Living spirits where only owls
Screech and where the howls of jackals
Are glued to the forever dark doorways.
The most dangerous horizon
Is where the spirit's sun descends
And broken pieces of its dead light
Pierce the souring part of your body.
The plunder of labour isn't so dangerous…
Paash recites his poem. Courtesy https://paash.wordpress.com/
ਸਭਤੋਂਖ਼ਤਰਨਾਕ
ਕਿਰਤਦੀਲੁੱਟਸਭਤੋਂਖ਼ਤਰਨਾਕਨਹੀਂਹੁੰਦੀ
ਪੁਲਸਦੀਕੁੱਟਸਭਤੋਂਖ਼ਤਰਨਾਕਨਹੀਂਹੁੰਦੀ
ਗੱਦਾਰੀ-ਲੋਭਦੀਮੁੱਠਸਭਤੋਂਖ਼ਤਰਨਾਕਨਹੀਂਹੁੰਦੀ
ਬੈਠੇਸੁੱਤਿਆਂਫੜੇਜਾਣਾ-ਬੁਰਾਤਾਂਹੈ
ਡਰੂਜਿਹੀਚੁੱਪਵਿੱਚਮੜ੍ਹੇਜਾਣਾ -ਬੁਰਾਤਾਂਹੈ
ਸਭਤੋਂਖਤਰਨਾਕਨਹੀਂਹੁੰਦਾ
ਕਪਟਦੇਸ਼ੋਰਵਿਚ
ਸਹੀਹੁੰਦਿਆਂਵੀਦਬਜਾਣਾ, ਬੁਰਾਤਾਂਹੈ
ਕਿਸੇਜੁਗਨੂੰਦੀਲੋਅਵਿਚਪੜ੍ਹਨਲੱਗਜਾਣਾ -ਬੁਰਾਤਾਂਹੈ
ਸਭਤੋਂਖ਼ਤਰਨਾਕਨਹੀਂਹੁੰਦਾ।
ਸਭਤੋਂਖ਼ਤਰਨਾਕਹੁੰਦਾਹੈ
ਮੁਰਦਾਸਾਂਤੀਨਾਲਭਰਜਾਣਾ,
ਨਾਹੋਣਾਤੜਪਦਾ, ਸਭਸਹਿਣਕਰਜਾਣਾ
ਘਰਾਂਤੋਂਨਿਕਲਣਾਕੰਮਤੇ
ਤੇਕੰਮਤੋਂਘਰਜਾਣਾ,
ਸਭਤੋਂਖ਼ਤਰਨਾਕਹੁੰਦਾਹੈ
ਸਾਡੇਸੁਪਨਿਆਂਦਾਮਰਜਾਣਾ।
ਸਭਤੋਂਖ਼ਤਰਨਾਕਉਹਘੜੀਹੁੰਦੀਹੈ
ਤੁਹਾਡੇਗੁੱਟ 'ਤੇਚਲਦੀਹੋਈਵੀਜੋ
ਤੁਹਾਡੀਨਜ਼ਰਦੇਲਈਖੜ੍ਹੀਹੁੰਦੀਹੈ।
ਸਭਤੋਂਖ਼ਤਰਨਾਕਉਹਅੱਖਹੁੰਦੀਹੈ
ਜੋਸਭਦੇਖਦੀਹੋਈਵੀਠੰਢੀਯੱਖ਼ਹੁੰਦੀਹੈ
ਜਿਸਦੀਨਜ਼ਰਦੁਨੀਆਨੂੰਮੁਹੱਬਤਨਾਲਚੁੰਮਣਾਭੁੱਲਜਾਂਦੀਹੈ
ਜੋਚੀਜ਼ਾਂ 'ਚੋਂਉਠਦੀਅੰਨ੍ਹੇਪਣਦੀਭਾਫ਼ਉੱਤੇਡੁਲ੍ਹਜਾਂਦੀਹੈ
ਜੋਨਿੱਤਦਿਸਦੇਦੀਸਾਧਾਰਣਤਾਨੂੰਪੀਂਦੀਹੋਈ
ਇਕਮੰਤਕਹੀਣਦੁਹਰਾਅਦੇਗਧੀ-ਗੇੜਵਿਚਹੀਰੁਲਜਾਂਦੀਹੈ।
ਸਭਤੋਂਖ਼ਤਰਨਾਕਉਹਚੰਨਹੁੰਦਾਹੈ
ਜੋਹਰਕਤਲਕਾਂਡਦੇਬਾਅਦ
ਸੁੰਨਹੋਏਵਿਹੜਿਆਂਵਿੱਚਚੜ੍ਹਦਾਹੈ
ਪਰਤੁਹਾਡੀਆਂਅੱਖਾਂਨੂੰਮਿਰਚਾਂਵਾਂਗਨਹੀਂਲੜਦਾਹੈ।
ਸਭਤੋਂਖ਼ਤਰਨਾਕਉਹਗੀਤਹੁੰਦਾਹੈ
ਤੁਹਾਡੇਕੰਨਾਂਤੱਕਪਹੁੰਚਣਲਈ
ਜਿਹੜਾਕੀਰਨਾਉਲੰਘਦਾਹੈ
ਡਰੇਹੋਏਲੋਕਾਂਦੇਬਾਰਮੂਹਰੇ-
ਜੋਵੈਲੀਦੀਖੰਘਖੰਘਦਾਹੈ।
ਸਭਤੋਂਖ਼ਤਰਨਾਕਉਹਰਾਤਹੁੰਦੀਹੈ
ਜੋਪੈਂਦੀਹੈਜੀਊਂਦੀਰੂਹਦਿਆਂਆਕਾਸ਼ਾਂ 'ਤੇ
ਜਿਹਦੇਵਿਚਸਿਰਫ਼ਉੱਲੂਬੋਲਦੇਗਿੱਦੜਹਵਾਂਕਦੇ
ਚਿਪਟਜਾਂਦੇਸਦੀਵੀਨ੍ਹੇਰਬੰਦਬੂਹਿਆਂਚੁਗਾਠਾਂ 'ਤੇ
ਸਭਤੋਂਖ਼ਤਰਨਾਕਉਹਦਿਸ਼ਾਹੁੰਦੀਹੈ
ਜਿਹਦੇਵਿੱਚਆਤਮਾਦਾਸੂਰਜਡੁੱਬਜਾਵੇ
ਤੇਉਸਦੀਮਰੀਹੋਈਧੁੱਪਦੀਕੋਈਛਿਲਤਰ
ਤੁਹਾਡੇਜਿਸਮਦੇਪੂਰਬ 'ਚਖੁੱਭਜਾਵੇ।
ਕਿਰਤਦੀਲੁੱਟਸਭਤੋਂਖ਼ਤਰਨਾਕਨਹੀਂਹੁੰਦੀ
ਪੁਲਸਦੀਕੁੱਟਸਭਤੋਂਖ਼ਤਰਨਾਕਨਹੀਂਹੁੰਦੀ
ਗੱਦਾਰੀ-ਲੋਭਦੀਮੁੱਠਸਭਤੋਂਖ਼ਤਰਨਾਕਨਹੀਂਹੁੰਦੀ।
---