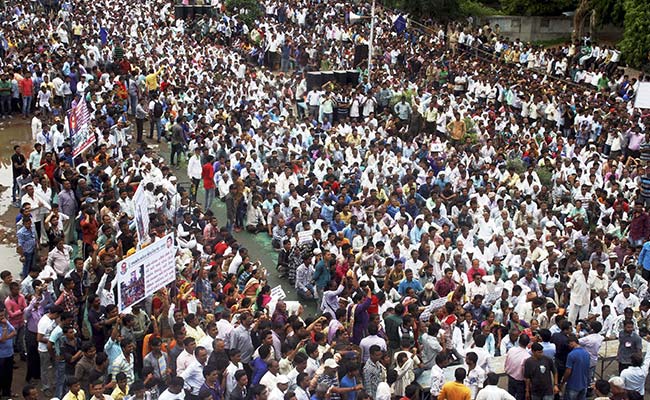 Ahmedabad, July 27 / NDTV
An atrocity took place on 11 July 2016. In Una Block of Gir Somnath district, dominant caste youth attacked four dalits. The incident took place between the villages of Mota Samadhiyala and Bediya. The four dalits – Vasharambhai Balubhai Sarvaiya and his brother Rameshbhai Bhalubhai Sarvaiya as well as their cousins Becharbhai Ugabhai Sarvaiya and Askokbhai Bijabhai Sarvaiya had been skinning dead cows. The dominant caste youth – in the name of gau raksha – attacked them.
The father (Balubhai Sarvaiya) and mother (Kuvarben Balubhai Sarvaiya) of the two brothers were also attacked. Neither was an isolated incident. The caste-based work of the family, who belong to the Rohit community, was to collect carcasses not only from their village of Mota Samadhiyala, but also from other villages.
The village head, Prafulbhai Korat, who represents the dominant caste, had threatened Balubhai and had issued a notice to demolish his house. Six months ago, Korat said that if Balubhai did not stop skinning carcasses, he might one day find that the cows are alive and that he would have paid a heavy price. Balubhai ignored this chilling threat.
Details of what transpired have been collected by a fact-finding committee of social activists – Kaushik Parmar, Dr. Nitin Gurjar, Subodh Parmar, Kirit Rathod, Kantibhai Parmar, Jagdish Parmar, Kantibhai Makwana, and Baldevbhai Parmar.
On the morning of 11 July, Balubhai received a phone call from Naajabhai Daanabhai Ahir. A lion had killed Naajabhai's cow, which Naajabhai wanted Balubhai to collect and skin. Jivabhai Koli from Motisara also called to say that his dead cow needed to be collected for skinning. Balubhai asked his son to go collect the cows. The dead cows were brought to an empty area around 10 am and the four dalit youth started skinning the dead cows. Soon a four wheeler came and the men in it saw them and left. Then two four wheelers arrived with about thirty-five youth, who started beating the dalit youths with sticks and iron bars. They yelled anti-dalit abuses and also abused the mothers of the men – saying they would slice off their vaginas. They shouted, 'They are cutting up live cows'.
The dalit youth said that these were dead cows.
A villager from Devipujak caste who saw the attack called Balubhai and said that his sons and nephews were being beaten by a mob. Balubhai and Kuvarben rushed to the spot and requested the mob not to beat the dalit youth who were involved in their traditional caste work of skinning dead cows. The dalit youth were beaten for one and a half hours. They were stripped of their shirts, and forced into a car. When Balubhai tried to enter the vehicle, he was hit by an iron pipe on his head and fell down. Kuvarben, who tried to protect him, also received blows. The attackers drove the vehicle towards Una town. On the way they met a police vehicle. The men talked to the police and said that they were taking the dalit youth to Una town. The police told the attackers that they were on their way to the place of the skinning.
On reaching Una town, the four youth were tied to a car (number plate DD 03F1294). The car carried the notice – President, Shiv Sena, District Gir Somnath. The men hit the dalit youth with iron rods and sticks. They paraded them through Una from the bus stand to the police station. They flogged them along the way. The police arrested the dalit youth, even though no complaint was filed or noted in the police station's register. The attackers videotaped the entire incident.
An ambulance took Balubhai and Kuverben to Gir Gadhda instead of Una for medical treatment. When they insisted on going to Una, the police abused and threatened them. A woman police inspector abused Kuvarben.
As news spread and other dalits gathered, the attackers fled. Their plan to immolate the dalit youth was cut short.
Later that night, under pressure from the dalits who had gathered, the police allowed an FIR to be filed, in which they named the main attackers. The attack had taken place in broad daylight, in the presence of the police, using police lathis. This is as close to 'state sponsored violence' as possible. It is not an unusual event. A few weeks earlier, seven dalits were flogged in Rajula for the same reason. Both dalits and Muslims were being harassed by vigilante gau rakshaks in such villages. It was not reported in the police station. One reason why these other incidents are not taken up is that the dalits in these areas are not as politically aware as those of the Una region.
The next day, several organisations called for an Una bandh. They wanted the police to bring the culprits before them. The fact finding committee pushed to move the criminal investigative process along, invoking not only the newly amended SC/ST Atrocities Act but also sections of the IPC, identifying loopholes in the FIR and sections which had not been covered. This pressure came at the behest of dalits in the Mota Samadhiyala village, panchayat elected members, social justice committee (these committees are responsible for removing carcasses under Gujarat Panchayat act, 1993), Patels, and the local police. The FIR was filed and so far about 37 arrests have been made, owing to pressure put by dalit activists and the growing dalit agitation.
Manjula Pradeep (Director, Navsarjan) went to the Rajkot Civil Hospital to visit the four dalits. They had been admitted to the general ward. The doctors said that they were being discharged. The superintendent of the hospital accused Pradeep of making a politically motivated visit to the hospital. This was the reason he discharged the four. Their injuries had not healed, and their trauma remained intact.
Martin Macwan, a dalit leader in Gujarat, offers a broader context for the upsurge after the Una atrocity. He points to the day-to-day discrimination and to structural deprivation. Gujarat has only 2.33 percent of India's dalit population, yet ranks highest in terms of atrocities. The impunity for anti-dalit atrocities is shocking. Then there is the lack of educational and employment opportunities as well as the lack of upward mobility. Privatisation of education – fees at Rs. 2 lakhs – keep dalits away from higher education. In Gujarat, 64,000 vacancies for Scheduled Castes have not been filled. There is something cruel about this. Agricultural labourers in Gujarat earn a minimum wage of Rs. 175 per day. But dalit labourers only earn Rs. 50-60 per day.
Abuse of the dignity of dalits is a major issue in Gujarat. Navsarjan's untouchability study found that dalits were denied entry into 90% of the temples in Gujarat. In more than half the government schools, dalit children had to sit separately. In 2010, 1500 dalit children in Saurashtra were forced to clean the urinals and toilets in their schools. There have been even cases of suicides by dalit children owing to such discrimination. The post independence 'land to the tillers' slogan for land reforms remains on paper. Nathubhai, a Navsarjan activist from the Rohit caste involved in skinning dead cattle, called these reforms paper ka ghoda, a paper horse. According to the Navsarjan study, between 1996 and 2000, about 6000 acres of land was given to dalits under land distribution. This was merely on paper. In reality, they did not get legal possession of the land.
Nathubhai and Hirabhai – both social activists who are from the Rohit community, initiated the protest against the Collectorate. They threw twenty-five or thirty dead cattle before the building. They said that the Una attack video created a massive uproar and anger among dalits all over Gujarat and indeed across India. Hirabhai, who is involved in skinning dead cows, said that these attacks were not new. He was once driving a pick-up van (a Bolero) to collect some dead cattle. It had a puncture, so he stopped at Limdi to get it repaired. His car was attacked, the window panes broken. He has been stopped many times – even by the police – who asked for his ID card and other information. The so-called gau rakshaks, Hirabhai said, are involved in extortion. Those who give dead cattle for skinning also take money, which they call dharmadaan. According to Nathubhai, cattle skinning and other related work is now big business bringing in crores of income for the state.
After the creation of Gujarat in the 1960s, land reform laws exempted large tracts of land – 234 panjarapoles (for cattle care) – from land ceiling acts: thousands of acres of land, large tracts, are owned by temples, and trusts held by Jain and other dominant castes. According to Nathubhai, the state government gives subsidies to panjarapoles, who in turn float tenders for large sums (Rs. 8 lakhs, for example, in Limdi). Even a few Khadi Gram Udyog units, run mainly by Brahmins and Patels, which receive state government subsidies are also involved in this business. Hence, it has turned into a lucrative business involving other communities, be it Brahmins, Patels, Jains, Rabaris, etc. However, the caste work of skinning dead cattle is subcontracted to the Rohit caste for small amounts – Rs. 15 to Rs. 50 at the most and a bag of grains such as bajra (a bag of bajra was lying at the site of the Una attack). After skinning, the bones are separated and crushed into a powder costing Rs.20 per kilo. This is used for bone china, for example. Huge pressure cookers are used by upper castes, as in Vidyanagar, which can take up to three cows. The remaining meat is prepared as chicken feed at Rs. 7 per kilo. Animal fat – at Rs. 40 per kilo – is used in making khari biscuit, the staple biscuit consumed by Gujaratis, according to Martin Macwan and Nathubhai. Many of these items are export oriented: leather, bones, fat (gall bladder, gor munch) used by pharmaceutical companies, Ayurvedic medicines, and edible items. The tail hair, used for hairbrushes and shoe-polish brushes, brings in crores' worth of business for the state. Hence, the attacks are also intended at grabbing the economic niche, reminding one of the 2002 communal violence that swept Gujarat, when sections of Muslims lost not only their land but also their economic niche such as the transport industry and small hotels and restaurants. Seeing young dalits from the Rohit caste involved in the business going about in good clothes, on motorbikes is also an eyesore for the dominant castes.
According to Manjula Pradeep (Director, Navsarjan), the ongoing dalit upsurge – dalit manav adhikar jhumbesh – is not sudden, as years of hard work of mobilisation, on issues ranging from land, atrocities, forced migration, untouchability, sexual assaults and kidnapping to issues of manual scavenging have been underway. Activities included para-legal training, barefoot lawyers, awareness camps, campaigns against violence on women, panchayat training, leadership training, women's leadership, and the more recent campaigns to observe the 125th birth anniversary of Babsaheb Ambedkar, which involved not only dalits but also Adivasis, Muslims and other marginalized sections. These prepared the ground for the current upsurge.
The Una atrocity, so blatant and brutal, has energised dalits and other sections in a state ruled by the right wing. Dalit youth in Gujarat in particular, who are more educated, with higher aspirations, are taking the place of the older generation of dalit activists, who though they faced severe deprivations and atrocities are wary of state and dominant caste retaliation against dalit assertions. The youth are questioning unemployment, the caste system – in short, everything – in a movement that goes beyond the issue of reservations. It is about the annihilation of caste. Hence, there is a new energy and also unity among different dalit organisations and dalits of all 32 subcastes including Valmikis, weavers, and those who clean toilets. Mobilisations on local issues involving dalits, adivasis and Muslims are creating the ground for larger unity and common opposition to the efforts of Hindutva forces and organisations and the state to create communal polarisation. Although the huge rally at Ahmedabad was called by the Una Dalit Atyachar Ladat Samiti, led by the young dalit lawyer Jignesh Mewani, a former state co-coordinator of the Aam Aadmi Party, and the leftist Jan Sangharsh Manch, a labour organisation, all dalit groups and dalit individuals spontaneously joined the rally and the ongoing march from Ahmedabad to Una, which culminated on August 15 in Una town.
[See here for a video clip of Rohith Vemula's mother Radhika Vemula addressing the August 15 mahasammelan.]
Navsarjan and other organisations have decided to hold mahasabhas or regional conferences across the state – even in dominant caste strongholds – from Saurashtra to Anand, Kheda to Surat. These sabhas are aimed at raising youth awareness about their legal rights and the amendments to the SC/ST Prevention of Atrocities Act. A petition will also be filed with the National Human Rights Commission (NHRC) to form a team that will prepare a status report on dalits in Gujarat. The point is to work at varied levels and keep the movement going. Even as the huge rally of dalits in Ahmedabad and the freedom march from Ahmedabad to Una drew dalits from all subcastes, many dalit organisations with a strong grassroots presence such as Navsarjan are behind the mobilisation, of dalits and women in particular, and in carrying forward the movement.
According to Martin Macwan, the wider context of the dalit upsurge, particularly among women and youth, includes the Kashmir violence, Rohith Vemula's death and other attacks on dalits, adivasis, minorities and on fundamental freedoms, including intellectual freedom. The video prepared by the attackers which they proudly posted online, particularly the abuse directed at mothers, the flogging in broad daylight, evoked a wider response and revulsion. The chief minister was silent for eight days, the prime minister for 25. Posters listing Chief Minister Anandiben Patel's achievements were placed all over the state and online, but not a word on dalits found a place in them, a point highlighted by the protestors.
The underbelly of the 'Gujarat Model' and rampant casteism form the backdrop for the dalit youth's protests and anger. Amitabh Bachchan calls on people to visit 'Vibrant Gujarat'. Instead, the call should be to come and see Una, said Martin Macwan. Prime Minister Narendra Modi came to power and gained a political majority through both caste and communal mobilisation. Since then the RSS and other 'parivar' organisations have attempted to own and reinterpret dalit radical histories, and create a wedge between dalits and Muslims. Booklets were released by RSS blaming Muslims and 'Muslim rule' for dalits' plight. Attacks on the pretext of both beef consumption and cow slaughter were directed at dalit and Muslim communities. Prime Minister Modi also underplayed his own book in which he held that manual scavenging was a 'spiritual' exercise! According to Martin Macwan, perhaps Modi had inside information driving him to call 80-90% of gau rakshaks anti-social, a remark Modi revoked the next day, replacing it with the word 'handful'. Instead of calling on so called gau rakshaks to shoot him rather than the dalits, Prime Minister Modi should have spoken about the loss of 25 lakh acres of land meant for dalits and adivasis under land reforms in Gujarat, of the plight of 7½ lakh manual scavengers, and the large number of vacancies for reserved posts. While Modi has a clear development policy for industry, there are no policies for the poor, and a focus on cows is a diversion from the real issues, Martin Macwan stressed.
The demands listed in varied memorandums include the following:
– Restore, reopen the leather Udyog Board, with special fund allocations for leather tanners, and give necessary equipment and other support.
– Land in rural and urban areas for removal of carcasses, walled at government cost, with water, electricity, and road facilities.
– Pick up vehicles through loans, with exemption from road tax.
– Provide ID cards and permits so as to avoid obstruction and extortion by police, 'gau rakshaks' and others.
– Scholarships for students from the Rohit caste, and interest-free loans for higher education.
– A survey of families involved in cleaning carcasses, and land as an alternative to agricultural work, with economic support.
– Panjarapoles to be run by dalits/members of the Rohit caste.
Forced Migration in Gujarat
– Ankolali village: Dalit youth burnt alive, forcing 14 family members to migrate to Una (2014).
– Bhoddar village: Following the demolition of four houses, 13 family members migrate to Roghada village in Porbandar (2013).
– Vinzarana village: Mass attack on village head resulting in serious injuries, leading to migration to Porbandar (2015).
– Mithi Vavdi village: Two families migrate to Patan (2010).
– Bavarada village: Six families migrate to Gandhidham in Kachchh following a mass attack on them to give up their land.
– Vadali village: 22 members of three families migrate following the rape of a dalit girl and death threats (2016).
– Bhada village: 14 family members migrate to Thordi (Gir) following attack and serious injury (2015).
– Devaliya village: Family migrates to Surendranagar following murder of dalit youth (2005-6).
– Sodhana village: Family migrates to Porbandar following murder of dalit youth (2015).
– Rajkot, Ganjivada village: Family migrates to Chotile following attack and serious injuries.
– Bechar, Abharamapura, Nandali, Nortol villages in Mehsana district: Dalits facing social boycott (2015-16).