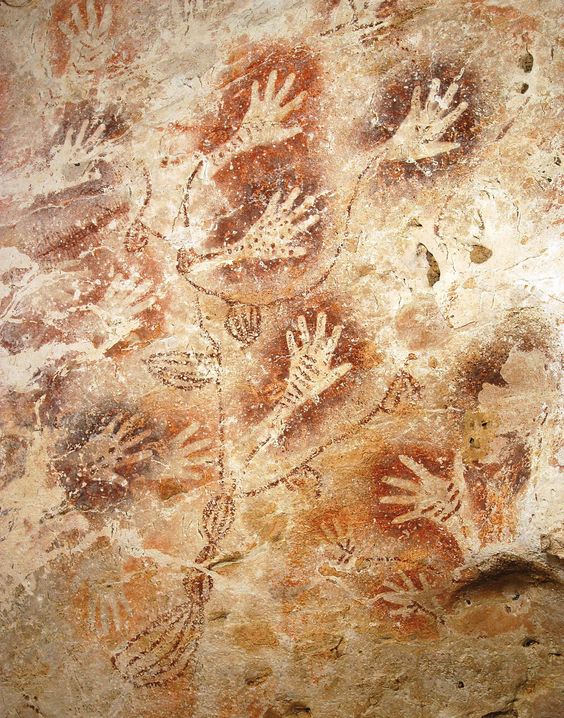 From the Cave of Hands, Argentina, ca. 7500 BCE / Pinterest
On August 30th, it will be a year since scholar M. M. Kalburgi was murdered. Over the year, there have been innumerable responses of outrage, as well as demands from academics, cultural practitioners, activists and citizens that
a) the Karnataka state government complete the investigation and arrest the murderers; and
b) the central government, and all state governments, take adequate steps to ensure that there are no more attacks on Indian citizens because of what they write, think, eat, their religion (or the lack of it), caste or gender.
It is a matter of grave concern to us that such attacks continue, and in newer forms every day. Discrimination against dalits and minority communities has only become more brazen and open. Freedoms – of thought and expression, of scientific enquiry and of rational dissent – continue to be stifled. More and more, it appears that only those who subscribe to the ruling ideology are safe to practise their daily lives as Indian citizens.
On this occasion of a rally and silent march on August 30th, we recall the words in one of Kalburgi's plays: "You can silence me, but you cannot silence the truth."  We call on all citizens of conscience to join their voices to ours when we demand that never again will one of our people be attacked for their work, beliefs, lifestyles, or the community they belong to. Ensuring this is the government's job, not policing Indians' lives.
For the Indian Writers' Forum
Nayantara Sahgal
Githa Hariharan
K. Satchidanandan
Keki Daruwalla
Romila Thapar
Gulammohammed Sheikh
Indira Jaising
Shyam B. Menon
Shashi Deshpande
A silent walk and public meeting is to be held in Dharwad on 30th August to mark a year of Dr. M. M. Kalburgi's murder. The walk will begin at 8.30 AM at Dr. Kalburgi's residence and end at the Art Gallery, about 2 kms away. The public meeting will begin by 11.00 and will continue till about 3 PM. There will be a press meet at 4 PM.