(Her Voice in First Person)
1
I am language
I don't just speak
I also hear.
I must hear the street
listen to the trapped air
hissing up from under the flagstones;
Keep my ears unplugged
for the grind of the cane-crusher, rice-huller
river and watermill;
not to forget the friendly cry-and-chirp
of a swarm of starlings
over a Muslim mausoleum.
2
That Muslim mausoleum
may ruffle my friends in the right wing.
Never! They are good secular people:
only the other day the culture Czar
extolled Dr. Kalam's nationalism
despite his being a Muslim.
You can't get more "nishpuksh" than that now, can you!
And a lady minister with a carving knife
(did ever you see such a thing in your life?)
split Indians into two assonantal halves—
Ramzadas and Haramzadas; (heart-warming).
Another dignitary was sympathetic
both to Dalit children burnt alive
and a stone thrown at a dog;
(he was sympathetic to the dog, not the stone).
And the Assam Governor
while confining Hindus to India
permitted Muslims to go anywhere—Bangladesh
Pakistan, Afghanistan (did he mention Yemen?)
as long as they could get visas.
As a result I, language, bhasha in Hindi, zuban in Urdu
am happy with the tolerance shown by the right wingers.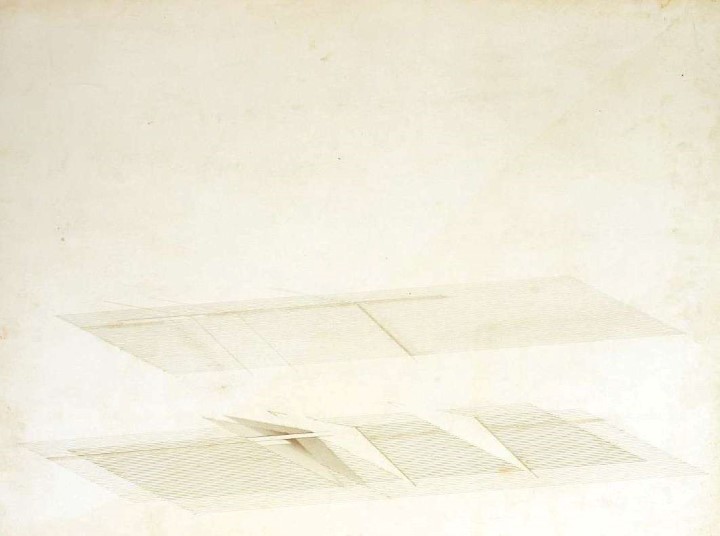 Nasreen Mohamedi / Lalit Kala Akademi
Keki Daruwalla is an eminent poet who also writes short stories and novels. He returned his Sahitya Akademi Award during the protests of Indian writers in 2015 against growing intolerance in the country.
Poem © Keki Daruwalla