An interview with Nandita Haksar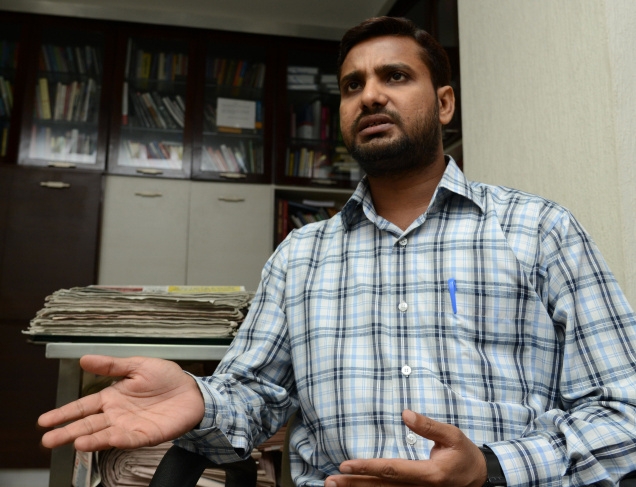 Image: Frontline
Mohammad Aamir Khan was born in Delhi in 1977. In 1998, he was kidnapped, tortured and framed by the Indian state in eighteen bomb blast cases. It took him fourteen years to prove his innocence. When he finally came out of jail, it was into a drastically changed world: his father was dead and his mother paralysed. He had no job and no security. Despite his daily struggle to survive and support his family, Aamir has involved himself in the struggles of people fighting against discrimination and oppression—whether for the rights of religious minorities, prisoners, women or the LGBT community.
Framed as a Terrorist, published by Speaking Tiger, Delhi, is Aamir's account of his illegal arrest, custodial torture, and being framed by the Indian state. We interview human rights lawyer and activist Nandita Haksar, who represented Aamir in court and has co-authored the book with him, about the implications of his wrongful arrest and imprisonment.
Let us begin with questions of legality. You have mentioned that Aamir's arrest was illegal and the magistrate at no point expressed any concern about this. Could you elaborate on what reform is necessary to change this state of affairs?
In writing Aamir's story I have tried to document step by step how an innocent person is framed in false cases by the police, and in this case also the intelligence agencies. The first step is the actual arrest; which is almost always illegal. In other words, the police do not follow the procedure laid down under the Criminal Procedure Code. The procedures in the criminal code have been further elaborated by the Supreme Court's direction in the D. K. Basu case, which I have quoted in the book.
There have been many attempts at police reform and there was even a ten-volume report on the subject some years ago. But if police reform is to take place there are two pre-conditons: (a) the political will and (b) much greater awareness among citizens.
In a footnote to the first chapter you mention we still don't know who Guptaji—the person who first contacted Aamir to work as a spy—really is. Why hasn't the police or courts investigated this? How long can the Indian intelligence services remain outside the purview of legislators or citizens?
Aamir's story illustrates the vast powers exercised by the intelligence agencies. They are able to operate outside the law with impunity. One of the biggest hurdles to any investigation is that the intelligence agencies are outside the ambit of the Right to Information Act. The other impediment is that the issue has not taken centre stage in our political life.
There are many interesting moments in Aamir's story: for instance, how a neighbour of his in Chandni Chowk could not go for an interview because there was a curfew, and who is now a seller in the bazaar. Do you think Framed as a Terrorist is not just Aamir's personal account, but part of a larger narrative, of brilliant resilience and hope in the face of state violence?
I personally do not think Aamir's story is one of "brilliant resilience and hope" precisely because it is not about one person's survival. Aamir is not a Papillon. His is a story of hundreds of political prisoners, especially Muslim prisoners, who are still in jail and have no hope of getting out.
There has been no national outrage after the book came out. Instead, Aamir's story is being celebrated as an achievement of Indian democracy—especially by liberal Hindus.
To come to accounts in the book of the brutal torture Aamir faced. Torture in police custody is a systemic epidemic, with no punitive measures for the perpetrators. What is the way forward? And, with respect to the victims, how can we build institutions where they are treated for the trauma they suffer in their encounters with the state?
There are two questions you seem to be asking: (a) how can we stop torture being used as an instrument of state policy and (b) how can the victim of torture get help for post-traumatic stress disorder, or PTSD.
The only way torture will ever be abolished is if it becomes a political issue, in which political parties have a stake in abolishing it. But as long as this so-called war against terrorism continues, there is not even a remote possibility that torture will not be used as an instrument of state policy. However, a vigilant human rights movement, which is crucial, can definitely put a check on the practice.
There is a need for psychiatrists or counsellors with special training who can deal with PTSD. We need a political approach rather than a purely medical approach. The same is true for lawyers; we need human rights lawyers rather than criminal lawyers to handle cases such as Aamir's.
Narratives such as Aamir's do help the mainstream understand the perspective of individuals maligned and persecuted by the state. But isn't there a flipside: might such accounts strengthen others' distrust of the Indian state? What was your intention in writing Framed as a Terrorist?
My primary motivation for writing the book was to help Aamir. It was an act of solidarity. He wanted to tell his story and I helped him do so. However, I added a long introductory chapter to put the context of the story. Unfortunately, many of the readers just read it as a moving story but they do not always understand the political and legal implications.
I hope the book helps initiate a national outrage against the criminal justice system, which frames and imprisons innocent citizens and has no mechanism for the compensation and rehabilitation of its victims. The book exposes how deeply dehumanized our society has become, and how the foundations of Indian democracy have been weakened by the subversion of the criminal justice system.
See here for an interview with Mohammad Aamir Khan.