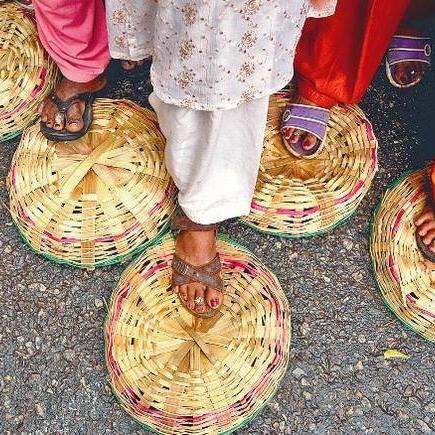 Image: The Hindu via S.K.A.
New Delhi, March 19
Leading people representing different sections of civil society called on President Pranab Mukherjee at Rashtrapati Bhawan on Saturday to demand an immediate end to the practice of manual scavenging and sewage deaths in the country. The President listened to the concerns expressed by the delegation sympathetically.
The delegation apprised the President about prevailing realities on the ground, where safai karmacharis are forced to clean human excreta or go down septic tanks and sewage pits. Added to this is the fact that all these safai karmacharis are dalits and belong to the lowest strata of the social ladder. They have to bear a social stigma due to their profession as well as caste. The delegation informed the President that safai karmacharis have undertaken a nationwide 'Bhim Yatra' to highlight this issue. This 125-day yatra organised by the Safai Karmachari Andolan in the 125th Birth Anniversary year of Babasaheb Bhimrao Ambedkar completed its hundredth day on Friday, and is due to culminate on April 13 in New Delhi. Begun in Dibrugarh, Assam, on December 10, the Bhim Yatra will cover more than 30,000 km across 500 districts in thirty states and union territories of the country.
The delegation included CPI National Secretary D. Raja, MP, JD (U) leader K.C. Tyagi, MP, international jurist Usha Ramanathan, academician Professor Imrana Qadeer, liberated manual scavenger and Safai Karmachari Andolan activist Maya Gautam, NFIW General Secretary Annie Raja, journalist & author Bhasha Singh and Dalit activist Dr.Renu.
Earlier on Friday, civil society members led by Justice A.P. Shah addressed the media to express their anguish on continued social as well as political apathy towards the issue of manual scavenging. Justice Shah questioned why people are still killed, and why no part of the 'Swachh Bharat' scheme of the government is earmarked for the eradication of manual scavenging and the rehabilitation of manual scavengers.
JD (U) MP K.C. Tyagi said that if parliament's functioning is stalled on various issues, why shouldn't it be so for a day to demand the eradication of manual scavenging. CPI MP D. Raja said that the issue would have to be raised politically as well, to ensure that no person dies in sewage pits any more. This atrocious inhuman practice must be eradicated.
Jurist Usha Ramanathan asked why the rest of civil society has not raised the issue of ending manual scavenging; why this responsibility has so far been left to the community. Dr. N. Paul Diwakar and Dr. Vimal Thorat also spoke in solidarity.
Bezwada Wilson
National Convener,
Safai Karmachari Andolan

Alberto Giacometti, via Smudged Design

Shri Pranab Mukherjee
The Hon'ble President of India
Dear Sir,
Sub: In solidarity with the community affected by the practice of manual scavenging and to have our voices heard against sewer deaths
On March 18, 2016, Safai Karmacharis from around the country would have completed 100 days of Bhim Yatra, a journey they have undertaken which takes them to all the states of this Republic. They are carrying a message of pain and anguish at the regularity with which sewer deaths occur even after sewer cleaning, recognised as manual scavenging, has been prohibited by the 2013 Act. Their message to the government and to the country at large: `Stop Killing Us.' In the period since the Supreme Court judgment in March 2014, the Safai Karmachari Andolan has documented 1268 reported instances of deaths in sewer cleaning; and these are only the reported deaths. Just two days ago, there were reports of four persons—Sunil Valmiki, 41, Ricky Valmik, Sumit Chauhan and Balya Masade—dying, and one more person—Pramod Chauhan—being in a critical condition after they inhaled poisonous gas while cleaning a blocked sewer near Nagpur. These deaths have been entered in police records as "accidental deaths". It is treatment of the lives of safai karmacharis as dispensable that the Yatra is asking the rest of the country to recognise and halt, immediately.
There is one constitutional offence, and that is the offence of untouchability. "'Untouchability' is abolished and its practice in any form is forbidden. The enforcement of disability arising out of 'untouchability' shall be an offence punishable in accordance with law", it reads in Article 17. Sixty four years later, in March 2014, the Supreme Court was still having to address the "obnoxious practice of manual scavenging across the country, a practice squarely rooted in the concept of the caste system and untouchability."
There have been laws at different periods in time when manual scavenging has been declared an offence in law. First, it was section 7A of the Protection of Civil Rights Act 1955. Then, in 1993, it was the Employment of Manual Scavengers and Construction of Dry Latrines (Prohibition) Act. But it was not before the Safai Karmachari Andolan went to court that the veil of denial and the slough of callous neglect was rent apart and an acknowledgment of the existence of this inhuman practice began to emerge.
Change was still incredibly slow and halting. The end of manual scavenging being nowhere in sight, Action 2010 was launched in 2007 to campaign for an end to manual scavenging. This culminated in a bus Yatra which wended its way through five different routes and reached Delhi in December 2010. This Yatra was led from the front by men and women who had stopped doing manual scavenging and who had faced the insecurities of starting afresh in life, and who had simultaneously experienced the relief and hope of having left manual scavenging behind in their lives.
In 2013, after a long period of debate, discussion and campaigns, the Prohibition of Employment as Manual Scavengers and their Rehabilitation Act 2013 became law alongside the 1993 Act. This, among its other provisions, recognised sewage cleaning as manual scavenging. In 2014, the Scheduled Castes and Scheduled Tribes (Amendment) Act was passed by Parliament which made the employment of any person as a manual scavenger an offence. Yet, in September 2015 the Delhi High Court was observing: "Even after the enactment of the Prohibition of Employment as Manual Scavengers and their Rehabilitation Act 2013, it appears that the plight of persons who are engaged in manual scavenging in Delhi has not improved. This is so because the very survey which was required to be conducted under section 11 for the purposes of identification of manual scavengers has not been done…".
So the community of affected persons who are struggling to escape the burden of inhuman practices, untouchability and exclusion have had to set out on a Yatra, yet again, and go all around the country to draw our attention to inexcusable reality that there are still people who have to enter sewers every day, facing the certainty of ill health both mental and physical, and the possibility of death.
It is not acceptable that the community affected by the perpetuation of such demeaning and dangerous practices should be made to bear the burden of changing perceptions and practices and finding a way out of this condition of life.
In solidarity with the yatris and the afflicted community, on the 100th day of the Yatra, we propose that we meet and raise our voices to put an end to manual scavenging, and to stop the deaths that result from the cleaning of sewers. In consonance with their demand, we too will ask for an explanation why the application of technology is such a low priority in sewer cleaning. We will ask that the survey that was to have been completed by now under the 2013 Act be begun immediately and completed within a set time frame. We will ask that the President meet the yatris when they reach Delhi on April 13, 2016 to learn from them what their experiences and expectations are.
We bring to you some voices that have been heard during the Bhim Yatra:
At one halt, a woman contract worker-safai karamchari narrated: "I have been doing this work for many years. Our men go down the septic tank, and we are not sure whether they will come out alive or not. Day by day numbers of deaths are increasing and every other day we listen in the news of septic tank deaths. I have three children and I don't want them to do this work. I want a life of dignity for me and my children. We are glad to see all of you that you are creating awareness and putting pressure on the government for rehabilitation of the manual scavengers."
"When it comes to cleaning the sewerage holes, why does the government not ask for documents? And when we die inside the sewer, why do they question our citizenship, ration card, and so on, to provide compensation."
"It is not that government has limitations in liberating and rehabilitating our people from this work; it is that they do not have the will. So it is only we who can liberate and rehabilitate ourselves and our people, and for that we need to struggle hard."
"The government is nowhere in our struggle. It does not even give us empty advice. Pralhad Chendwankar's 'Empty Advice' almost matches the same which we are getting from this government:
This country which demands
a pot of blood
for a swallow of water—
How can I call it mine
Though it give the world
The (empty) advice of peace?
So, how can we call this country ours which does not even give us empty advice, and kills us in the name of 'cleanliness' and 'hygiene'?"
Through the 100 days that they have been on Bhim Yatri, the yatris have been articulating what they are seeking:
– The tender of an apology to the Safai Karmachari community for the historical injustice and centuries of humiliation heaped on them by engaging them as manual scavengers.
– To eliminate manual scavenging immediately, without any further delay or postponement. No more revised deadlines, and no more extensions as has happened in the past, time after time.
– Stop the deaths in sewer lines and septic tanks at all costs. Modernize and mechanize the sanitation system and do whatever it takes to stop killing people in sewer work.
– Pay Rs. 10 lakhs, as mandated by the Supreme Court order, to dependants of those who have died in sewer lines since 1993 without any hassle or hesitation.
– Enhance the one-time cash payment given as immediate relief to liberate manual scavengers from Rs. 40,000 to Rs. two lakhs.
At various places during the Yatra, women's voices have been heard raised with the power of conviction and pain long endured: "Hamse bahut saha hai, ab aur nahi sahenge, sarkar ko hame maila pratha se mukt karana hi hoga" (we have endured a lot, we cannot endure anymore; the government must free us from manual scavenging immediately).
A poignant verse that has been invoked:
"We are the aboriginals
This is our land
We, in any condition, will make it
Manual scavenging free.
This land is ours
We will cry for the sky too"
A recurrent question: "Why can't the government modernize and mechanize the sanitation system? People are going to the moon, and we are cleaning toilets with our bare hands."
It is urgent that this inhuman practice of manual scavenging, and its corollary viz., untouchability, is eradicated and that it brooks no delay. It is this responsibility about which we seek to speak to you.
Yours sincerely,
D. Raja, MP
K. C. Tyagi, MP
Dr. Usha Ramanathan
Prof. Imrana Quadeer
Maya Gautam
Annie Raja
Bhasha Singh

---